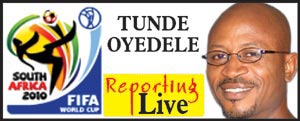 FIFA has blamed overseas ticket holders for the thousands of empty seats seen at the initial games of the World Cup in South Africa.
FIFA spokesperson Nicolas Maingot said: "We have made some group sales and those group sales are for large organisations and companies.
"What we have realised in our investigations is that some ticket holders, including international ticket holders, have not turned up," he added.
But Maigot stressed that the "bigger picture" was that the average attendance in the first 11 games was 53,019, second only to the 1994 World Cup in the US, with 68,991.
Meanwhile, as Mirte Nieuwpoort and Barbara Castelein were ushered out of Court 3 in the Johannesburg Magistrate's Court yesterday, a diplomatic row was beginning to simmer between the Netherlands and South Africa.
It all has to do with an orange dress, a small purple logo, and a morning raid by a specialised SA Police Service unit. But it was enough for Dutch Foreign Minister Maxime Verhagen to phone the South African ambassador in The Hague, Peter Goosen.
"He indicated to the ambassador that the charges and the arrest of these two women were disproportionate and not correct," said the spokesman for the Netherlands embassy to South Africa, Christoph Prommersberger.
Adding to this, Verhagen said: "If South Africa and FIFA want to tackle a company over illegal advertising, they should take legal action against the company and not against two ordinary citizens who walked around in orange outfits."
Load more