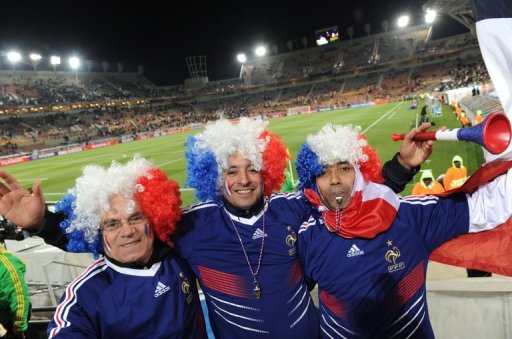 POLOKWANE, South Africa (AFP) – MEXICO'S SENSATIONAL 2-0 WIN OVER FRANCE in Polokwane on Thursday night has left Raymond Domenech's side's World Cup hopes hanging by a thread.
France needed a helping hand to make it to the tournament with Thierry Henry's controversial intervention in the winning goal against the Republic of Ireland in November's play-off.
Now they need another favour from one of either Mexico or Uruguay for them to qualify for the last 16 in South Africa.
Les Bleus have just one point from their two games in Group A while Uruguay and Mexico are sitting pretty on four each.
If these two draw when they meet on Tuesday, France will be out of the World Cup, irrespective of the result in their final game against South Africa on the same day — and not many people will have predicted that!
2023 GMT: "The team spirit was not there for France," says former Netherlands international and BBC Sport pundit Clarence Seedorf.
"I thought they had an awful lot of quality on the pitch there for Mexico," says Fulham manager and BBC Sport pundit Roy Hodgson.
"And the whole of the Mexican back four deserve an enormous pat on the back because they were playing against some very skilful players."
90+3 mins: FULL-TIME – France 0 Mexico 2
90 mins: Three minutes to add on here – the Mexican fans, many sporting feathery Aztec headresses, are going wild in the stands!
89 mins: Chance for Valbuena on the right of the area but he can't keep it down and blasts it over the crossbar.
82 mins: This is Mexico's seventh ever meeting wth France — this will be their first ever victory if they can hold on!
81 mins: YELLOW CARD! Mexican defender Francisco Rodriguez is booked.
79 mins: GOAL! France 0 Mexico 2
Cuahtemoc Blanco runs up… and scores from the spot!!
The veteran striker took an enormous run-up from outside the area and fired it low and just inside Lloris's righthand post. Surely the Mexican's are on the way to pulling off a huge shock here!
77 mins: PENALTY to Mexico
Sustitute Pablo Barrera makes a great run down the right channel and into the box and Eric Abidal is late with the challenge and brings him down. Definite penalty.
YELLOW CARD! Abidal is booked for the foul.
72 mins: Chance for Gignac but the France striker blazes wastefully over from the righand side. This Jabulani ball really does fly when its hit!
Mexico have never beaten France at a World Cup and this is their fifth meeting at the showcase event — that sequence may be about to change.
69 mins: France bring Mathieu Valbuena on for Sidney Govou — Zidane will be happy but is it too late?
66 mins: France will be in deep trouble if they lose this game — Mexico face Uruguay in their final group fixture and if those two draw they will knock France out irrespective of what Domenech's side do against South Africa.
Pressure's really on Les Bleus here.
64 mins: GOAL!  France 0 Mexico 1
GOOOAAAAAAALLLLL!!! Javier Hernandez has stunned the former world champions. A ball over the top and the young striker expertly skips around Lloris in the French goal and rolls the ball home.
Eric Abidal was just — just — playing 22-year-old substitute onside. Manchester United signed the 22-year-old for an undisclosed fee in April — looks they they may have picked up a bargain however much money changed hands!
62 mins: 37-year-old Cuahtemoc Blanco, currently playing for Verzcruz in the Mexican second division, is on for Guillermo Franco.
61 mins: Gallas has a chance of a header from corner but he had given a defender a shove to gain himself some space.
58 mins: Two awful free-kicks within the space of two minutes from Mexico — first Gerardo Torrado from the left flank and then Dos Santos from the right woefully overhit their attempts to curl the ball into the danger area.
55 mins: Now it's Ribery who breaks into the area on the left and fires a shot in low towards Mexico's goal but Perez parries the ball away from his lefthand post. France have started this half with a bit more intent in attack than they had before the break.
Javier Hernandez has come on for Efrain Juarez
54 mins: Malouda manouevres the ball onto his right foot and blasts a shot towards goal. The ball serves late on but goalkeeper Oscar Perez manages to tip it over.
49 mins: YELLOW CARD! Moreno also has his name taken for clattering Malouda. What's the Chelsea striker done to deserve this sort of treatment?
47 mins: YELLOW CARD! Efrain Juarez is booked for shoving Florent Malouda in the back.
1932 GMT: The second half kicks off in Polokwane.
But the only change France make is to bring on striker Andre-Pierre Gignac to replaced Nicolas Anelka for the second period.
1929 GMT: "I would play Valbuena down the right to shake things up a bit," France legend Zinedine Zidane tells Mexican TV channel Televisa, my AFP colleuge Guillermo Barros tells me from Mexico City.
1925 GMT: "France have to get the ball to [Florent] Malouda," says former Netherlands international and BBC Sport pundit Clarence Seedorf. "He can get a goal for them."
1919 GMT: "I've been really impressed with Mexico — the signs were there that they are willing to get forward in numbers," says former England striker and now BBC Sport pundit Alan Shearer.
"They've created the chances but they've just not put them away."
45+2 mins: HALF-TIME – France 0 Mexico 0
45+1 mins: YELLOW CARD! Toulalan cynically brings down Franco near the centre circle as the Mexicans try to break quickly. The referee has no option but to book him.
41 mins: France Arsenal midfielder Abou Diaby is trying to get the French midfield's passing ticking over — but it's the Mexican's who have shown far more penetration so far.
36 mins: Dos Santos fires in another shot just wide despite the attentions of France captain Patrice Evra who had a handful of the Galatasary striker's shirt. Referee missed that.
33 mins: Mexico look sharp up front. The ball is curled into the France box and 'keeper Lloris just gets there ahead of substitute Barrera — the ball flies off the young midfielder and behind for a goalkick.
30 mins: Mexico's Carlos Vela has gone off with what looks like a hamstring injury — ominous for the 21-year-old Arsenal striker.
27 mins: Salcido runs down the left touchline, cuts inside some bemused defenders and unleashes a powerful shot which Lloris saves after William Gallas inexplicably fails to close it down inside the area. Bit of a risky tactic that.
24 mins: A superb cross from Jeremy Toulalan on the right for France — a spring-heeled  Malouda rises high in the centre but fails to reach it.
16 mins: Some great singing from the Mexican support here. Carlos Salcido gets the ball 25 yards out and unleashes a shot that flashes wide of France 'keeper Lloris's lefthand post.
12 mins: End-to-end stuff here at the Peter Mokaba Stadium — Franck Ribery gets in on the right of the box and fires it across the area but no French player can get a head to it.
8 mins: Another chance for Mexico! Rafael Marquez plays a delicate ball over the top and three Mexicans are onside.
It falls for Carlos Vela in the area but he can only volley it miles over the bar.
5 mins: Apologies for the delay with my entries at the start — we've had a few technical problems at this end. Up and running now though.
4 mins: YELLOW CARD! West Ham's Guillermo Franco booked for stopping France from taking a free-kick.
3 mins: Giovani Dos Santos hits a left-footed shot from the left which hits the inside of the post for Mexico. Almost a sensational start there!
1830 GMT: AND WE'RE OFF – the game has kicked off in Polokwane.
1812 GMT: Hmmm… so Anelka keeps his place in the team and Henry stays on the bench.
Florent Malouda is restored to France's starting XI at the expense of Yoann Gourcuff after an alleged training-ground bust-up with Domenech in advance of the Uruguay game.
1808 GMT: Starting line-ups in Polokwane:
France: Hugo Lloris; Bacary Sagna, Eric Abidal, William Gallas, Patrice Evra; Jeremy Toulalan, Abou Diaby; Florent Malouda, Franck Ribery, Sidney Govou; Nicolas Anelka.
Mexico: Oscar Perez; Efrain Juarez, Rafael Marquez, Francisco Rodriguez, Carlos Salcido, Gerardo Torrado, Hector Moreno, Ricardo Osorio, Giovani Dos Santos, Guillermo Franco, Carlos Vela.
Referee: K Al Ghamdi
1805 GMT: Les Bleus (The Blues) have reached two of the last three finals, crushing Brazil 3-0 in the 1998 Paris climax with Zinedine Zidane scoring twice and losing a penalty shootout to Italy in Berlin four years ago.
We're waiting to hear whether Domenech will be tempted to reinstate a veteran of those campaigns in the form of Barcelona striker Thierry Henry to the starting line-up, possibly in place of Nicolas Anelka.
WELCOME TO OUR THIRD LIVE WORLD CUP text commentary of the day, this time coming to you from France's Group A clash with Mexico in Polokwane, the capital of Limpopo province in the northern reaches of South Africa.
Raymond Domenech's side will be the favourites going into this game against Javier Aguirre's men despite their misfiring in a 0-0 stalemate against Uruguay in their opener on Friday.
The skilful Mexicans themselves were held to an entertaining 1-1 draw by hosts South Africa in the tournament first game earlier the same day.
Both teams now know the importance of a win here to boost their chances of qualifying for the knock-out stages after Uruguay thumped the Bafana Bafana 3-0 yesterday to take control of the group.
Kick-off at the Peter Mokaba Stadium is just thirty minutes away at 1830 GMT so stay with us for all the action as it happens.
Load more