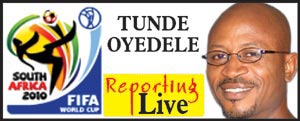 The Local Organising Committee, LOC this morning reacted to the Power outage that rocked the camp of the Super Eagles, saying a strange bird caused the unexpected darkness.
Power outage, something the participating teams have not experienced since arriving at the 2010 FIFA World Cup finals, reared its ugly head endlessly last night, leaving the players and officials in camp fuming.
FIFA–appointed Venue Specific Team Hotel, Bloem Spa Lodge is a hillside facility very far away from the town and isolated.
The Nigeria Football Federation, NFF, said the facilities at the hotel are outdated with wooden items all over and generally an analogue arrangement.
Although, the outage rattled the Eagles' camp, NFF image maker, Demola Olajire, said  things are back to normal and that the players have their minds and focus on the must-win match against Greece this afternoon.
The incident occurred after the Eagles returned from the official training session at Free State Stadium, when the power supply went off and the hotel management took time to start the power generating set.
It was gathered that the generating set failed to function properly, and kept going off  every two minutes, making the players and officials uneasy.
NFF Deputy General Secretary, Barrister Musa Amadu and Assistant General Secretary (Marketing) Idris Adama said they made several calls to FIFA Accommodation Office to lodge complaints. The FIFA officials, who assured to take up the matter.
The Nigeria team was booked to stay two nights at the Bloem Spa Lodge, last night and today but the officials are threatening to change the team hotel should the situation persist.
Load more