Governorship aspirant in 2007 in  Ogun state, Nigeria, Dr. Doyin Okupe, has accused the state governor, Otunba Gbenga Daniel, of hijacking the functionaries and party offices of the Peoples Democratic Party, PDP, in the state.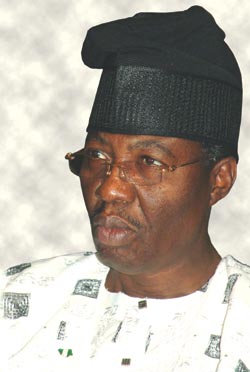 Speaking  with Political Train in Ago Iwoye, Ogun State, the former Senior Special Assistant, SSA, on media to former president, Chief Olusegun Obasanjo , said "what has happened in Ogun State is the hijack of the party functionaries and offices by the governor. There's no way it can be accepted."
He revealed that the battle to ensure equity in the membership and control of the party in the  state had been on for over two years with the governor and his political allies  turning deaf ears to the clamour for a progressive and genuine restructuring.
"We have been singing this song for two years now and the development in the country (the change of baton in the presidency), has hindered  proper judgement to be given by the national body of our great party.
"I think, by and large, the party will soon come up with the correct decision, because the status quo cannot stand. We do not need to take any other steps, we have gone beyond roundtable talks, we have gone beyond reconciliation, all what we need to do is to ensure that we do the right thing,"  Okupe declared.
He stated that the right thing to do is to dissolve the Ogun PDP executive and then find a way to either accommodate every faction or they go for congress with the winning group taking over control of the party.
The medical practitioner turned politician said Governor Daniel does not own the party and as such, he could not continue to hijack the party structure, adding that the governor's alleged endorsement of a Yewa successor was a political gimmick.
Load more