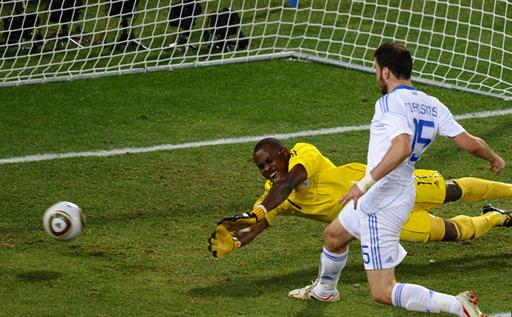 Greece recorded their first ever win at the World Cup finals on Thursday with a come from behind 2-1 win over 10-man Nigeria in their Group B clash.
Goals by Dimitrios Salpingidis and Vassilis Torosidis after Nigeria's Sani Kaita had been sent off gave them their first ever victory after four successive defeats, three coming in 1994 and a 2-0 loss to South Korea earlier in this tournament.
The Greeks and South Koreans both have three points and Nigeria none, but all can still technically qualify while even Argnetina on six are not technically in the second round.
Higuain hat-trick gives Argentina foot in 2nd roundA hat-trick by Gonzalo Higuain eased two-time world champions Argentina to a 4-1 victory over South Korea at Soccer City on Thursday, lifting Argentina to six points from two games and most likely taking them to the knock-out phase.
Higuain's treble plus an own-goal by Park Chu-Young gave Diego Maradona's men a richly deserved win.Higuain, of Real Madrid, had two fairly simple conversions of goals constructed by his teammates, but a sumptuous header for the fourth was the icing on the cake.
South Korea – whose sole goal came from Lee Chung-Yong – can still reach the second round as they lie on three points having beaten Greece 2-0 in their opening match.
Load more