Barrister Ade Kingsley Ogunmiloyo is vying for a seat in the Senate to represent Ekiti Central District on the platform of People's Democratic Party (PDP) In  a chat with P.M.NEWS, he outlined the reasons why he wants to serve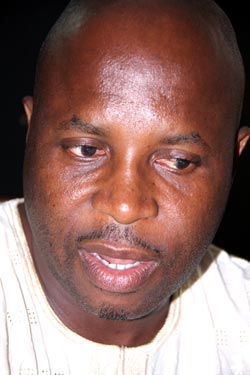 Q: What's your background?
A: I am 42 years old, married. I attended Christ's School, Ado Ekiti, a lawyer and the initiator of foundation for Basic Law Empowerment in Ekiti State and also initiator of Revamping of the Odu'a Textile Mills – capable of employing about 3,000 individuals in the Odua states, and also the sole sponsor of all Secondary Schools U-17 football competition in Ekiti state.
Q: What's your idea and vision of going to the National Assembly?
A: My vision is to take Ekiti Central to a great political height and build a legislative eldorado with fully diversified opportunity and to transform Ekiti Central District into a leading senatorial district in Nigeria.  It is because I want to see rapid development come in Ekiti Central that I've decided to represent them. Similarly, because people love what I've been doing by impacting on people's lives both here or in the U.K., they now persuaded me to go and represent them.
Q: That means you'll be running a people-oriented programme?
A: Yes. My own kind of governance is about going back to the basics. Whatever we discussed at the National level would be brought back to the people that I represent.  We'd be organising a monthly town hall meeting where issues raised would be discussed and if it's not beneficial would be taken back to the National level for further discussion and negotiations. There would be an introduction of well-planned alternative poverty alleviation programmes for party members and our district people; while also promotion of community-driven youths and women empowerment scheme would be created. Similarly, constituency project under my tenure would be supervised directly by me with involvement of five persons from each local government of my constituency in which one of  the 5 persons from each local government would be signatory to the constituency fund that we would be creating. The whole idea is that I'd be held accountable for every dime received on behalf of my constituency.
Q: What are your chances in emerging a senator considering the big names already campaigning for the same post?
A: Governance is all about ideas. Bearing in mind that a lot of people I have due respect for are also in the race, the fact remains that this another generation entirely and since Ekiti people have decided to take their destiny in their own hands, by making a dramatic change, I believe this is the beginning of a new dawn in Ekiti that will last forever. Also, my answer to this question always has been that true democracy is all about competition; it's all about evidential proof and because the issue of money-bag politics is dead in Ekiti, I believe I have  chances to emerge victorious as my past efforts to develop the senatorial district is evidential.
Q: Do you have any godfather backing you?
A: God is only my godfather.
Q: What does it take to win an election?
A: Your credibility, integrity, acceptability and ability to identify with the grassroots.
Q: What is your opinion about the clamour for electoral reform?
A: It's a welcome development and I am grateful that it is the PDP that is championing the cause. My opinion is that it's only when we orientate ourselves about the importance of having a credible election which would bring a credible person, that we would conclude that we've laid a solid foundation for the future generation.
Load more