Star actor and the winner of Gulder Ultimate Search Celebrity Showndown, Emeka Ike, here speaks about the show, his relationship with Mumma Gee and how he will spend the  N7.5 million he won, and other issues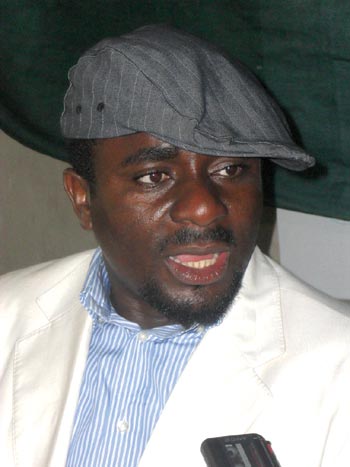 Q: What was on your mind when you were going for the GUS Celebrity Showdown?
A: I went there to have fun and correct the image a cross-section of the media has about me.
Q: Do you have a bad image?
A: No, but some people have been making effort to give me a bad image. Some say I am erratic or fight a lot and I told them that they don't know much about me.
Q: I believe that those people would have seen some things about you before reporting such?
A: Well, I am a man that stands by his words. I also believe in residual life and when I see people doing something wrong, I could stand up and say stop doing that. People have known me to be expressive of myself. I decry evil, so people have gone to the press to say I am quarrelsome, but I have never quarrelled with anybody.
Q: Will you say the same people went round to say that you had sex with Muma Gee on set of Gulder Ultimate Search?
A: No, I was on set to make people know the man in me. You know, people were saying things that those girls were saying some negative things about you and yet you did not fight back. That is the man in me and that is real me. If I don't want to speak with you, no matter what you do, I will not.
Q: What really happened and how did the story get to the press?
A: That is man-made scandal. You know, this product has to sell and sometimes, sex sells entertainment so also are love stories. The true story was when we got to the House, we agreed to be lovers, being a reality programme. We thought of how to entertain our audience and also have our own fans that will say leave these people alone now. We have to create issues in the house. Before doing so, I called my wife and Muma spoke with her. I also discussed with her fiance and they gave us their blessing, so people in the House did not know that we went that far. They were talking out of ignorance and the more those in the House talked, the more we laughed at them.
Q: So you did not have sex?
A: No, we did not have sex in the camp.
Q: Then, what was your experience in the camp?
A: The experience was that life cannot be on a single lane. I have also learnt to x-ray the man on the street, the man who does not have a roof over his head, how does he survive? The man who does not have electronic gadgets, how does he survive? For example, any time we had to go out and we needed to go in a car, if you know what air conditioner meant to me that time, you would pity me because I have been denied such in the bush for a long time. When I got into the car, it was a new experience to me. When music is played, no matter how unpopular such music is, it makes more sense to me. These were issues I was to experience. In fact, whenever we went out in a car, I was always the last to come out because the music was still on. At times, I would say to myself, oh God, I missed music. This has been able to make me to be closer to the man on the street, those under the bridge. It was another exposure and thank God, I was part of the experience.
Q: What were you given when you going into the bush?
A: We were given boots to prevent us from snake bite, insects and other wounds; water bottle, jacket, tent, soap and sponge; bucket and camp bed. Also, pots, spoons and other things were provided because we cooked food by ourselves.
Q: How did you have your bath?
A: We had a place in the bush where we did that.
Q: How did you defecate?
A: There was an arrangement which I will not tell you.
Q: What was life like in the jungle?
A: Life in the jungle is real. This is where many Nigerians live because a lot of people you see out there live jungle life. It has also taught me to see between Emeka Ike, an actor, the real Emeka Ike and one that is stranded in the bush.
Q: Emeka Ike, an actor and proprietor of a school, why did you set up a school?
A: The love for Nigerian youths. I keep saying that the Nigerian youths have been abandoned, so also have they been relegated and scandalised because any Nigerian youth that runs into anything that gives him fast money, is happy and we celebrate scam. I thought with my person I could draw the youths closer and tell them where to go with the love they have for me and redirect their opinion, their mind and encourage them to do positive things. I can assure you that in my school, my students read a lot. Some parents even complain that they don't know what I give to their kids because they hardly sleep and they read all day. That is the orientation given to them that to be a star, you have to read hard.
Q: If you love the kids so much, why did you establish a school in Magodo and not Ajegunle?
A: The Nigerian child is the Nigerian child. Do you know it is better to use a big man's child as an example than a poor man's? How many kids of big men have you seen in the movie and music industry? It is always those people that struggle that make it because most big men abandon their kids. They have all the comfort but they lose the proper time they ought to put into the life of their kids because they think money is everything. For me, being in Magodo, where I live, I know there are kids here that need my pressure but before long, we will move to Ajegunle and other areas.
Q: We learnt that you are building a hotel, where is it located?
A: It is located in Ayobo, Ipaja, Lagos State and the name is Code E.
Q: Why are you diversifying into hotel business?
A: I said years back that there is problem in the Nigerian movie industry and that home video business will soon close down and people thought I was joking. At least, I have to plan my life.
Q: How did you get the money for the gigantic project?
A: If you don't plan to succeed, you have planned to fail. Planning is everything. If you give a person N10,000 and he chooses to go and buy shirt and boots and somebody else uses the money for business, they have different mindset. The man who buys shoes will use it and it will get torn one day, while the person that invested his money gets the dividend. So, I learnt from my mom who is a petty trader. She takes one to make two and two to make four. So, I put all my money into business, even when I was in Shangisha, I had this school project going on while some people were saying that big boy like you, why are you not staying in Lekki? I told them sorry oh, I never reach that place, right now, I can live anywhere I like.
Q: Is that why some of your colleagues in the movie industry labelled you as a miser?
A: Who will say I am a miser? Ask all the boys in the movie industry, who gives them money or who is the baba? They will say it is Emeka. I give money, but I am not a public person. I give you money when I know that you need it. I don't call fellow big boys that I have arrived, let's go drink. I deal with people of integrity and not those that want me to spend on drinks.
Q: How are you investing the N7.5 million you won from the Gulder Ultimate Search?
A: I will invest it in my school and the hotel business and so, the money is gone.
Load more