Foreign manager of Nigeria's Super Eagles, Lars Lagerback believes his team are not out of the 2010 FIFA world Cup yet despite losing 1-2 to Greece in their second group game yesterday in Bloemfontein, South Africa.
The Swede told P.M.Sports after the match that all hope is not lost until the last whistle in the third group match against South Korea next Tuesday.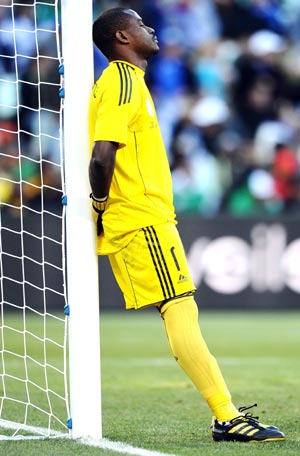 The former Sweden coach insisted that the Nigerian team have a chance to qualify for the knock-out stage of the World Cup despite the devastating loss to Greece yesterday.
"Everyone who knows football knows that if you are playing 10 men against a team at this level of the competition, it is difficult to win the match. Sani Kaita's red card was painful. I'll go back and watch the video of the match. I must confess, the loss was a big blow to our challenge to the  good run we had hoped to have in the World Cup in South Africa," he said.
"I want to say that it's not over because we can still play. We'll try and beat South Korea and then hope that Argentina defeat Greece to pave way for our qualification to the next round of the World Cup.
"With the circumstance, I'm still proud of the attitude and the great job done by all the players so far. I believe that we'll try our best to stay focused and get the desired result to move on in the championship," said the foreign manager, who only had about three months to prepare the Eagles for the World Cup.
Meanwhile, assistant captain, Joseph Yobo, Kaita, Osaze Odemwingie, Danny Shittu and other players of the Eagles were in sober mood, as they shed what could be better described as crocodile tears after the team bowed to the Greeks yesterday.
Yobo told P.M.Sports that "it's a little bit difficult and to me we did our best only that our best could not help us against Greece today. We're very much in the game until the sending out of Kaita. I must confess, it'll be very hard for us to qualify to the next round. Although football is not mathematics, in the real sense we are out of the World Cup."
Osaze said: "It's not our fault. There was nothing anybody can do when a vital player was sent out of a crucial match like this. I think the referee could have given Kaita a yellow card. What I know is that if we crash out at this level,  it'll be a great disaster."
Load more