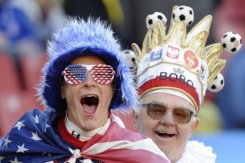 JOHANNESBURG (AFP)- SLOVENIA TOP GROUP C but will be heart-broken after the United States came back from two goals down to earn a 2-2 draw.
The eastern-Europeans would have qualified if they had won but now it is all up in the air. They have four points, the US two with England and Algeria to play later today.
The tournament is really catching alight with some brilliant games over the last couple of days and today's clash in Johannesburg certainly continued this trend.
To find out what happened, as it happened, scroll down and read on.
1558 GMT: Fulham manger Roy Hodgson agrees about the chalked-off strike. "I don't know who you've stopped and penalised there," he says.
1555 GMT: Alan Hansen in the BBC studio is dumbfounded. "The second-half turn-around was truly amazing," he says. "Slovenia were totally non-existent as an attacking force after the break. I think the referee made a mistake with Edu's goal."
90+5 mins: FULL TIME! Slovenia 2 United States 2
90+2 mins: Dempsey down with Pecnik after a collision. The American eats grass and is holding his nose. This will add another couple of minutes to the match. They would be playing another 20 if it were up to me
– 90 mins: There will be three minutes of injury time to play in what has been another fantastic match.
89 mins: Aleksander Radosavljevic hits a long-range shot which Howard beats away.
87 mins: Slovenia throw on forward Bojan Jokic for Birsa, they think they can still win!
84 mins: Well, what now? The US have reverted to a back four but they really have the momentum and could easily win this. Another free-kick near the area for the US.
Edu slams in Donovan's cross but referee Koman Coulibaly blows his whistle for jostling in the area. A very generous decision, it looked the other way if anything.
– 82 mins: GOAL! Slovenia 2 United States 2
81 mins: Bradley finds space in 30-yards from goal and his a firm shot on target by the 'keeper gets down well.
80 mins: US Defender Oguchi Onyewu is replaced by attacker Herculez Gomez. He has the weight of US hopes on his shoulders.
77 mins: Altidore slices a horrible shot almost for a throw-in. We are entering the end-game here as both teams steel themselves for the final US assault.
75 mins: BOOKING! Yet another yellow, Slovenia will be lucky to keep all their men on the pitch. Now it is the turn of Bojan Jokic.
74 mins: Goal-scorer Lujbijankic is off to be replaced by Nejc Pecnik. Midfielder for an attacker.
72 mins: BOOKING! Another Slovenia yellow. This time Andraz Kirm is punished for a robust foul against Steve Cherundolo.
70 mins: Donovan hits a scuffed free-kick but it bounces back to Altidore who spins and cracks a first-time shot which unluckily was straight at Handanovic. He really caught hold of it and must have thought he had scored.
69 mins: BOOKING! Marko Suler gets a yellow.
The centre-back pulled Altidore down on the edge of the area as Donovan looked to play him through. Free-kick on the edge of the box.
67 mins: You have to admire both team's attitudes here. The American's for keeping their belief and the Slovenians for attacking despite the precarious scoreline. Maybe they think they need a two-goal cushion.
65 mins: Substitue Feilhaber has a long-range shot but it rolls a long way wide. Aside from that, the shooting has been much better this game suggesting the players are getting used to the Jabulani ball.
63 mins: AFP's Ryland James in the ground says the atmosphere is really hotting up.
"There are many locals in the crowd, but they seem to have adopted the USA team as there is a huge wall of noise around Ellis Park everytime the boys in blue launch an attack and the vuvuzelas are blaring away," he relays.
61 mins: Howard again under pressure from Birsa's crossing but comes up trumps with a strong punch.
60 mins: Lovely footage of Dempsey wrestling the Slovenian defenders as a free-kick was whipped in. More American Football than soccer.
58 mins: Jozy Altidore gets through but looks like he is running in custard and is overhauled. He got the ball caught under his feet and the tackle snapped in.
– 58 mins: Jozy Altidore gets through but looks like he is running in custard and is overhauled. He got the ball caught under his feet and the tackle snapped in.
56 mins: Both sides are going hell-for-leather, which will surely favour the States. Although the subs haven't done anything individually, the new shape looks much more natural and it's going to take a Herculean effort if Slovenia are to hold out.
53 mins: This is set up beautifully. The US goal came after Cesar slipped, anything but imperious defending. The shot was an absolute rasper but the 'keeper was shrinking into his goal, almost as though he as scared of getting hit
.52 mins: Similar set-piece at the other end, Howards puts it out for a corner. It comes to nothing.
50 mins: Hearts in mouths as Donovan's free-kick begs to be put in the net. Nobody obliges.
48 mins: GOAL! Slovenia 2 United States 1
Landon Donovan pull the US right back into the game, cutting in from the right wing to lash a ferocious shot into the roof of the net from an acute angle.
46 mins: The US are straight at Slovenia and are Jozy Altidore is just denied by a last-ditch clearance.
1500 GMT: The players are out and Bob Bradley has changed it around. Maurice Edu of Glasgow Rangers and Benny Feilhaber replace Robbie Findley and Jose Francisco Torres.
1452 GMT: Another result from left-field beckons unless the US can wear down the Slovenians. They looked likely when Donovan was waiting at the far post only for Brecko to somehow squeeze the ball between the American and the post. Within two minutes the lead was doubled.
1449 GMT: Fulham manager Roy Hodgson and Alan Hansen in the BBC studio believes that  Birsa has been the man-of-the-half and I would agree. The Americans have had no answer to his quick feet.
They also think that it could be tough for Bob Bradley to change his tactics as they only seem to know how to play one way. I wouldn't write them off just yet as they are supreme physical athletes and could apply some pressure in the second period.
45 + 2 mins: HALF TIME! Slovenia 2 United States 0
45 mins: The goal came at a time just when the US were imposing themselves on the game. Only nerveless defending by Miso Brecko kept out Donovan who was waiting to tap in Dempsey's cross. From the corner, Findley was booked for handball despite it hitting his face.
42 mins: GOAL! Slovenia 2 United States 0
Zlatan Ljubijankic doubles the lead as he keeps his cool in a one-on-one to pass easily past the onrushing Howard.  It was a great through-ball by Novakovic but a terrible offside-trap played by the US.
41 mins: BOOKING! Robbie Findley booked for handball.
36 mins: In getting booked, Cesar gives away a dangerous free-kick. Torres doesn't cross, but goes for the near post and Handanovic scrambles across the goal to make a great save. Much more promising.
From the passage of play after the corner Jay DeMerit heads a powerful looping effort from the edge of the area which goes just wide.
36 mins: YELLOW CARD! Bostjan Cesar is in the book.
34 mins: Slovenia are bossing the pace of the game, without any real urgency. I can't remember a true test for Marko Suler and Bostjan Cesar at the heart of their defence.
32 mins: If American fans needed an example of just how difficult this tournament is, then here it is. They must have thought the hard work had been done against England but as Spain and Germany have shown, there are no easy games.
29 mins: Seems like World Cup fever has reached the US, according to AFP man in Washington Chris Lefkow.
"In the US capital, football fans are gathered at bars to watch the match on big-screen TVs," he says. "One watering hole, the Lucky Bar, was overflowing with supporters and about 20 were forced to stand outside as the game began."
27 mins: It's still the Europeans who look the most coherent in possession. USA look the more athletic but at the moment can't exploit their superior pace as they keep giving it away.
23 mins: Dempsey heads a long ball back across goal but Robbie Findlay can't get any purchase on his header.
22 mins: Birsa again gives the American's palpitations with a wicked delivery which evades everyone and is well watched by Howard.
21 mins: Landon Donovan, the US's all-time leading scorer, makes a positive burst but loses control on the edge of the area.
17 mins: The States come back with a free-kick which is punched clear and a swift break which is broken up. If Slovenia win they are through to the next round.
13 mins: GOAL! Slovenia 1 United States 0. Great goal from Valter Birsa.
The lively winger came inside to collect the ball 25-yards from goal. He looked like he was going to shoot left-footed for the far corner but instead curled the ball superbly into the other corner, completely wrong-footing Tim Howard. Fantastic effort!
12 mins: Slovenia will be happy with the start,  so-far adding weight to the belief that the US may find it difficult to force the pace of games.
9 mins: Great ball in from the right-winger Valter Birsa but Milivoje Novakovic just fails to make contact. It was a tough chance with the ball coming quickly across his body.
8 mins: Looking back at the Dempsey incident, his arms were up, but more for leverage and the reaction of the Slovenian players was a bit excited.
6 mins: Apologies for the delay, some technical glitches. Fortunately the play has been as slow as the information super-highway and not much has happened as yet.
1 min: The US kick-off wearing blue and within 15 seconds there's a melee.  Clint Dempsey went up for a header and caught Zlatan Ljubijankic with a stray elbow, pole-axing the Slovenian.
1354 GMT: The players are led out between a gaggle of photographers and to the usual vuvuzela fanfare.
The Slovenians mostly sing along to their national anthem. Patchy American singing but a lot of hands on hearts, and two Elvis impersonators giving it their all. In the stands, I hasten to add.
1349 GMT: My AFP colleague Ryland James is in the ground enjoying the atmosphere. "Crystal blue skies at Ellis Park stadium with plenty of fans decked out in star-spangled outfits and quite a few Uncle Sam-look alikes soaking up the sunshine," he says.
"A few Slovenian flags in the stadium but it's going to be a red, white and blue afternoon."
So one change for each team. For Slovenia, out goes forward Zlatko Dedic, scorer of the goal that brought them to South Africa, to be replced by Zlatan Ljubijankic.
US coach Bob Bradley makes a swap in midfield as Jose Francisco Torres comes in for Ricardo Clark.
So here are the starting teams:
Slovenia: Samir Handanovic, Miso Brecko, Marko Suler, Bostjan Cesar, Bojan Jokic, Valter Birsa, Robert Koren, Aleksandar Radosavljevic, Andraz Kirm, Zlatan Ljubijankic, Milivoje Novakovic.
Coach: Matjaz Kek
United States: Tim Howard, Steve Cherundolo, Jay DeMerit, Oguchi Onyewu, Carlos Bocanegra, Landon Donovan, Michael Bradley, Jose Francisco Torres, Clint Dempsey, Jozy Altidore, Robbie Findley.
Coach: Bob Bradley
Referee: Koman Coulibaly (Mali)
WELCOME TO ELLIS PARK STADIUM in Johannesburg for our live World Cup text commentary as Slovenia take on USA.
Slovenia currently sit on top of Group C after their late win against Algeria on Sunday but face tough opposition today in the shape of USA who are buoyant after Clint Dempsey earned a draw in their opening game against group favourites England.
The Americans have bloodied a few "soccer" noses over the last couple of years so it will be interesting to see how they handle the favourites tag when they come up against the smallest nation in the tournament.
It still looks like a battle between England and the US for the top place in the group but with Germany losing earlier in Group D, going through as winners may now become a poisoned chalice.
Load more