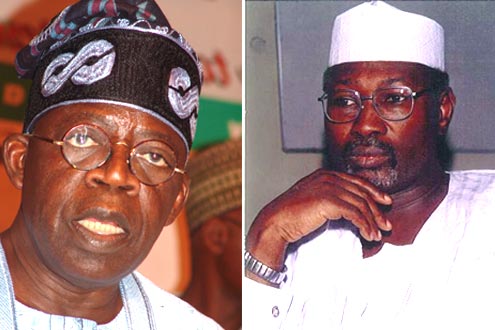 Former Governor of Lagos State, Asiwaju Bola Tinubu says there is no way the Independent National Electoral Commission, INEC, led by Prof. Attahiru Jega can give the nation a credible election next year.
Tinubu spoke with newsmen at the launching of the book, Contemporary Issues in Nigerian Constitutional Law, in honour of former Attorney General and Commissioner for Justice under the Tinubu administration, Prof. Yemi Osinbajo at the MUSON Centre, Lagos, Nigeria.
According to Tinubu, INEC could not be trusted to be accountable and effective, saying that the commision lacks workable system and mechanism that could guarantee credible elections in 2011.
The former governor stated that even if the helmsman appointed by the presidency to head INEC is a credible man, that did not automatically translate to a free and fair election.
"As it is now, INEC has no reliable system; neither does the commission have a viable voters' register that can be used to conduct credible 2011 elections. The commission lacks a system, reliable and viable enough for free and fair polls.
"Jega alone cannot guarantee credible 2011 elections because INEC does not have a system that can perform effectively and perfectly to deliver what the people of Nigeria both at home and abroad passionately crave for.  "Professor Attahiru Jega is a man of integrity, but a tree can never make a forest. What is necessary is build a system that helps in ensuring credible elections. As it is now, there is no such system today in the commission," he said.
Tinubu insisted that the implementation of the Justice Muhammed Uwais report on the Electoral Reforms is necessary if the nation must have credible elections.
He blasted the National Assembly for being too slow in the constitutional amendment, adding that "the Uwais report is sufficient enough to have generated three critical bills. But the National Assembly has not attended to the bills. It is a self-serving propaganda to cover all bad situations in the country. This is not accepted and fair enough.
"The National Assembly claimed that it acted in the public interest when it transmitted power to President Goodluck Jonathan relying on the doctrine of necessity. Why can't the National Assembly use the same doctrine of necessity to ensure comprehensive constitutional amendment?"
The former governor showered encomiums on Osinbajo, saying that the choice of appointing Osinbajo as his Attorney General and Commissioner for Justice was the wisest decision he made in his life, saying that the successes he recorded in his eight years administration should be attributed to Osinbajo.
"I am proud to be a successful governor. Osibanjo's story is part of my success. The best thing for a government that wants to succeed is to first get for itself a good Attorney General. I did not know Yemi personally because I was not a lawyer. I knew him in the chamber of Prince Ajibola.
"He is not just a legal luminary, he is wholesome, committed and a brilliant human being," he said, saying that Osinbajo was instrumental to the wise decision his administration made in its eight years of service.
Tinubu stated that during his travails regarding the purported certificate scandal, some of his commissioners even doubted that he had a certificate but that Osinbajo stood with him and told him not to mind the antics of his adversaries as they were out to distract him from his good works.
Also speaking at the launching, Ajibola canvassed a comprehensive constitutional amendment that would objectively resolve the country's political and constitutional crisis, saying the constitutional amendment is necessary and must be achieved.
He lamented how the administration of President Olusegun Obasajo embarked on the constitutional review and after some vital recommendations were made, everything was thrown out in the name of Obasanjo's third term agenda. He said the current process must not be like that.
In his remarks, former Justice of the International Court of Justice and Attorney General, Prince Bola Ajibola called for urgent need to amend the constitution in order to address the problems of the nation.
Eminent Nigerians present at the occasion were the President, Nigeria Bar Association, NBA, Mr. Rotimi Akeredolu, Justice Abdullahi Mustapha former Chief Judge of the High Court, Justice Bisi Akinlaja, Prof. Ayo Asenuwa, Gbenro Adegbola, Managing Director, Evans Brothers Publishing firm, Akin Osinbajo and the Managing Director/Editor-In-Chief, TheNEWS/P.M.NEWS, Mr. Bayo Onanuga.
There were also Mrs. Dolapo Osinbajo, wife of the honoree, Senator Olorunnimbe Mamora, Dr. Tunji Abayomi, Funmi Tejuosho, Supo Sasore, the Attorney General and Commissioner for Justice, Lagos State, Mr. Dele Alake; Mrs B. Osinbajo, mother of the honorary; Lai Muhammed, Justice Ade Alabi, Prof. Taiwo Osipitan, among others.
Load more