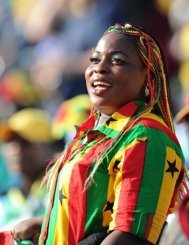 RUSTENBURG, South Africa (AFP)-GHANA SQANDERED A SUPERB OPPORTUNITY to get one foot in the second round of the World Cup on Saturday as they failed to put away ten-man Australia in Rustenberg.
The turning point of the game came in the 24th minute with Australia already 1-0 up from Brett Holman's early goal.
Some brilliantly quick feet by Ayew on the right of the box saw him beat three players and cross low to Jonothan Mensah.
The centr-backs strike was blocked on the line by Harry Kewell but the striker clearly used his arm, leaving the referr no option  but to dismiss him and award a penalty that Asamoah Gyan slotted home.
Ghana started strongly after the break but too often opted to shoot from distance rather than crafting a chance in the area and Australia could have won it at the other end but Scott Chipperfield headed over and substitute Josh Kennedy was denied by the onrushing Richard Kingson.
Jonothan Mensah headed Sulley Muntari's late free-kick over the bar and the chance of victory was gone.
Ghana must now face Germany in their last Group D game with four points in the bag while a Australia's first point still leaves them with an outside chance of qualification for the last 16.
-90+4 mins: FULL-TIME Ghana 1 Australia 1
– 90+2 mins: John Paintsil down and out here after a collision – he's conscious but being stretchered off.
90+1 mins: Owusu-Abeyie shoots but Schwarzer tips over.
90 mins: Great chance for Ghana at the back post! Jonathan Mensah heads over though.
Three minutes of added time.
-88 mins: Almost there for the Socceroos! Rukavytsya slides in and almost gets to Chipperfield's ball ahead of Kingson.
– 86 mins: YELLOW CARD! Craig Moore booked for a late challenge on Sulley Muntari.
It's all Australia here — they're showing great spirit here.
– 84 mins: YELLOW CARD! Ghana's Anthony Annan fouls Chipperfield and is booked.
Aussies make another change as striker Nikita Rukavytsya come on for Luke Wilkshire.
80 mins: Craig Moore and Lucas Neill have done a sterling job at the back for the ten-man Socceroos today. Lots of last-munte blocks.
– 77 mins: Sulley Muntari replaces Asamoah Gyan.
74 mins: Ghana look shaky at the back here — some panicky clearances and Australia can surely win this if they get enough men forward!
72 mins: What an incredible chance for Australia! The ball breaks to Kennedy who is totally free on the right of the box but Richard Kingson is out as quick as a flash and pulls off a fine save. Luke Wilkshire can't put in the rebound.
– 68 mins: Australia coach Pim Verbeek makes another change, bringing sriker Josh Kennedy on for goalscorer Brett Holman.
67 mins: Ghana were inches away from the lead there! Gyan drives into the box and flashes the ball across the goal but just beyond the outstretched leg of Kwadwo Asamoah.
– 66 mins: Australia make a change as Scott Chipperfield replaces Mark Bresciano.
He immediately has a chance at the far post but heads over.
-65 mins: Gyan gets the ball to Kwadwo Asamoah who slices through the Socceroos defence but his shot is blocked.
– 62 mins: Free-kick for Ghana on the left as Luke Wilkshire takes down Kevin-Prince Boateng. But Craig Moore clears the resulting free-kick with a strong header.
– 58 mins: There's a real carnival atmosphere in the stands in Rustenburg — Ghana fans are really not holding back with their vuvuzelas!
– 56 mins: Ghana make a change. Former Ajax and Arsenal striker Quincy Owusu-Abeyie on for Prince Tagoe.
– 52 mins: More from AFP's Talek Harris in Sydney:
"Fans here calling for redemption from bench-warming striker Josh Kennedy, known as "Soccer Jesus" (on account of his beard and straggly haircut, rather than any miracle-working qualities)."
– 50 mins: Gyan at the heart of things for Ghana in this half. He breaks from midfield, cuts onto his favoured right foot and curls it towards Mark Scwarzer's goal but the Fulham shot-stopper gets down well to save.
– 49 mins: Foul by Ghana's goalscorer Asamoah Gyan who catches defender Lucas Neill late.- 1501 GMT: WE'RE AWAY IN THE SECOND half.
1454 GMT: More from my AFP colleague Angus Mackinnon in Rustenburg:
"The Ghana supporters are having a good old groove at half-time. They're clearly confident ten-man Australia are there for the taking!"
– 1449 GMT: "It was great to see Australia come out full of energy for this game," says former Germany striker and now BBC Sport pundit Jurgen Klinsmann.
"They played better in the first 20 minutes and they've clearly forgotten about the game against Germany and moved on.
"And I wouldn't discount Australia yet — I think they can fight back (in the second half)."
– 45+1 mins: HALF-TIME – Ghana 1 Australia 1
44 mins: Brilliant save from Schwarzer in the Socceroos' goal!
Asamoah Gyan breaks in from the right of the box and shoots low towards the far corner but Schwarzer tips it round the post. Sensational goalkeeping — but the referee bizarrely points for a goalkick. How he didn't see that touch is beyond me.
– 40 mins: YELLOW CARD! Ghana's young centre-back Addy shows his naivety by going straight through Bresciano with a badly mistimed tackle from behind. No need for that.
– 36 mins: Free-kick for Ghana a Kwadwo Asamoah is brought down on the edge of the area.
29 mins: Ghana have failed to push on since the goal and are sitting back — the Aussies were rocking and the BlackStars have missed a trick there.
– 25 mins: GOAL! Ghana 1 Australia 1
Asamoah Gyan scores to level it.
24 mins: PENALTY TO GHANA!
RED CARD! Harry Kewell has been sent off for blocking Jonathan Mensah's shot with his arm on the line and the referee gives the penalty.
15 mins: Cricket legend Shane Warne is consoling himself about Australia's hiding by Germany by poking fun at the English over their dire 0-0 draw with Algeria.
"To all you Poms, you deserve to cop it today that was a herendous display! Wow what rubbish your team was. Enjoying the World Cup hahaha," Warne tweets.
Obviously hasn't seen today's rugby score withe the 'Poms' beating the Aussies 21-20…
– 13 mins: This just in from another colleague, Talek Harris, who has sent this from Sydney:
"Packed pubs in central Sydney going absolutely nuts as Brett Holman scores for Australia," Talek tells me.
"At one boozer, a giant inflatable kangaroo seen crowd-surfing and people come flooding in from outside to see what the commotion's all about.
"Huge boost for the home fans after last week's disaster."
11 mins: GOAL! Ghana 0 Australia 1
Err… sorry Ghana fans, commentator's curse! Free-kick from Mark Bresciano from outside the box which dips and bounces in front of 'keeper Richard Kingson who can only fumble it straight out to the onrushing Brett Holman. The midfielder smashes it home despite a touch from Kingson — defenders were dozing there.
Yet another World Cup 2010 'keeping error there.
10 mins: Ghanaian football fans are very optimistic about nothing but a win in this afternoon's match between Ghana and Australia, my AFP colleague Aderogba Obisesan tells me from Accra.
"If we were able to beat Serbia which paraded gallant of stars, Australia is no match at all," says Sammy Doe, a soccer fan sipping a bottle of beer at a drinking bar in the Accra suburb of Newton.
"God must hear the prayers of Ghanaians because Ghana holds the key to African's success at this world cup".
"They will try to frustrate us by parking their defence but trust the twinkle, twinkle little stars to pull the chestnut out of the blazing fire," says 21-year-old mining engineer Kofi Amponsah. Excellent stuff!
8 mins: Some nerves at the back early on for Ghana — will their two new centre-backs be able to handle the pressure?
5 mins: My AFP colleague Angus Mackinnon has been in touch from Rustenburg:
"A few kilted Scots supporting the Australians — just imagine if Scotland and qualified and we had the Tartan Army here en masse: bagpipes and vuvuzelas!
"A lot of the Socceroos fans appeared set on walking to the ground from Rustenburg. Nobody seems to have warned them its 15km out of town. They'll be lucky to get here by half-time!"
2 mins: Penalty shout for Australia! Harry Kewelll breaks into the box and the
Load more