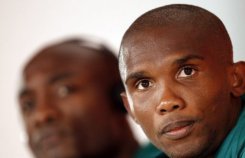 PRETORIA (AFP) – CAMEROON CRASHED OUT OF THE World Cup after they lost 2-1 Denmark in a thrilling end-to-end contest at the Loftus Versfeld Stadium in Pretoria on Saturday night.
Samuel Eto'o gave the west Africans an early lead after a blistering start to the game before Arsenal striker Nicklas Bendtner slid home an equaliser after the rampant Dennis Rommedahl got in behind Cameroon's defence and slid the ball across the area.
The quicksilver Rommedahl sealed victory when he flew in behind an out-of-position Jean Makoum at right-back, cut inside from the left and curled home the winner just after the hour-mark.
Denmark now face Japan in their final Group D game knowing they will have to win as they're goal difference is inferior to that of Takeshi Okada's side.
Read on to see how all the action unfolded in Pretoria.
– 2023 GMT: Denmark live to fight another day as Cameroon become the first team to be eliminated from the World Cup.
– 90+3 mins: FULL-TIME – Cameroon 1 Denmark 2

-90+2 mins: Sorensen comes out and claims a long ball into his box — just what the Danish fans want to see. A minute to go now.
-90 mins: Three added minutes to come.
– 88 mins: YELLOW CARD! And Kjaer is also cautioned for crunching into the marauding Aboubakar.
-86 mins: YELLOW CARD! Denmark's 'keeper Sorensen booked for time-wasting.
-85 mins: Song chips it into the box and Idrissou gets a header to it but can't keep it down.
Defensive midfielder Jakob Poulsen is on for John Dahl Tomasson.
– 82 mins: Aboubakar immediately in the action — the teenager unleashes a piledriver from outside the area that cannons straight into the head of a prone Christian Poulsen and over the bar.
That was goalbound and Poulsen knew nothing about it — and probably still doesn't! He look  groggy but eventually gets to his feet and carries on.
-55 mins: Denmark have been the better side this half if you discount Mbia's header — do they want it more than Cameroon?
– 49 mins: YELLOW CARD! Tottenham's Sebastian Bassong goes in the book for a blatant tug on Bendtner.
Kjaer's long-range strike from the resulting free-kick is tipped over by Hamidou Souleymanou in the Cameroon goal — but a goal-kick is given, weirdly.
Cameroon also made one change at the break — Lyon's Jean Makoun came on for Eyong Enoh.
– 48 mins: Great tackle from Jensen to deny Assou-Ekotto six yards out.
– 46 mins: Mbia's header from an early corner is tippd over by Sorensen.
The Danes made a change at the break with Daniel Jensen on for Martin Jorgensen.
– 1933 GMT: THEY'RE UNDER WAY AGAIN in Pretoria.
Both teams need to win this one so let's hope for more goalmouth action and Keystone Cops defending in this half!
– 1927 GMT: Simon Kjaer's pinpoint long pass from the centre-back position to pick out Rommedahl before the Danish goal was 61 metres straight to feet — not bad.
-1922 GMT: Crazy half of football — it could be 3-3!
– 45+1 mins: HALF-TIME – Cameroon 1 Denmark 1
43 mins: And now it's Achille Emana who gets into the box and has a great chance but it's blocked by Thomas Sorensen and he fires the rebound wide.
– 42 mins: And another mistake immediately at the other end and Eto'o hits the post! Mayhem!
– 41 mins: Gronkjaer caught offside — but what a block then from Song to stop the Danes taking the lead!
– 36 mins: That goal was beautiful in it's simplicity — and leaves Paul Le Guen tearing his hair out on the touchline. For all Cameroon's domination of this half, they are back to square one.
– 33 mins: GOAL! Cameroon 1 Denmark 1
Fantastic equaliser for Denmark — that came from nowhere!
Simon Kjaer plays a perfectly-judged long ball down the right flank that catches out left-back Assou-Ekotto. Dennis Rommedahl flies in behind him and controls the ball before passing it across the goalmouth for a lunging Nicklas Bendtner to poke it home at full-stretch.
– 30 mins: Cameroon still dominating this game — Emana exchanges passes with Webo on the edge of the box and almost fashions another chance.
-27 mins: A fan of the Indomitable Lions resplendent in a smart long jacket picked out with Cameroon colours and a bright yellow flat cap is whipping up the crowd at the front of one of the stands. Amusing but hardly necessary as there's already a raucous atmosphere at the Loftus Versfeld Stadium!-Â  21 mins: A rather sluggish Nicklas Bendtner fouls Assou-Ekotto on the left
.
-19 mins: More from Jim Slater at pitchside: "Every time Eto'o touches the ball the noise level goes up from the crowd, more yelling than vuvu honking as the Cameroon captain raises the excitement levels. "
-17 mins: Nice passing from Denmark and Jesper Gronkjaer shoots but it's deflected behind off Nicolas Nkoulou for a corner.
13 mins: Almost a second for Cameroon as Achille Emana fires in a shot that flies past Sorensen's righthand upright — a sweet strike but the 'keeper just about had that covered.
10 mins: GOAL! Cameroon 1 Denmark 0
Bad mistake at the back there as Simon Kjaer gives the ball away to Achille Webo on the left — he plays it in to Samuel Eto'o and the Inter striker thrashes it home with glee to give the Indomitable Lions an early lead!
9 -mins: Jesper Gronkjaer fouls Geremi near the left touchline who gets up and fires the free-kick straight at Thomas Sorensen.
7 mins: Flying Danish winger Dennis Rommedahl is played in behind the Cameroon back four …. but fires it wastefully over. Great early chance there.
4 mins: Enoh makes a break down the left and it ends up with Eto'o in the middle but he pulls his shot wide of Thomas Sorensen's righthand post.
1 min: Early chance for Cameroon but Benoit Assou-Ekotto's shot is blocked. Paul Le Guen's men look up for this.
1831 GMT: THE GAME KICKS OFF in Pretoria.
1830 GMT: An apparent sign of solidarity as the Cameroon side, who have been accused of in-fighting, form a free kick-off huddle.
1827 GMT: Jim Slater again: "The expensive seats on each end are mostly empty, the Blue Bulls rugby colours making vacant seats stand out…"
Well, it is freezing but there's no excuse for that!
1825 GMT: Here come both teams — and the rousing, Gallic-sounding Cameroon national anthem is first to ring through Pretoria's chill night air.
1820 GMT: My AFP colleague Jim Slater has been in touch from the Loftus Versfeld Stadium:
"Two bare-chested male Danish fans are braving near-freezing temperatues to run around in the stands with a flag, red and white chest paint and horned helmets," Jim tells me.
"Fans nearby are reacting with suitable mirth."
1816 GMT: So, Cameroon coach Paul Le Guen looks like he's made three changes to the team that lost so feebly to Japan.
Out are Jean Makoun, Joel Matip and Eric Choupo Moting with former Chelsea midfielder Geremi, Achille Emana and Arsenal midfielder Alexandre Song slotting in.
Denmark manager Morten Olsen also made a couple of changes to his starting line-up although crucially Arsenal striker Nicklas Bendtner does start.
Former Newcastle United player John Dahl Tomasson and former Chelsea winger Jesper Gronkjaer coming in for midfielders Thomas Kahlenberg and Thomas Enevoldsen.
Both teams have also changed formations with Cameroon switching to a 4-4-2 and Denmark going for a 4-3-3.
1815 GMT: The starting XIs are out:
Cameroon: Hamidou Souleymanou – Stephane Mbia, Nicolas Nkoulou, Sebastien Bassong, Benoit Assou-Ekotto – Alexandre Song, Geremi, Eyong Enoh, Achille Emana – Samuel Eto'o, Pierre Webo
Coach: Paul Le Guen
Denmark: Thomas Sorensen – Lars Jacobsen, Simon Kjaer, Daniel Agger, Simon Poulsen – Jesper Gronkjaer, Christian Poulsen, Martin Jorgensen – Dennis Rommedahl, Nicklas Bendtner, Jon Dahl Tomasson (capt.)
Coach: Morten Olsen
Referee: Jorge Larrionda (URU)
1810 GMT: Speaking to French TV channel Canal Plus in the wake of Cameroon's opening defeat against Japan, Samuel Eto'o left no mystery as to his feelings that his coach had made a mistake to play him out on the right in that game.
"At the end of the World Cup, Paul must answer to the officials. And me, as a player and captain, I must do the same," said the Inter Milan frontman.
"I played where the coach wanted. I gave it everything and I tried to put my team-mates in good positions to do their job.
"(But) I am the best scorer in the history of the Cameroon national team because I play in a certain position (central striker)." Ouch.
WELCOME TO OUR THIRD LIVE WORLD CUP text commentary of the day as we take you to the Loftus Versfeld Stadium in Pretoria for a do-or-die Group E clash between Cameroon and Denmark.
Both sides lost their opening group games on Monday and they will be fully aware that defeat in this second fixture could spell the end of their interest in this year's tournament.
Paul Le Guen's Cameroon lost 1-0 to Japan and looked impotent in attack against a team that was initially considered the weakest in the group.
Le Guen's decision to play star forward Samuel Eto'o wide right, a position he excelled in under Jose Mourinho for Inter Milan this season, was widely blamed for the defeat and the Frenchman is unlikely to make the same move against the Danes.
Meanwhile, Morten Olsen's side were somewhat unfortunate to end up on the wrong end of a 2-0 defeat by the Netherlands in their opener after Daniel Agger's freak own goal gave them the lead.
And Denmark will be under no illusions about the importance of a win in this game after the much-fancied Dutch edged past Japan 1-0 in this afternoon's game, leaving the Oranje sitting pretty with six points from two games.
So will the Indomitable Lions or Olsen's Eleven sneak a victory here to leave them facing a likely fight with Japan in the final round of games for the coveted second group spot?
Load more