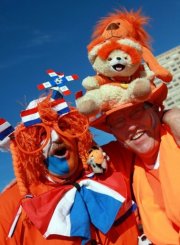 DURBAN, South Africa (AFP) – THE NETHERLANDS TOOK A LARGE step towards qualification for the last 16 in Durban on Saturday with their second straight win of the competition over a stubborn Japan side.
The only goal of the game came after 53 minutes when Wesley Sneijder's powerful strike from outside the area flew in via 'keeper Eiji Kawashima's lefthand glove.
Kawashima seemed to dive too early and will feel disappointed that he didn't manage to parry the Inter Milan midfielder's effort.
The Netherlands will qualify tonight unless the Cameroon can beat Denmark in this evening's other Group E game in Pretoria, kick-off 1830 GMT.
Join us for more live coverage of that game and of Ghana against Australia in Group D before that in Rustenburg, which kicks off in half an hour at 1400GMT.
Read on to find out how the Dutch finally mastered Japan's stoic rearguard battlers, as it happened at the Moses Mabhida Stadium.
– 90+4 mins: FULL-TIME – Netherlands 1 Japan 0
-90+2 mins: Okazaki goes over after a slight shove from De Jong and appeals for a penalty. The referee has pointed to the spot…..! No he hasn't — it's a goalkick, and rightly so.
– 90 mins: What a chance for Japan! Okazaki gets onto a header into the box but with just the 'keeper to beat fires it over from eight yards. Surely that was their opportunity!
-88 mins: Huntelaar slips it to Affelay on the edge of the box but Kawashima makes another good save and Tulio clears it off the line.
-87 mins: Another change for the Dutch who are just running the clock down here. AC Milan's Klaas-Jan Huntelaar replaces Van Persie and time is running out for Japan to find an equaliser here.
– 85 mins: Substitute Affellay is sent clear down the left flank and he bears down on Kawashima's goal. But Japan's 'keeper redeems his error for the goal by rushing out well to block at the 24-year-old winger's feet.
-83 mins: PSV Eindhoven's Ibrahim Afelellay replaces the Netherlands' goalscorer Wesley Sneijder.
-80 mins: Nakamura slips a nice pass into Nagamoto down the right channel but the right-back miscontrols and it runs behind for a goalkick.
– 77 mins: A double substitution from Japan — striker Shinji Okazaki is on for midfielder Makoto Hasebe while Keiji Tamada replaces the industrious Yoshito Okubo up front.
Attendance is just over 62,000.
– 71 mins: Netherlands make a change with Eljero Elia on for Rafael Van der Vaart
-70 mins: Van Persie hooks a dangerous cross out from under his own crossbar. The Dutch switched off for a minute there.
-67 mins: Free-kick on the left for the Dutch… is awful from Van der Vaart. He gets no elevation on it and the Japanese clear.
– 65 mins: Okubo cuts in from the right and hits another effort towards the Dutch goal bit it wobbles well wide.
-64 mins: Positive change from Japan. Celtic's Shunsuke Nakamura on for Daisuke Matsui down the right.
-60 mins: Endo's free-kick from the left is flicked on by Abe but straight into the welcoming arms of the Dutch 'keeper.
– 57 mins: Okubo fires another shot in, this time just over the bar. Japan are coming right back at the Dutch here.
55 mins: Okubo on the break at the other end and gets a shot away despite the attentions of Van Persie but Stekelenburg saves easily.
53 mins: GOAL! Netherlands 1 Japan 0

Van Persie helps the ball back to Wesley Sneijder outside the area and the Inter Milan midfielder unleashes a right-foot rocket that is deflected in off Kawashima's gloves. The ball may have deviated slightly in flight but the 'keeper made a hash of that.
51 mins: Good free-kick curled into the area by van der Vaart on the right and Tulio does well to head behind. The Dutch are upping the ante here.
49 mins: Ball over the top from Van Bommel picks out Van Persie on the left of the area but he can't control his shot and screws it well wide.
Good chance for the Netherlands.
– 47 mins: Van Bronckhorst swings a good ball in from the left and Van Persie directs a strong header towards goal but Kawashima gets across to save comfortably.
1231 GMT: AND THE SECOND HALF gets under way. No changes for either side.
1229 GMT: My AFP colleague Luke Phillips has been in touch again from the Moses Mabhida Stadium:
"The large Dutch contingent of fans in the stadium has been somewhat silenced by a committed Japan team as everyone charges out for the toilet and more drinks at half-time.
"The sprinklers are on and groundstaff out in force to replace more divots than you'd see on a high-handicap golf tournament."
It's a balmy 21 degrees C (70F) with a slight breeze in Durban
– 1223 GMT: The Netherlands had 69 percent of possession in that first-half — but it's what you do with it, is it not?
1220 GMT: Takeshi Okada's side started to show a bit more ambition in the last ten minutes of that half after realising they were coping relatively easily with all the Dutch were throwing at them.
Maybe some positive signs for the second half.
45+1 mins: HALF-TIME – Netherlands 0 Japan 0
45 mins: One minute of added time to play here. Van der Vaart tries a long range effort but Kawashima saves easily down by his left post.
43 mins: Honda free down the right and he pulls it back for fellow striker Okubo but he can't get a foot to it in the Dutch area.
41 mins: Driving run from Honda and he's brought down — free-kick 45 yards out in the centre but he blasts it miles over the crossbar.
38 mins: Great technique from Matsui as he allows a high ball to drop and fires a sweet volley at the Dutch goal but Maarten Stekelenburg gets down well to save. Vuvuzelas at full volume here in Durban.
36 mins: YELLOW CARD! Van der Wiel goes in the book for a cynical block on Matsui on the right. The resulting free-kick is headed wide of the far post by Tulio.
33 mins: Free-kick whipped in by Yasuhito Endo from the right and a free header for Honda in the area but he sends it flying high over the bar. Set pieces look like the Asian side's best hope of a goal in this game.
29 mins: This is a good test of the Netherlands' ability to break down a negative team. They've got the big names and side chock full of attacking talent from Europe's most famous club sides and Takeshi Okada has clearly decided to say if you're so skilful, get past us!
Nakazawa chopped down by van der Vaart and Japan get a free-kick near the half way line.
– 27 mins: Japanese defenders are just swarming around any Dutch player that gets the ball near their penalty area. Destructive but effective.
24 mins: The Japan side look set up to try to earn a point from this one, which would be an excellent result in the wider context of the group as it would leave them on four points from two games and with a decent chance of making the knock-out phase.
21 mins: The Dutch are just stroking it around in their own half here just to get some sustained possession going as the Japanese are lightning quick into the tackle when they try to get forward.
18 mins: Van der Wiel plays the ball into Van Persie on the right but he loses it and then fouls Tulio in attempt to get it back — good defending from Japan.
15 mins: Daisuke Matsui chips a ball into the Dutch box looking for Keisuke Honda — who scored Japan's goal against Cameroon — but it comes to nought. Some neat interplay though.
11 mins: Nice move from Japan and adventurous left-back Nagatomo fires a shot wide.
10 mins: Kuyt tries an acrobatic overhead kick from six yards out under pressure from Nakazawa but it's blocked.
Komano is back on for Japan having had a cut on his face patched up.
9 mins: Sneijder fires a decent effort from the resulting free-kick that flies over Eiji Kawashima's crossbar.
8 mins: Clumsy challenge on Van Persie who catches Yuichi Komano in the face with his studs as he goes down. He's being stretchered off.
5 mins: Van Persie gets a looping cross in from the left and a Japanese defender has to head behind for a corner.
2 mins: Liverpool striker Dirk Kuyt makes a energetic early break down the right wing for the Dutch but it comes to nothing.
1130 GMT: AND THE GAME HAS KICKED OFF in a sunny Durban — the Netherlands are in their traditional bright orange shirts with black shorts, the Japanese in white shirts and dark blue shorts.
1127 GMT: But it's not half as solemn as the Japanese anthem — serious stuff. Lots of emotional singing and hands on hearts among the Samurai Blue fans in the crowd.
1125 GMT: The rather solemn and moving Dutch national anthem is being played — and most of the players are joining in.
1123 GMT: This just in from my AFP colleague Luke Phillips approaching the ground earlier:
"I had to pinch myself en route to the stadium that I wasn't an extra in some kind of prison break from Guantanamo Bay, such was the large number of orange boiler suits donned by Dutch fans.
"The locals have definitely plumped for the Netherlands, although I have seen Samurai, Ninja and Sumo as the fancy dress theme is being embraced by travelling Japan fans."
1118 GMT: Robben is left on the bench as expected but with Inter Milan's Wesley Sneijder and Real Madrid's Rafael van der Vaart in midfield and the hugely gifted Robin Van Persie up front the Dutch must fancy themselves to beat a limited Japan side.
Both teams are unchanged after their opening group victories.
1113 GMT: Starting line-ups in Durban:
Netherlands: Maarten Stekelenburg, Gregory Van der Wiel, John Heitinga, Joris Mathijsen, Giovanni Van Bronckhorst (capt), Mark Van Bommel, Nigel De Jong, Dirk Kuyt, Wesley Sneijder, Rafael Van der Vaart, Robin Van Persie
Coach: Bert van Marwijk
Japan: Eiji Kawashima, Yuichi Komano, Marcus Tulio Tanaka, Yuto Nagatomo, Yuji Nakazawa, Yuki Abe, Yasuhito Endo, Daisuke Matsui, Makoto Hasebe (capt), Keisuke Honda, Yoshito Okubo
Coach: Takeshi Okada
Referee: Hector Baldassi (ARG)
WELCOME TO OUR FIRST WORLD CUP LIVE TEXT commentary of the day from the Group E clash between the Netherlands and Japan in the coastal city of Durban.
Bert van Marwijk 's skilful Dutch side will be expected to overcome Takeshi Okada's workmanlike outfit in this one, though the Oranje will have been impressed by the way their less-vaunted opponents dug out a battling 1-0 win over Cameroon in their opener on Monday.
The Netherlands completed an efficient if unspectacular 2-0 victory over Denmark earlier the same day but are still to reveal the myriad attacking talents of their star-studded midfield in this competition.
One famous name that we are unlikely to see in today's game is Bayern Munich winger Arjen Robben.
The twinkle-toed midfielder, who is suffering with a hamstring injury picked up in a friendly win over Hungary in Amsterdam two weeks ago, trained on for the first time in South Africa just last Friday and still isn't fully fit.
Kick-off is in just thirty minutes at 1130 GMT at the gleaming white Moses Mabhida Stadium on the shores of an azure blue Indian Ocean so stay with us for all the action as it happens.
Load more