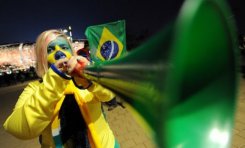 JOHANNESBURG (AFP) – BRAZIL ARE INTO THE SECOND ROUND but suffered a severe blow when star player Kaka was sent off late on.
The "Group of Death" in the end held no terrors for the samba boys but Kaka will miss a game after a farcical second yellow card for a coming together which the referee clearly did not see.
Having said that, the Brazilians also had their share of fortune when the referee allowed Luis Fabiano's second goal to stand despite two handballs.
The Elephants will now be watching tomorrow's game between Portugal and North Korea with great interest, but will still have a chance of qualifying going into the last match whatever the result.
To find out how a sometimes controversial match unfolded, read on.
Eriksson doesn't seem too downcast post-match. "We conceded a couple of easy goals, but the first goal was very good. I thought we came back well but we couldn't socre more than once unfortunately. "
– 2024 GMT: BBC pundit Alan Hansen thinks he may have seen the potential winners. "That's the best performance I've seen in terms of off the ball and on the ball, but that's the worst red card I've ever seen."
His colleague Alan Shearer is a big fan of two-goal striker Luis Fabiano. "He's big, he's strong and he's powerful. I was very impressed with him even if he did have a double handball for the second one," he says.
– 90+4 mins: FULL TIME! Brazil 3 Ivory Coast 1
– 90+1 mins: There's three minutes of stoppage time. You have to feel for Kaka, who will now serve a one-match ban, as he seems to be paying for the dramatics of his team-mates. Julio Cesar is at full stretch to keep out a dangerous cross with Drogba lurking.
Needless to say, Dunga is furious.
– 88 mins: RED CARD! Kaka is off. Absolute farce, but something had been brewing. Keita ran into Kaka's shoulder off the ball and the referee gives him a second yellow. Keita bought it, but he was only doing to Brazil what they had been guilty of in the previous five minutes.
– 86 mins: YELLOW CARD! This is getting tetchy. Ismael Tiote is booked for a foul on Robinho. Moments later a soild, but fair challenge from Keita causes more yelps and finger-wagging.
85Â  mins: YELLOW CARD! A bit of a melee on the sideline ends up with Kaka getting booked. All very silly.
– 79 mins: GOAL! Brazil 3 Ivory Coast 1
75 mins: YELLOW CARD! Abdulkader Keita takes 10 minutes to get booked for keeping his studs up as Michel Bastos followed through with a clearance. It looked pretty painful but he's up and running.
74 mins: Although Kaka has looked a bit off-colour, he still has an ice-cool thought process around the penalty area, setting up two of tonight's goals.
– 72 mins: Another change for the Elephants as Emmanuel Eboue is replaced by Romaric. His first involvement is to hit a rasping shot which Julio Cesar parries, not without some discomfort.
– 70 mins: There's a real freedom to Brazil's play now, very un-Dunga-like! Drogba pwers into the area and wins a corner.
– 65 mins: Goalscorer Elano is in all sorts of trouble. He stretches to poke a ball to a team-mate but is raked across his shin by Ismael Tiote's studs. He's replaced by Daniel Alves, but  is on his feet on the sidelines, so good signs.
Ivory Coast take off the ineffectual Salomon Kalou and bring on Abdulkader Keita.
2 mins: GOAL! Brazil 3 Ivory Coast 0
And that may well be that. Kaka gets to the byline and pulls the ball back into the centre where Elano has stolen a march on his marker and finishes easily from six yards out.
62 mins: Superb interplay between Kaka and Robinho ends up with the Real Madrid poking a shot which is well saved.
59 mins: Gervinho is running at people and causing a bit of motion in the Ivory Coast's forward line. Ivory Coast fans can sympathise with Ireland supporters, themselves victims of a double handball. One imagines the Irish are seeing what is going on in the France camp as kharma.
– 55 mins: That indeed is Dindane's last involvement as Gervinho is brough on. Looking at the goal, he hanballed it on two occassions. Firstly when the ball dropped out of the air, and then after he flicked it over the defender. Amazingly, the referee appeared to ask him if he handled it. How did he expect him to answer?
– 54 mins: Drogba nearly drags his country back into the game, heading Dindane's fine cross back across goal. It ends up a foot wide of the post.
– 50 mins: GOAL! Brazil 2 Ivory Coast 0
– 46 mins: No changes as yet but Gervinho is having a stretch. If he keeps to the same system, it looks like Dindane who will be sacrificed.
1931 GMT: Goodness knows how many tackles the two Brazil holding midfielders Gilberto Silva and Felipe Melo made in the first half, but it's telling that they were the South Americans' most eye-catching players."I think they need to change it, maybe bring Gervinho on because I can't see them scoring," he advises.
Former England striker Alan Shearer and fellow BBC pundit is unimpressed with Kaka, despite the assist. "He's given it away so many times," he says. "But this is a different Brazil side, they are so rigid."
– 45+1 mins: HALF TIME! Brazil 1 Ivory Coast 0.
– 44 mins: A delay in proceedings as Tiene goes down with a head injury. The Brazilians are miffed as the referee waited until they got the ball before halting the game
– 41 mins: It's opening up a bit but Drogba still can't get in the game. Eboue hits a shot which deflects wide, but a goalkick is awarded.
– 37 mins: Dindane hits the type of shot which has been causing nightmare's for goalkeepers, but Julio Cesar watchfully collects the ball which bounces just in-front of him.
– 36 mins: As much of a success as this World Cup has been for Africa, it would be a minor tragedy if no team were to qualify from the groups.
Aruna Dindane appeals for a handball in the area but he's on his own.
– 33 mins: Brazil are beginning to dominate. Dunga will argue that if you have strikers who can finish as effectively as Luis Fabiano then you don't need to create many chances. Will the assist help Kaka's dented confidence?
– 30 mins: YELLOW CARD! Siaka Tiene is in the book after being bamboozled by Elano's quick feet.
– 25 mins: GOAL! Brazil 1 Ivory Coast 0
Absolutely clinical strike from Luis Fabiano. Kaka slipped a short through ball in front of the Sevilla  forward and he lashed it first-time into the roof of the net from a tight angle. A bit like Friday's strike from Landon Donovan but further out.
23 mins: Maicon and Robinho combine but the throughball to Luis Fabiano is too hard. A bizarre clapping and hopping routine from Kolo Toure shepherds the ball out for a goalkick.
– 20 mins: The Selecao are beginning to press but it's mostly a series of dead-balls which fail to yield any clear openings.
– 17 mins: You can see why the Brazilian media have got a problem with Brazil, they look much more of a stifling team than a free-flowing attacking outfit. Gilberto does well to turn a shot on target from a corner but it's blocked.
– 15 mins: Drogba v Lucio looks set to be a titanic battle. The Brazil man fouls the African hero but Julio Cesar does well to punch clear the resulting free-kick.
– 11 mins: Eboue wins a free-kick 35-yards from goal after a positive surge on the right. Drogba shoots but it goes high, and then even higher. One trait of the ball seems to be if it's hit hard it just keeps going up and up, as though it's filled with helium.
– 8 mins: Ivory Coast are looking slightly the more assured but Drogba is being tightly marked by Lucio, who got the better of the Chelsea man during Inter Milan's Champions League victory.
–5 mins: Sven's looking very "bling" on the touchline in an ice-white puffer jacket. The vuvuzelas are setting a pulsating rhythm which the play is yet to match.
– 4 mins: Drogba's first involvement ends in a free-kick to the Elephants. He looks like he's shielding his arm, understandably.
– 2 mins: Robinho starts where he left off in the first game. He powers through the middle and hits a long-range shot which dips just over the bar.
– 1 mins: Ivory Coast get us underway and win a free-kick for a late tackle. If that's possible after just 10 seconds.
Not sure about the Ivory Coast kit. The shirts are green and white horizontal stripes with green shorts.
1824 GMT: The teams come out in-front of over 90,000 people and it's all getting very exciting. Let's hope the game lives up to its billing.
The Brazilians in the crowd are unified for their anthem. Some bizarre outfits and the usual splashing of attractive ladies from the cameraman.
Emmanuel Eboue sounds a little horse during the Ivory Coast anthem, hope he's not carrying anything. Drogba looks like he's about to burst with pride.
– 1817 GMT: AFP man at the ground Ryland James is enjoying a balmy evening in Jo'burg. "After the bitter sub-zero temperatures of last week's Brazil-North Korea game at Ellis Park, it is an almost tropical 12 degrees here and there are plenty of Brazilian flags at Soccer City for what promises to be a cracking game between two teams who love to attack," he says.
1810 GMT: An unchanged Brazil team but as expected Didier Drogba is brought in for Ivory Coast. Gervinho can count himself a little unlucky to sit it out, he was named man-of-the-match on British TV for their first game!
Eriksson tells the BBC he'll be happy with a draw. "You always hope the last game depends on yourself so I would be happy with a point," he says. "It's a great thing if you can beat Brazil, but we'll see."
Alan Hansen thinks that Drogba could be the match-winner despite his broken arm. "There's no doubt about it, he's a brilliant player," he says. "It will be interesting to see how Lucio handles him."
The teams are in:
Brazil: Julio Cesar; Maicon, Lucio, Juan, Michel Bastos, Felipe Melo, Gilberto Silva, Elano, Kaka, Robinho, Luis Fabiano.
Coach: Dunga
Ivory Coast: Boubacar Barry, Emmanuel Eboue, Kolo Toure, Guy Demel, Siaka Tiene, Didier Zokora, Yaya Toure, Ismael Tiote, Salomon Kalou, Didier Drogba, Aruna Dindane.
Coach: Sven-Goran Eriksson
Referee: Stephane Lannoy (France)
WELCOME TO THE MAGNIFICENT SOCCER CITY STADIUM in Johannesburg for our live World Cup text commentary of a mouthwatering Group G clash between Brazil and Ivory Coast.
The first of the second round of games in the so-called "Group of Death" promises to be a skillful encounter with some of the word's best players on show for both sides.
Victory for Brazil will put them within touching distance of the second-round after a hard-fought opening 2-1 victory against North Korea, but only a positive performance will take the heat off manager Dunga.
Ivory Coast manager Sven-Goran Eriksson was pleased with his team's cagey 0-0 opener with Portugal, but will be looking for a greater goal-threat with the return of star-striker Didier Drogba.
To find out if The Elephants can trample on Dunga's dream join us for kick-off at 1830 GMT where we will keep you up to date with all the action.
Load more