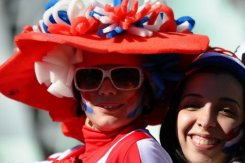 BLOEMFONTEIN (AFP) – PARAGUAY CRUISED TO A 2-0 win over a poor Slovakia to put themselves on the cusp of qualification from Group F.
A draw in their final game against New Zealand will secure passage to the last 16 while the two goal cushion will do no harm in their quest to finish top of the group, avoiding a probable match-up with the Netherlands.
Slovakia look to be heading home and need a win against Italy in their last game to stand any chance of qualification. On this showing that does not look a credible outcome.
Below is an as-it-happened account of Paraguay's comfortable
– 1322 GMT: BBC pundit Mick McCarthy was impressed by the Paraguayans. "They had a little scare just before half-time, other that that they controlled the game completely," he says.
Co-pundit Lee Dixon agrees. "They were by far the better attacking force and they pressed so high up the pitch. They were better from the goalkeeper right throught the team."
– 90+4 mins: FULL TIME! Slovakia 0 Paraguay 2
– 90 mins: The second goal adds a bit of pressure on Italy, who will want a few goals against New Zealand if they are to stay on course to finish top of the group. There are four added minutes.
– 86 mins: GOAL! Slovakia 0 Paraguay 2
– 84 mins: YELLOW CARD! Vladimir Weiss is booked after a supposed tackle on Torres. A bit of a cock-up as he wasn't even the guilty party.
82 mins: Lucas Barrios makes way for Oscar Cardozo. A bit of a turn-up as Santa Cruz looks out on his feet. He didn't even train yesterday and clearly is still searching for fitness.
– 79 mins: Just 24,000 in the stadium. In all fairness, it's not a fixture to get the pulse racing, but it's not been a bad game. The last five minutes have been a bit of a stalemate though.
– 77 mins: Torres's first contribution is to belt the ball from 30-yards out. Not a bad effort, but it was always too high.
-75 mins: As comfortable as the South Americans appear, the would dearly love to get a second, and decisive goal. Coach Martino is getting a bit twitchy on the bench.
72 mins: The lead is nearly extended as Vera meets Santa Cruz's cross but his header is steered just wide of the post.
-71 mins: It's extremely difficult to see where a Slovakia goal is going ot come from as Paraguay keep their foot on their opponents throats with relentless passing and pressing high up the pitch.
-70 mins: Slovakia make their own change as Filip Holosko comes on for Stanislav Sestak.change as Filip Holosko comes on for Stanislav Sestak.
– 68 mins: Workhorse Nelson Valdez has had enough and is replaced by Aureliano Torres. He deserves to put his feet up for the next 20 minutes.
– 65 mins: Not for the first time in his career Santa Cruz is down injured. Not surprisingly either following a wild tackle from Skrtel, which the defender gets away with.
– 62 mins: Durica charges down the left flank but is tackled as he crosses. The resulting corner leads to a spate of crosses and clearances but Justo Villar in the Paraguay goal eventually claims the ball.
60 mins: Liverpool defender Martin Skrtel clears Santa Cruz's cross as Paraguay begin to take charge again.
– 57 mins: Sestak is gifted the ball on the right-wing but hits a poor cross with plenty of time. A few signs of optimism for Slovakia fans.
55 mins: This is Slovakia's first ever World Cup and it looks like being a disappointing one unless they can start getting Hamsik and Weiss on the ball in dangerous areas.
53 mins: This from our man in the ground, John Weaver: "The usual vuvuzela din is covering up for the lack of fans here but over to my left Bafana Bafana fans are doing their best to compete with the racket by singing and dancing."
– 49 mins: Excellent defensive work from striker Valdez, who throws himself in-front of Hamsik to block his shot. That really highlights Paraguay's work ethic.
47 mins! YELLOW CARD! Stanislav Sestak is carded after hacking down Cristian Riveros. We start off where we finished in the first period.
– 1221 GMT: Paraguay were clearly the dominant attacking force in the first-half, which is a credit to them considering a draw would suit them much more than Slovakia. The Europeans look capable but seem to be making the wrong decision when they get into the final third.
At the moment then, Italy and Paraguay are heavy favourites to go through. Both will be keen to finish tip and avoid a second-round clash with the Netherlands.
1218 GMT: Roy Hodgson on BBC believes there is still hope for the Slovaks, who really need a goal in the second period.
"If you asked me after twenty minutes I would've doubted it, but in the last twenty minutes we've seen some quite interesting attacks," he says. "I think it's crosses and set-plays that could be a winning formula for them.
– 45+1 mins: HALF TIME! Slovakia 0 Paraguay 1
45 mins: YELLOW CARD! Enrique Vera makes it one booking each after exacting his own revenge.
-42 mins: YELLOW CARD! Slovakia's Jan Durica is in the book. The midfielder can have no complaints after a rash tackle on Barrios.
– 39 mins: Glorious chance for Paraguay. Vera intercepts a free-kick deep in Slovakia's half and plays in Santa Cruz, but the Manchester City man is denied by Mucha's feet.
– 37 mins: The first Slovak corner of the game. Kornel Salata nearly makes it count as he rises unmarked but his firm header flies over the bar.
-34 mins: Antolin Alcaraz comes to Paraguay's rescue, hooking clear just as Stanislav Sestak thought he was clean-through.
– 33 mins: A bit more promising as Slovakia ping a few passes together but there aren't many people in the box. Not that it matters because the final cross is overhit. Moments later a low cross is just behind Vittek.
– 31 mins: Do the Slovakians have the ability adopt a more positive approach? If not their tournament is effectively over.
– 27 mins: GOAL! Slovakia 0 Paraguay 1
Lovely, and deserved goal, by Enrique Vera. The forward combination combined superbly again as Barrios played an inch-perfect ball through to Vera who curled the ball into the far corner with the outside of his right foot.
– 25 mins: The lively Valdez spins his man and hits a long-range shot but it is weak and wide.
24 mins: Lucas Barrios and Enrique Vera exchange a couple of neat passes before the former hits a shot high and wide from the corner of the area. It wasn't a bad effort but a bit optimistic.
22 mins: Slovakia show a bit of thrust down the right wing but it comes to nought. The onus is really on the eastern Europeans after the first round of games, but they don't seem capable of sustaining pressure.
– 19 mins: Valdez cuts in from the left and pulls the ball back to Cristian Riveros who hits a firm first-time shot from the edge of the area but it is well saved by Mucha.
-18 mins: Morel whips in a free-kick which just evades Paulo Da Silva at the far post. If he had Carlos Valderrama's hair-cut it would be 1-0 now.
– 16 mins: Claudio Morel, who has just found out that Boca Juniors won't be renewing his contract, tries to feed Santa Cruz in down the left-wing but the tackle flies in.
– 13 mins: The South Americans are moving the ball around with a certain degree of confidence and Slovakia look set up to absorb pressure. The ball isn't sticking when they clear though and they're having to do a lot of chasing.
– 9 mins: My colleague is right, there are plenty of spare seats. Hamsik gets some space and plays in Jan Durica but his cross from the left floats woefully over the bar.
7 mins: Nelson Valdez appears to be playing somewhere in-between midfield and attack, so it isn't the 4-3-3 system we expected. Slovakia are finding it difficult to get on the ball, committing a series of fouls.
4 mins: Santa Cruz hits a shot from the edge of the area which was looping into the top corner but Jan Mucha palms wide for a corner. Good save but a bright start for Paraguay.
3 mins: Napoli's Marek Hamsik is the star-turn in the Slovakia team but was subdued against New Zealand. He looks to have a far more advanced midfield role today, so hopefully we will see a few more flashes of inspiration from the captain.
1 min: Slovakia, all in white, kick-off with Paraguay in their traditional red and white striped shirts, blue shorts.
1124 GMT: It's anthems time. The Slovakia players sing as one but coach Weiss is pensive on the touchline. I thought the Paraguay players weren't singing, it just turns out there's an epic instrumental intro.
1123 GMT: Fulham manager and BBC pundit Roy Hodgson reckons we'll see goals in this games as Paraguay opt for an attacking line-up with three up-front.
– 1113 GMT: AFP's man in the stadium, John Weaver, fears that the attendance will be somewhat less than the 41,000 capacity.
"The Free State stadium is bathed in warm sunshine but there aren't many here to enjoy it at the moment. It looks like this match hasn't caught the imagination of the locals," he says.
Slovakia coach Valdimir Weiss makes three changes from their disappointing opening game while Paraguay welcome back star-striker Roque Santa Cruz at the expense of Aureliano Torres.
The teams are in:
SLOVAKIA: Jan Mucha, Peter Pekarik, Martin Skrtel, Kornel Salata, Zdenko Strba, Vladimir Weiss, Jan Kozak, Jan Durica, Marek Hamsik , Stanislav Sestak, Robert Vittek.
Coach: Vladimir Weiss
RiverosPARAGUAY: Justko Villar, Claudio Morel, Paulo Da Silva, Antolin Alcaraz, Carlos Bonet, Enrique Vera, Victor , Roque Santa Cruz, Nelson Valdez, Lucas Barrios.
Coach: Gerardo Martino
Referee: Eddy Maillet (Seychelles)
WELCOME TO THE FIRST OF SUNDAY'S THREE LIVE WORLD CUP text commentaries as we take you to the Free State Stadium in Bloemfontein for the Group F match between Slovakia and Paraguay.
Both teams have one point after drawing 1-1 in their opening games but Paraguay will be far more satisfied with their result, coming as it did against the defending champions Italy.
In contrast, Slovakia conceded an injury-time leveller against rank-outsiders New Zealand meaning they will have to win today to stand a realistic chance of qualifying.
Paraguay will be looking to go top of the group and put pressure on Italy, who play later, with New Zealand up last for the Guarani.
To see if the South Americans can slay Slovakia then be back here for kick off at 1130 GMT.
Load more