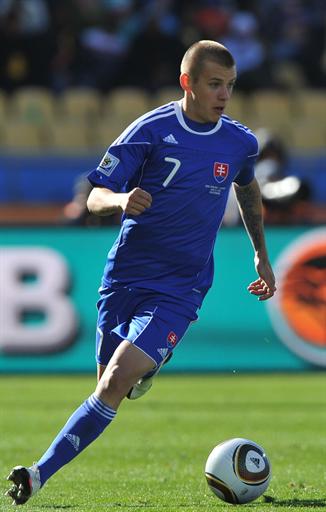 Top of the bill Sunday is Group of Death showdown Brazil v Ivory Coast while World Champions Italy take on New Zealand saying defeat would be similar to the Kiwi's rugby team being beaten by Italy. Also on the slate is exciting Paraguay, who tackle a Slovakia side still smarting from a late, late equaliser against the Kiwis in their opener.
Paraguay v Slovakia: Bouyant Latins take on tragic Slovakia
Paraguay head into their clash with Slovakia in Bloemfontein on Sunday knowing their toughest game is out of the way – at least on paper – with a 1-1 draw against defending world champions Italy in their Cape Town opener.
While Slovakia also picked up a point, in Rustenburg, the eastern European outfit were shell-shocked after conceding a last-gasp equaliser against group outsiders New Zealand. Napoli midfielder Marek Hamsik is the main dangerman for Slovakia. Paraguay beat both Brazil and Argentina in qualifying and will attract great interest from neutrals.
Italy v New Zealand: Kiwis warning for Italy: 'let's get physical'
The Italians proclaim defeat is unthinkable but the New Zealand All Whites are planning to give the defending champions a run for their money at the World Cup on Sunday.
On face value, Italy, among the aristocrats of world football with four World Cups, are unbackable favourites but their only previous encounter with New Zealand, in a friendly ahead of the Confederations Cup last year, they managed a slender 4-3 win. The All Whites led the match on three occasions through goals from Shane Smeltz and Chris Killen before Italy clawed back to win.
New Zealand celebrated their first-ever World Cup point with a stoppage-time leveller with Slovakia in Rustenburg and are on a high. Italy will be without their talisman goalkeeper Gianluigi Buffon, who suffered a recurrence of a herniated disc against Paraguay.
Brazil v Ivory Coast: More expected of Brazil against Ivory Coast
The Group of death moves into full swing Sunday when Five-time World Cup winners Brazil take on dark horses Ivory Coast, who welcome Didier Drogba back to the starting line up.
The Elephants' striker Salomon Kalou says his side need to take a leaf out of North Korea's book and 'annoy' Brazil without letting the flamboyant South Americans play their natural attacking game.
Brazil midfielder Julio Baptista says he expects the Ivory Coast to give Brazil their toughest test before the knock-out phase between two sides who love to attack.
Drogba's presence on the pitch will have a massive effect on the Elephants' attack should Eriksson decide to start with him, despite his fractured arm.
Brazil's defence held firm for 89 minutes against North Korea, but the Ivory Coast's attack is expected to provide a firmer test than the Asian minnows and will shed more light on whether Dunga's side are genuine title contenders.
Load more