The Super Eagles, say although they appreciate the $30,000 promised each of them if they beat South Korea tomorrow, but the money is not their priority as they are ready to play their hearts out and qualify for the Round of 16 of the 2010 World Cup.
The NFF announced the incentive to boost the morale of the team, who must beat Korea and hope that Argentina beat Greece tomorrow.
After the announcement, the players, led by skipper Nwankwo Kanu and his assistant, Joseph Yobo said they will not disappoint the nation.
Each player was told they would get $10,000 for every victory in the first round of the World Cup. But no one is smiling yet to the bank as the team are yet to win a game in South Africa.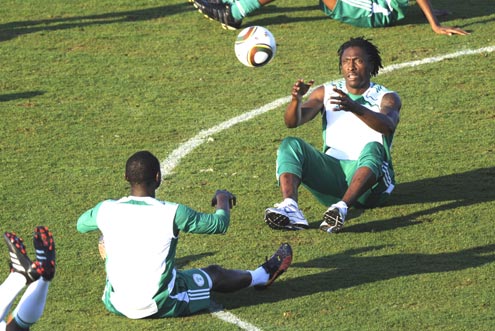 However, as an additional incentive to the team to beat South Korea, the Nigeria Football Federation, NFF agreed to pay the team not on a match-to-match basis, but on the basis of their qualification for each round of the competition.
"The players will now each pocket $30,000 each if they beat Korea and qualify for the next round. It was something the NFF leadership agreed with the players," said a top NFF official, who asked not to be named.
The Eagles will earn a further $12,500 per head for victory in the Round of 16.
NFF President Sani Lulu has urged the team to win against South Korea. He addressed the team before their last training session, urging them to rise to the occasion as the whole country still believes in them.
Yesterday, coach Lars Lagerback shut out both the media and officials of the NFF from his training as he finalised plans ahead of the clash.
According to NFF spokesman Ademola Olajire, it was the first time since the tournament kicked off that NFF staff were banned from the team's training.
"Lagerback decided to close the session entirely to the media and other persons outside the team and technical personnel in order to try out new formations and strategies," said Olajire.
With Sani Kaita, who stepped in for injured Taye Taiwo late in the match against Argentina, suspended after his red card against Greece, and Nigeria needing to win at all costs, Lagerback must perfect a new formation and try new personnel in a number of positions to deal with the emergency.
The Eagles took a day off Saturday and were allowed to take their minds off football and generally stroll round the hotel grounds while others did light exercises.
Meanwhile, physiotherapist Ekundayo Ogunkunle said injuries to defenders Taye Taiwo and Elderson Echiejile were "under control". However, it is not clear if Taiwo, who had a scan on Saturday for a groin complaint, will be fit in time for Tuesday's showdown.
Load more