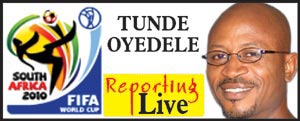 South Korea striker, Park Chu-Young has written off Nigeria's Super Eagles ahead of tomorrow's last group game of the 2010 World Cup, saying his side will qualify for the next round at the expense of the Nigerians.
Chu-Young, who plays for AS Monaco of France, said South Korea equally parade stars who are playing in top flight leagues in Europe, hence his team could beat the Eagles in tomorrow's all-important clash.
According to the player, who plays with Haruna Lukman at Monaco, "I know some Nigerian players. Lukman is my team-mate at Monaco, we play together. I must say that the last group game is a different ball game. We have seen that Nigerian team are beatable. They went down against Argentina and Greece. And since Greece, who we beat 2-0 defeated Nigeria, I think we have good chances of stopping them in the match."
"My team are better than the Nigerians. We'll be fighting for the leadership of the group by scoring more goals against the Eagles, hoping that the Greeks defeat Argentina tomorrow.
"Nigeria have many stars and we equally have stars playing their games in Europe. We have players in the English League and I don't think we'll going into the match as rookies. We'll match the Nigerians strength for strength," Chu-Young told P.M.News after their training in Durban.
"Let me say again that our coach, Huh Jung-Moo has told us to provoke the Nigerians because we discovered that they are very easy to provoke. This, among other things, is what we are planning as our strategy to win the crucial game. All I know is that there will be no hiding place for the Nigerian team tomorrow."
Coach Jung-Moo of South Korea vowed that defeating the Super Eagles is non negotiable as his team are battle ready to wreak havoc on the Nigerians whose tall ambition is to win the match to qualify for the next stage of the World Cup.
Technical Adviser of the Super Eagles, Lars Lagerback believes if his team have the needed winning mentality, he sees Nigeria beating the Koreans in the match.
The Swede said: "If the Eagles plan to win the match they will win. What they need is the winning mentality. As a coach, I have done my best and I have equally told them that there is nothing to be afraid of than to go out there and confront the Koreans with the character of a team that want to win.
"The chances are there for them to win. It is now left for the team to approach the match with the winning mentality to excel."

—Tunde Oyedele, Durban, South Africa
Load more