At least, 30 houses were  flooded on Sunday at Community Road, Ijegun, Lagos, Nigeria, as a result of heavy rainfall which lasted more than eleven hours.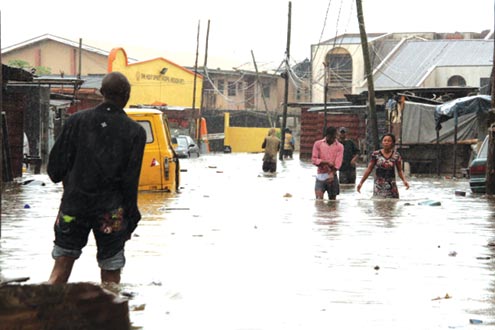 The News Agency of Nigeria (NAN) correspondent at the scene reports that the rain started about 6 a.m.. and lasted till 5 p.m on Sunday, rendering several residents homeless.
Houses and cars in Irepodun street in the area were flooded and residents struggled to save their property.
Sade Balogun, a resident whose car was flooded, said he came out to drive the car to the church and discovered the car was in the flood. Mr. Christian Nweji, a businessman, said  the flood was caused by blocked drainage channels, while Mrs. Felicia Aroh said she had lost property worth more than N300,000 to the flood.
"I have been trying to save some of the goods in my shop by sweeping out the water that filled my shop,"  she said.
Similarly, the flood has made Ijegun-Ije-Ododo road almost impassable. A resident of Ije-Ododo, Mr. Adekunle Folarin, said only a few vehicles could pass through the flood since 6 p.m yesterday.
Another resident of Ije-Ododo, Chief Akeem Ologunebi, appealed to the Lagos State government to provide the community with canal, drainage channel and a good road to alleviate the suffering of residents who now wade through flooded roads to enter their houses.
The case is worse in Ijagemo, where some residents of Oko-Obi have been forced to move out their properties owing to the heavy flooding.
A resident simply known as Alfa told P.M.NEWS he has to move his kids to a friend's house while some of his properties were kept on his table and bed.
Meanwhile, the only access road to Ijagemo has become impassable from Oyedokun bus stop.  Ijagemo residents trekked through the flooded Ijagemo-Ijegun road up to Oyedokun bus stop before they could take Okada or tricycle to their destinations.
Load more