Former French star Zinedine Zidane on Monday said he disagreed with the current squad's controversial decision to refuse to train Sunday following the decision to send Nicolas Anelka home.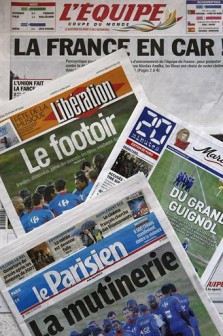 "Seeing the players not train, of course I am not in favour of that – but at the same time I am not in the camp to know what is going on in their heads," said Zidane."I am not at all for it (refusing to train) because, as a journalist said, we will remember this World Cup for who wins it and the France team for refusing to train."
The French press poured scorn on the World Cup squad on Monday saying their refusal to train in protest at the decision to send home striker Nicolas Anelka had shamed the whole country.
"This France team has shamed us all" commented tabloid 'Le Parisien' while on the front page they simply put 'Mutiny' above a photograph of the squad at their training ground in Knysna. "Each day, the Blues set new standards of unacceptable behaviour," it said."Yesterday in order to demonstrate their support of Nicolas Anelka who had been expelled the day before, they went on strike… this group of spoilt children, allowed to do whatever they want by the powers above them, therefore do not have any limits, no sense of duty so close to the match with South Africa."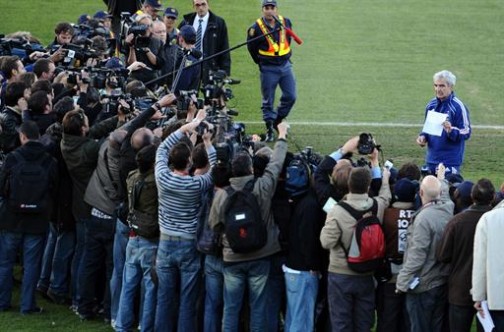 The travials of the team has led France's Credit Agricole bank to cancel television ads featuring the French World Cup football team on Monday. The internal divisions in the camp exploded into a full-blown crisis.
The announcement came after French fastfood chain Quick said Sunday it was stopping advertisements starring France's star striker Nicolas Anelka, who was sent home from the Cup after a foul-mouthed rant at coach Raymond Domenech.
But the German sportswear maker Adidas said it would continue its ad campaign featuring French midfielder Yoann Gourcuff as long as the squad remained in the competition.
Load more