Super Eagles and Wolfsburg of Germany star, Obafemi Akinwunmi Martins is optimistic of Nigeria's chances in the last group game of the 2010 World Cup against South Korea tonight.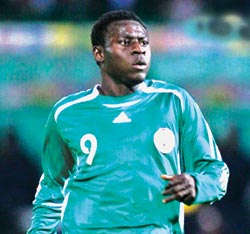 Martins, who was a substitute in Nigeria's first match against Argentina on 12 June, said though the Eagles wasted a lot of opportunities in their last two matches, there is still hope of making the Round of 16.
He told P.M.Sports at their camp in Richard Bay, Durban early today: "I know that we are in a difficult situation because we failed to live up to expectations in our last match against Greece. We allowed the Greeks to run away with a 2-1 victory. Nonetheless, we have resolved to lay down our lives to win today's match. We are ready to do that because we have the chance to move on to the Round of 16.
"All of us have resolved to put the disappointment of the last match behind us and play the game of our lives to ensure we put back smiles on the faces of Nigerians again."
When the former Newcastle of England striker was asked where it leaves the Nigerian team should the match between Argentina and Greece end in favour of the Greeks, Martins said: "We have our destiny in our hands not in the hands of anybody. We won't be asking anybody to do us a favour. If the outcome favours us that means we are lucky, but we must first beat the Koreans to brighten our chances of moving ahead in the World Cup."
Martins is, however, hoping that Coach Lars Lagerback features him in the crucial match tonight. "I wish the coach will look in my direction. I know I have done it before and I'm ready to do it again. I know playing in this kind of match calls for one to put in whatever needs to be done to make sure that we achieve victory. I want to join my teammates in the struggle for victory. I'm sure the coach knows my mood at the moment," he said.
Load more