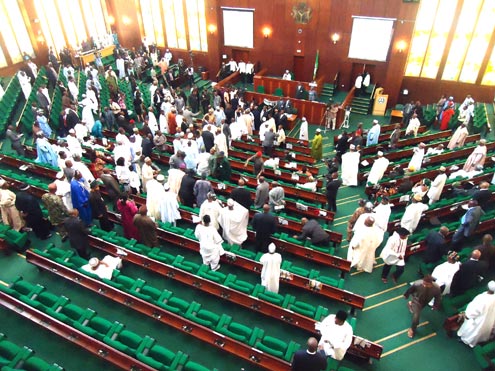 Members of the House of Representatives in Abuja, Nigeria, this morning exchanged blows during the plenary session, the first of the last in the legislative session, when Hon. Chile Ogbuagu attempted to move a motion in line with the order on privileges.
After he was asked to do so by the Speaker,  Hon. Dimeji Bankole, Chile cited some sections of the constitution and the rules and orders of the house, stating that  his privileges as a member of the House had been badly bruised by the remarks credited to some members of the House which he said were uncomplimentary.
Chile cited section 60 of the constitution and section 24 of the Legislative and Privileges Act.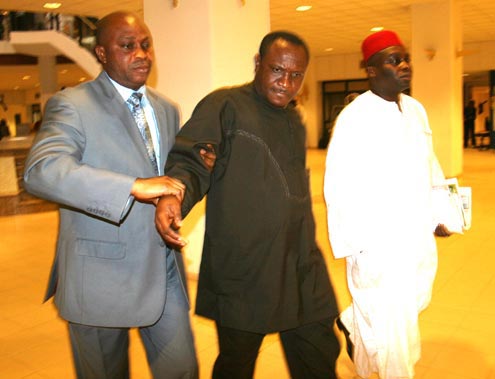 In his motion, Ogbuagu stated that some of the members were making allegations that the House was corrupt.
He said such members should be suspended indefinitely.
But Ogbuagu had hardly concluded his observation when some members booed him while chanting points of order.
Hon. Doris Ugoh  and Hon. Dino Melaye then went to Ogbuagu and snatched the paper he was reading from him.
This action sparked off commotion in the House and  a free for all ensued.
Some members in the process were beaten to a stupor while the sergeant-at-arm protected both the mace and the Speaker.
In response to the assault on Hon Ogbuagu by the aggrieved members, others who were apparently in the majority resolved that the members causing crisis in the House should be sent out of the chamber.
Consequently, Hon. Dino Melaye, Solomon Awhinawhi, Independence Ogunewe, Bitrus Kaze, Austin Nwachukwu and Doris Uboh were forcefully bundled out of the chamber when they tried to resist the decision to suspend them.
Austin Nwachukwu, Melaye, Kaze were almost stripped naked as they got their clothes torn as they were being evicted.
After they were successfully bundled out, peace returned to the chambers at about 11.45 a.m. and the plenary session continued.
In his remarks, the Speaker, Hon. Bankole apologised to Nigerians for the rowdiness of the House. He further asked Hon. Chile Ogbuagu to conclude on his motion.
Ogbuagu concluded by asking that the 11 members who have dragged the House in the mud be suspended.
They are: Hon. West Idahosa, Austin Nwachukwu, Gbenga Onigbogi, Doris Uboh, Gbenga Oduaye, Independence Ogunewe, Solomon Achinawhi, Dino Melaye, Kayode Amusa, Anas Abass, and Bitmus Kaze.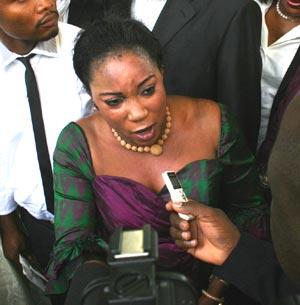 The motion was seconded by Hon Sehu Garba Natasu. The House simultaneously adopted the motion and the  members were suspended indefinitely.
The Speaker, while clarifying the resolution of the House, stated that in line with Order 10, Rule 5 (6) that the members will be suspended till the end of the legislative year, which is June 2011.

—Desmond Utomwen / Abuja
Load more