Governor Bukola Saraki of Kwara State on Monday urged Nigerians to play active roles in the ongoing constitution amendment in order to ensure credible elections in 2011.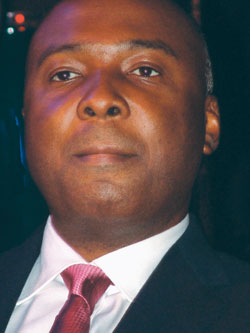 Saraki made the call on Monday while declaring open an interactive session of stakeholders on the ongoing amendment of the 1999 constitution organised by the state's House of Assembly.
He said: "The constitution of any nation is a highly cherished and respected document that guides the operations of both the government and the governed.
"As the society is dynamic, so also should the constitution be so that it can be of relevance to the lives of the people.''
Saraki, who commended the National Assembly over the amendments, urged stakeholders to make recommendations that would ensure an acceptable and workable constitution.
In his contributions, Chairman of the Ilorin NBA, Mr. Salman Jawondo, said the success of the amendment exercise was in the attitudinal change of the people.
"The suggested amendments will bring about good governance, but I must say that there is no bad law; but bad operators.
"There is a need for us as a people to amend ourselves to ensure the success of the constitutional amendment,'' he said.
He advocated that all election matters should be disposed off within 90 days, adding that the period should start from the time of hearing and not filing of case.
The Chairman, Kwara State Council of  Women Associations, Hajia Sarat Adebayo, called for the abrogation of cross carpeting.
She suggested that any elected public office holder who defected to another party should be made to forfeit the position.
"Once you leave the party that brings you into office, you should also vacate the seat or position you are holding,'' she said.
The state's NLC chairman, Mr. Emmanuel Aiyeoribe, said the independent candidate arrangement should be tailored to encourage credible Nigerians vie for public office.
He said those sanctioned in one political party should not find a safe haven in the independent candidate arrangement.
Alhaji Bashiru Aliu, Chairman, National Union of  Road Transport Workers, called for the retention of education qualifications specified in the 1999 constitution to make room for equal participation.
"The amendment to the constitution should not deny people who did not have the opportunity to go to tertiary institution the right to vie for elective offices,'' Aliu said.
Load more