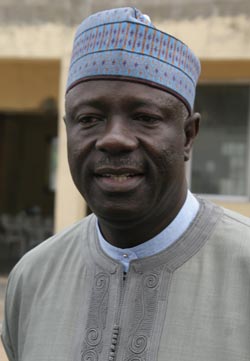 Like the proverbial Oliver Twist, who is always asking for more so is  Nigeria Tennis Federation, NTF, which, despite the sponsorship of the annual CBN Open Senior Tennis Championship, is asking the apex bank to come to its aid in sponsoring Nigerian players to circuits across the world.
President of the federation, Engr. Sani Ndanusa said Nigerian players need more from the management of the CBN headed by Sanusi Lamido than the annual CBN Open, adding that the local players have what it takes to excel at the world stage, but their inability to play more tournaments outside the shores of the country, has affected their ratings on the ATP world rankings.
Ndanusa, immediate past Chairman of National Sports Commission, NSC said that winners of the CBN Open need a little push for them to play circuits around the world as tennis is an elite game that is too costly to maintain.
"Our appeal is to the management of the apex bank to sponsor winners of the annual CBN open to circuits outside Nigeria. This will help them to improve on their games and enhance their ratings on the world rankings. The federation will be glad to see the success of these players at the end of the year and it will be to the glory of the CBN," said the Niger State-born sports administrator, who is the Vice President of the Confederation of the African Tennis, CAT.
Tennis Special gathered that the CBN has requested that the federation should send a formal request to the Governor of the CBN with the details of what the NTF wants from the apex bank.
Load more