The 12-year old girl (Name withheld) impregnated by her father says she still wants to go to school and would like to be a lawyer in the future.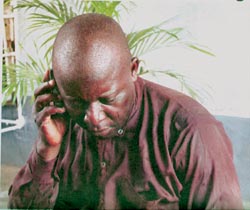 The girl's father, Mr. Ben Michael has been sent to Kirikiri Prison by Magistrate Funke Sule of the Family Court, Ikorodu, Lagos, Nigeria while the case has been adjourned.
The girl, who is already four months pregnant is a Primary six pupil of Skylers School, Ikorodu and was discovered to be pregnant after her teacher in the school suspected so, because she always slept in the classroom.
A pregnant test conducted on her at Ikorodu General Hospital showed that she was four months pregnant.  She confessed that her father slept with her several times and was responsible for the pregnancy. At the Lagos State Special Correctional Centre for Girls, Idi-Araba, where the pregnant girl was sent to, she said she was impregnated by her father.
According to her, she still wants to go back to school and that she wanted to read law when she gets to the university, lamenting she was a virgin when her father defiled her.
"My father was the first to deflower me. He normally gives me alcohol before sleeping with me. I play the role of a mother and take care of the junior ones, Peter and Paul," she stated.
According to her, she used to sleep in the class, which made the class teacher to ask her if she was pregnant, but that she denied on two occasions, but was later discovered to be pregnant after a test was conducted on her.
"I felt pains the first time my father slept with me.   He threatened to kill me if I tell anyone about it.   The teacher in my school and my father's girlfriend took me to hospital and it was discovered I was pregnant," she narrated.
The girl's father, Michael, a 37-year old man had said that it was his daughter who came to him naked in his bedroom, saying that she beat her and told her to go away but that the girl came back and pushed her self on him. "It is not true that I have been having sex with her repeatedly.   It could not be more than twice; sometimes, I used condom with her, sometimes, I don't and she was not a virgin when I met with her for the first time. "The girl's mother ran away from my house and she went to marry another man. I married another woman and she had twins for me.   She died in 2005 and soon afterwards, I picked my daughter from the village to take care of the kids for me because I did not remarry," he said.

—Kazeem Ugbodaga
Load more