While soccer-loving Nigerians are still mourning the early exit of the country from the ongoing 2010 FIFA World Cup in South Africa when the Super Eagles were held to a 2-2 draw by South Korea yesterday, skipper of the team, Nwankwo Kanu says his teammates have messed up a great opportunity to do Nigeria proud.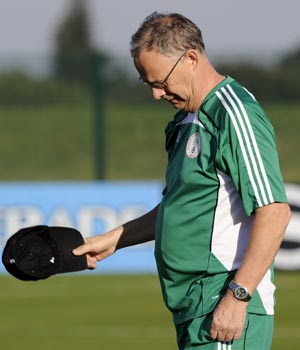 Kanu said not only did the team  mess up the opportunity of a life time to advance to the Round of 16 of the World Cup, they also missed the chance of getting lucrative contracts from prospective clubs across Europe and beyond.
The Portsmouth of England forward told P.M.Sports that he was yet to come to terms with the fact that Nigeria are out of the World Cup.
The former Ajax Amsterdam of Holland player said the Eagles played very well by putting everything into the encounter, but it was unfortunate to leave South Africa at this particular time that the tourney is gathering momentum.
The former Inter Milan of Italy striker likened their loss to the Asians to a war being fought at their backyard, where the enemies had taken all the warlords captive, saying it would take a long time for him to recover from the shock.
According to the former Arsenal FC of England player, "We played very well against the Koreans but we messed up the game. We took the lead but gave it away on a platter of gold. It's very painful. There's nothing we could do about it. It is now left for the Nigeria Football Federation, NFF, to go back to the drawing board and start preparations for subsequent competitions."
Meanwhile, members of the Super Eagles wept yesterday night following their ouster from the Mundial, P.M.Sports' checks revealed that some of the players were yet to come to terms with the fact that they have been sent packing from the South Africa 2010 World Cup.
Some of the players, P.M.Sports gathered, could not hold back tears when it dawned on them that the country is out of the World Cup.
Coach of the team, Lars Lagerback was a sad man after the match last night. The Swede was extremely disappointed with the  Eagles' failure to qualify for the second round as he believed his side deserved a better outcome.
"I'm very disappointed because I was convinced we deserved more in the World Cup," the Swede said. "At all times, we continued to fight, to achieve progression, but unfortunately it was not enough."
Lagerback was sure that the Eagles could at least make the Round of 16, but were unable to achieve that objective.
"Player for player, we have the team to do it, but because of tactical shortcomings and bad luck, we finally toppled," he added.
Load more