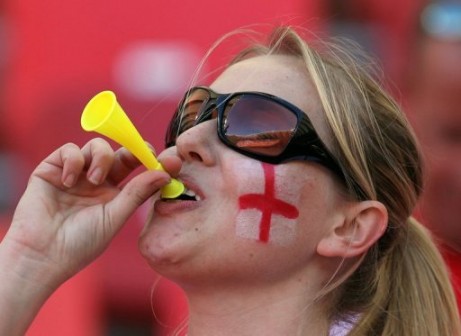 PORT ELIZABETH, South Africa (AFP) – 1556 GMT: Golascorer Jermain Defoe is slightly overcome. "I'm lost for words, as a young lad it was something I dreamed about," he says. "The lads were fired up we've won the game. We're through and I'm delighted."
1554 GMT "A big positive, much, much better," says Alan Shearer.
1552 GMT: Fabio Capello is clearly delighted talking to the BBC. "This team, this spirit! We play together, we fight together an I'm really happy."
"Their minds now are without fear," he says, before singning of with a fist-pumping "thankyou very much."
Well England are through but news has just filtered through that the US have scored. That means Slovenia are now going out while England will finish second in the group.
-90+3 mins: FULL TIME! Slovenia 0 England 1
-90+2 mins: Milner draws a foul in the corner. It's desperate keep-ball now.
– 90 mins: We enter three minutes of injury time. What a tackle from Upson. Slovenia were through but the West Ham man got a crucial block in.
– 88 mins: Promising free-kick for Slovenia which is cleared. There was panic there.
– 87 mins: Dangerous ball in from Gerrard is put behind for a corner. Precious seconds wasted.
-85 mins: Emile Heskey comes on for Jermain Defoe. Slovenia have a corner but it ends up with a shot miles over the bar.
– 83 mins: England getting deeper, looking nervous. Another free-kick 45-yards out. Can Slovenia make this one count? No!
– 82 mins: A quick interchange of passing nearly puts Joe Cole in but it's a foot too far in front of him.
– 79 mins: YELLOW CARD! Walter Birsa is booked for kicking the ball away. Andraz Kirm is taken off and replaced by Tim Matavz.
-78 mins: It's extremely tense. England having much more of the ball, but the Slovenians are so quick on the counter.
– 75 mins: We are now officially entering what Alex Ferguson would call "squeeky bum time." Any mistake now will live on forever.
– 72 mins: Wayne Rooney is taken off, he's been hobbling around for the last five minutes. Great reception for Joe Cole as he comes on.
– 68 mins: Hearts in mouth moments for England. Barry again gives the ball away but Terry and Johnson block in quick succession and eventually the ball goes wide.
-65 mins: Terrible pass allows Birsa time on the edge of the area but James keeps his concentration and gathers the ball in.
-64 mins: Jokic lucky to stay on after bringing down Milner. He's already been booked.
– 63 mins: Zlatko Dedic, hero of the play-off with Russia, takes to the field. He replaces Zlatan Ljubijankic.
– 60 mins: Looking at the replay, Handanovic got a touch to Rooney's shot. He is single-handedly keeping this close.
-58 mins: Oh so close. Rooney hits the post after finding himself in acres of space in the area.
– 57 mins: Milner again threatens with a beautifully shaped cross. Corner England. from the corner Handanovic saves superbly from Terry's header.
– 55 mins: England can't keep giving these free-kicks away. James collects again, but less assured this time.
– 52 mins: A threatening free-kick is collected again by James.
– 51 mins: AFPs man at Wimbledon Robin Millard reports that the football is taking precedence over tennis at the moment.
"Centre Court at Wimbledon looked more than half empty as five-time champion Venus Williams started her match against Ekaterina Makarova," he says.
-49 mins: Brilliant play from England but Rooney is just offside as he sets up Defoe. James holds on well at the other end from a dangerous cross.
-48 mins: YELLOW CARD! Glen Johnson is somehow booked after being blocked when surging into the area. One of the more bizarre decisions of the tournament.
46 mins: And we're off for the second-half. What a vital 45 minutes for both teams. England nearly score again after chaotic defender straight from the kick-off. Defoe ends up flicking the ball a foot wide with the goal gaping.
– 1456 GMT: Intrepid AFP colleague Loic Vennin is in a central London pub (purely in a professional capacity, of course).
"The packed pub erupted when Defoe scored the first-half goal," he relays. "Stephen MacBean, in his 50s said: 'I'm quite confident they're going to win. They are more composed, less nervous and I'm quite confident. But it's only 1-0."
– 1450 GMT: Much more positive for England, but their hopes still lie on a knife-edge. Although qualifying is the number one objective, they would really benefit from finishing top of the group as that side of the draw has opened up.
As things stand, they are top but one goal in either this game or the US match could change all that.
1446 GMT: Ex-England striker Alan Shearer is impressed with his countrymen. "Overall they've looked much more comfortable," he says. "They're getting bodies into the box and creating chances. Overall it's much more encouraging."
Fellow BBC pundit Alan Hansen agrees. "Once the goal came there was a surge of confidence," he says. "They're creating openings and with a bit of luck the game would've been over."
– 45 mins: HALF TIME! Slovenia 0 England 1
-44 mins: England seem to be content to keep it tight until the break. Defoe is down after being flattened by Bostjan Cesar but somehow doens't get a free-kick.
– 42 mins: Birsa's 45-yarder is deflected horribly for James but he does well before the linesman raises his flag for offside as the Slovenians look to follow up
-40 mins: Both teams take it in turn to give the ball away in dangerous areas, but they get away with it.
YELLOW CARD! Bojan Jokic is booked for a late tackle. The delivery is overhit and sails wide for a goal-kick.
-38 mins: England are much more energetic when their opponents have the ball, especially high up the pitch, which is helping to create more chances.
-36 mins: Milner is the real danger man when he gets out on the right wing. A corner is conceded as Rooney was waiting to score from another sumptuous cross.
-35 mins: Stupid free-kick given away by Ashley Cole, there was no danger and now there is. Birsa to take…but it's terrible delivery.
-33 mins: Although England look good, they could really do with another goal while they are on top.
30 mins: How did that stay out? Defoe hits a shot from the edge of the area which is beaten away. From the rebound, Rooney sets up Gerrard but his side-foot shot is saved again by Handanovic. The ball squirmed over him and he just recovered in time to stop it crossing the line. He had some nasty bobbles to deal with.- 28 mins: Gerrard just fails to control a cross which evaded everyone. He would surely have scored if he had.
This from AFP man at the Wimbledon tennis championships, Robin Millard. "A handful of fans on Centre Court listening on radios during Andy Roddick's match against Michael Llodra could be seen pumping their fists as Jermain Defoe scored for England."
-25 mins: England nearly two up. Another fantastic Milner cross is palmed out to Lampard but his left foot shot is over. England looking much more like themselves.
-22 mins: GOAL! Slovenia 0 England 1
Jermain Defoe scores to calm England nerves. I was about to say Milner was struggling but then he put in a stunning cross from the right wing which Defoe attacked and shinned into the roof of the net., although Handanovic got both hands to the ball.
-20 mins: Johnson hits a left-footer from range but the keeper collects. At the other end Terry throws himself to block Zlatan Ljubijankic's shot when real danger threatened. James does very well to save from the resulting corner.
-18 mins: Rooney gets some space on the edge of the area and shoots but it is deflected wide for a corner. Terry just gets to it, but it brushes off his head and out of play. Another corner given, for some reason.
17 mins: The pitch is already cutting up, as feared. You hope that this won't lead to a costly error for either team.
15 mins: Rooney tries to put Lampard but it is just too hard. England looking much better though.
14 mins: England get a free-kick 40 yards from goal. Frank Lampard sets up to shoot…..Handanovic gets down and holds on well.
13 mins: Jermain Defoe is struggling to get in the game, chasing after Terry's long ball but Samir Handanovic collects with time to spare.
–
10 mins: Rooney does well on the wing and whips in a cross which is put out for a corner with Gerrard lurking.
9 mins: Gareth Barry gets away with a solid foul in the centre spot. At least England are showing some willingness to fight.
6 mins: England looking to a more patient approach, but still look nervous when they get near the penalty area. John Terry gets away with a sloppy pass and then David James does well to collect Valter Birsa's long-range shot without spilling.
-5 mins: YELLOW CARD! Glen Johnson is booked for an unneccessary tackle on the right wing. It was his second in as many minutes.
3 mins: England's first attack as Jermain Defoe wins the ball high up the pitch. James Milner puts a poor ball into the box though.
2 mins: Gerrard looks to be out on the left. Engalnd fans collectively pull their hair out. Nervy start from England with Glen Johnson and Matthew Upson dithering in defence.
1 min: Slovenia get us underway with England fans singing "England 'til I die." We'll see if that holds true at the final whistle.
1352 GMT: The players come out fo the tunnel, England in their change strip of all red and Slovenia in their white tracksuits.
According to my colleague Nick Reeves, "shouts of 'Engerland Engerland' momentarily silence the drone of the vuvuzelas as the teams come out onto the pitch."
The Slovenians sing heartily but tunelessly. The England players really belt out "God Save the Queen," apart from Rooney. There was some feeling in that, but will it translate onto the pitch.
1346 GMT: The BBC panel are imploring that Steven Gerrard is freed from his left wing position and is given a role just behind Wayne Rooney. We'll see!
1343 GMT: AFP man in the ground Nick Reeves tells us that the England fans are doing their bit to help the local economy.
"One England fan, Jim, a primary school teacher from Leeds, was eating a curry outside the stadium before kick off, 'to soak up all the beer.' 25,000 England fans expected, could be on for our first full house after five matches at the Nelson Mandela Bay stadium," he says.
1340 GMT: BBC pundit Alan Shearer backs former captain John Terry over his outspoken press conference in the aftermath of the Algeria game, in which he promised to air his grievances during a team meeting..
"I think he had the right intentions," he says. "I was really surprised that he (Capello) came out and said no meeting took place."
1334 GMT: Slovenia line up as expected with no changes form their 2-2 draw with USA.
England do make changes. Manager Fabio Capello has resisted player pressure to pick Joe Cole, and instead brings in James Milner and Jermain Defoe for Aaron Lennon and Emile Heskey.  Matthew Upson replaces Jamie Carragher who picked up his second yellow card in the 0-0 draw with Algeria.
Here are the teams:
Slovenia: Samir Handanovic, Miso Brecko, Marko Suler, Bostjan Cesar, Bojan Jokic, Valter Birsa, Robert Koren, Aleksandar Radosavljevic, Andraz Kirm, Zlatan Ljubijankic, Milivoje Novakovic.
Coach Matjaz Kek
England: David James, Glen Johnson, Matthew Upson, John Terry, Ashley Cole, James Milner, Steven Gerrard, Frank Lampard, Gareth Barry, Jermain Defoe, Wayne Rooney.
Coach: Fabio Capello
Referee: Wolfgang Stark (Germany)
WELCOME TO NELSON MANDELA STADIUM in Port Elizabeth for our World Cup live text commentary of the do-or-die Group C match between Slovenia and England.
Calculators and defibrillators are at the ready as all four teams are still in with a chance of qualification to the next round.
I'll try and make this is as brief as possible: If Slovenia win or draw, they are through. If they lose they can still qualify depending on the result of the USA v. Algeria game which is taking place at the same time.
If England win they are through, lose they are out. If they draw they are out unless the US also draw and England score three more goals than the Americans in doing so. If they score two more and they both draw then lots will be drawn.
Slovenia will top the group if they win and it will come down to goal difference between them and the US if they draw and the Americans win.
England will finish as group winners if they win by a greater margin than the US.
It promises to be quite an afternoon in the sleepy coastal resort.
To see if England's World Cup dreams sink on the Indian Ocean, or whether Fabio Capello's team sail into the last 16 then join us for kick-off at 1400 GMT.
Load more