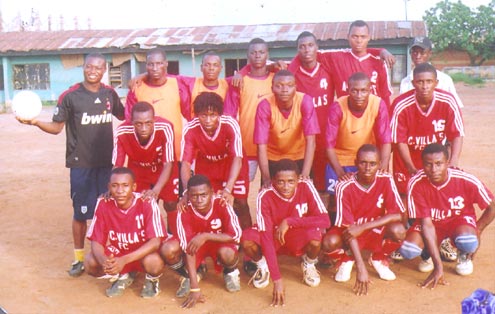 Chief coach of Action Villa Football Club of Agege, Uwandi Augustine has revealed his plans to go on a tour of Benin Republic with his club.
The aim is to play some friendly ties with teams in Port Novo. The coach said it has been his dream to embark on this trip with his boys to enable them  garner more experience.
Speaking on how he secured the trip, Uwandi said: "God sent someone to my club who signed one of my players for one of the clubs in Port Novo.
"From then I have been able to make contact with some of the teams. Not long ago, I receieved an invitation to bring my senior team to play friendly matches in Port Novo."
He also revealed that his lads will depart Nigeria for the West African nation any time from 25 August, where they will spend two weeks. According to him, they are expected to play four clubs in friendly games, the first match being against Benin Republic's Immigration football team.
A total of 22 players will make the trip. They include goalkeepers Ismaila Hassan and Joseph Okoruwa. The defenders are Fatunbi Gbenga, Akapo Seyi, Anthony Sunday, Olomowewe Sodiq, Ayo Moses, Eric Bekoe, Semma Jonathan and Hamisu Mohammed.
Also in the team are midfielders Olujobi Ebenezer, Aderibigbe Segun, Kareem Moshood, Mukhthar Mohammed, Ibrahim Yahaya and Babatunde Otolorin. The attackers are Aniekan John, Bello Tunde, Samson Chikordi, Oyeyemi Samson, Saviour Udoh-Friday and Ikudaisi Azeez.
Meanwhile the club's Under 17 squad will also be travelling to Idi-Iroko in Ogun State for the Unity Cup, an annual football fiesta sponsored by the Oba of Oke Odo in Idi-Iroko. The Agege boys participated in the last two editions of the competition and were semi finalists on both occasions.
Load more