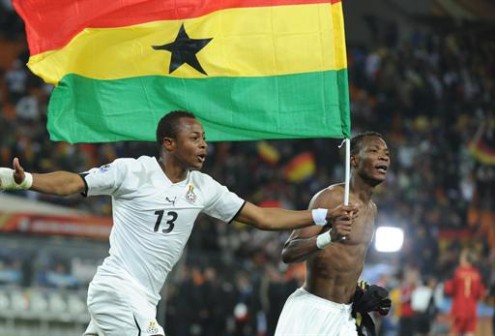 The United States and England advanced to the last-16 on Wednesday, joining Brazil, Argentina, Holland, South Korea, Uruguay and Mexico in the second round. Later Wednesday Germany and Ghana qualified for the last-16 too as late action in the Australia v Serbia game had fans on the edge of theior seats.
Germany, Ghana qualify, Australia redeemed, Serbia frustrated
Germany reached the last 16 of the World Cup on Tuesday with a 1-0 win over Ghana, but the West Africans also qualified as Group D runners-up after Australia beat Serbia 2-1.
Thanks to Mesut Ozil's thunderbolt Germany will play arch-rivals England in Bloemfontein on Sunday for a place in the quarter-finals, while Ghana face the United States in Rustenburg on Saturday.
Tension reached fever pitch as Group D came to a close as first Australia mounted a stunning assault taking a late two goal lead through Tim Cahill and Brett Holman, sending pundits in search of pocket calculators. But Serbia rallied back to 2-1, then had a legitimate penalty appeal turned down and also had an off-side goal disallowed, which would have qualified them instead of Ghana on goals scored.
Last minute drama sees USA join England in last-16
A dramatic last-minute strike from Landon Donovan not only saved the United States from World Cup elimination but saw them top Group C ahead of England, who were delighted with their own first victory; a 1-0 win over Slovenia.
Poor Slovenia thought they had qualified until news filtered through of the late swing of the wheel of fortune for the United States, who in fairness deserved their victory over Algeria having had a 'good' Clint Dempsey effort ruled out for off-side in the first half.
Jermain Defoe was England's hero, netting a close-range volley in the 23rd minute to convert a James Milner cross from the right.
Both the USA and England finished on five points but the Americans topped the pool after scoring more goals – four to England's two.
Load more