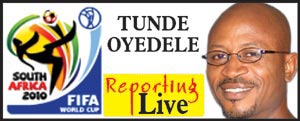 Super Eagles number one goalkeeper, Vincent Enyeama in this exclusive interview with Tunde Oyedele recounts how his World Cup dream was shattered by Nigeria's poor performance at South Africa 2010.
Q: The Nigerian team crashed when all eyes were on the Super Eagles to advance to the second round of the World Cup, what's on your mind as you guys are heading home now?
A: Well, I'm still trying to get myself from our bad outing in South Africa. I have been thinking about our disgraceful outing, especially our loss to Greece. It was not expected. I didn't know we'll leave here at this stage of the tournament. We had an advantage to score three more goals against Korea, that could have seen us through, but we wasted chances upon chances and a great opportunity to make it to the knockout stage. I wish I could think less of the sad but dramatic end of our nation at the World Cup.
Q: You personally saved the Eagles from conceding more goals in the three matches, what's your impression about players, especially the defenders?
A: I think the players gave what they have in stock, which obviously did not qualify us. They played as a team, which was lacking during our campaign at this year's Cup of Nations in Angola.
Their performance fell below expectation and I was disappointed that they gave up the fight when it mattered most. As I said, the strikers missed begging chances and I think we didn't do well as a team including my very self.
Q: The general consensus is that you were in your best form and performed well for Nigeria, you have two awards to your credit now?
A: No, no, no, FIFA's Man of The Match awards that I won twice in the games against Argentina and Greece were to me a mockery of my performance in South Africa. I was like a basket because of the goals I allowed in. It's disgraceful that I conceded five goals in just three matches. That was a bad result for me and I feel terrible about that. I thank those who nominated me for the awards anyway. It would have been a motivation had it been we qualified from our group. So, what's the essence of going home with two awards when my team fell badly at this time when the World Cup is at the crucial stage?
Q: There are reports that West Ham agents are discussing with your Club in Israel on a possible move to England. That should interest you?
A: Well, I heard it just like everyone but I have not been contacted on that. May be it's a rumour.
Q: Were you distracted when the news got to the Eagles' camp?
A: No, it didn't distract me because I'm a professional player.
Load more