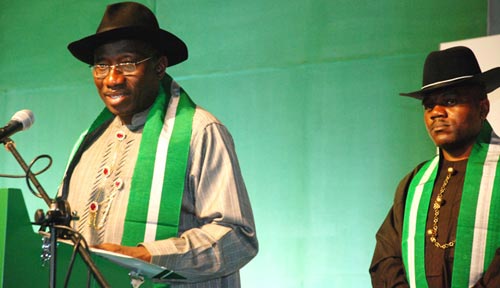 Nigeria's President, Dr. Goodluck Jonathan has arrived Canada for the G-20 summit. He met with the Nigerian community in Canada soon after his arrival.
The Corporate Council on Africa (CCA) and the Canadian Council on Africa (CCAfrica) announced Jonathan's arrival for the meeting.
Also attending the summit is the Chair of the African Union and President of the Republic of Malawi Bhingu wa Mutharika are scheduled to attend the G20 Business Leaders: Partnering with Africa's Dynamic Markets, to be held at the Marriott Downtown Eaton Centre Hotel in Toronto.
President Jacob Zuma of the Republic of South Africa is tentatively scheduled to attend.African Union Commission Chair Jean Ping, former Prime Minister of Canada Joe Clark, leaders from the World Bank, European Business Council for Africa and the Mediterranean, Business Unity South Africa, Federation of Indian Chambers of Commerce and Industry, Nigerian Economic Summit Group, and the U.S. and Canadian private sectors will also be in attendance. "Africa is rapidly emerging as a major destination for investment and powerful trading partner for countries around the world," said CCAfrica President and CEO Lucien Bradet. "Hosting this event in Toronto on the eve of the G20 will ensure the private sector's role in Africa's development is heard by the G20 leaders."
"In the recent past, Africa has become a continent that attracts considerable investments—close to $144 billion—and trade with the developed world is now a multiple of this number," said CCA President and CEO Stephen Hayes.
The conference will focus on how business leaders from the G20 countries have a unique opportunity to partner with Africa in a way that helps grow economies both in African and in the G20 nations; and brings together senior North American, European, Asian and African private sector and government officials with a vested interest in investment and growth on the continent.
The collaboration between government and the private sector will be explored, throughout various sessions. It will also convene business leaders focused on ensuring the private sector's voice at the G20 Summit is heard.
Load more