A former Commissioner for Women Affairs and Poverty Alleviation, WAPA, in Lagos State, Nigeria, Chief (Mrs.) Kemi-Nelson has castigated the speaker of the House of Representatives, Hon. Dimeji Bankole for suspending his accusers.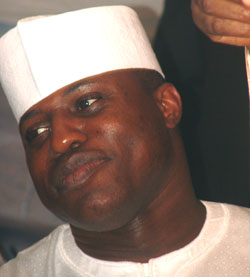 In an interview with Political Train, the  politician said what happened on the floor of the lower chamber of the National Assembly on Wednesday was a show of shame, saying it had further painted the country's democratic system in bad light to the whole world.
"What happened at the House of Representatives is very, very shameful, but honestly I don't think that those people should be suspended. I don't agree, even though the way they went about it was rowdy.
"I, particularly should have thought that they should have allowed investigation to be conducted on their allegation of fraud and whoever is guilty should be brought to book. It is obvious that there's a lot of cover up, otherwise why would you just place them on suspension simply because they levelled an allegation?
"If some people come up to say you are guilty, the onus is on the person being challenged to prove to the whole world that he is not guilty. He has not proved that to us, all he has done is to suspend those who are saying he must be investigated.
"For me, it's a very shameful act, but at the same time, the speaker of the House of Representatives, Hon. Dimeji Bankole owes all of us an explanation to exonerate himself from all those allegations. Even if they are acting for dubious reasons, let Bankole come clean first," Nelson suggested.
The yeyesewa of Lagos was also of the opinion that if the Speaker clears himself of the fraud allegation, he could then set-up another investigation committee to look into the matter and not suspending them before clearing himself.
Nelson, who insisted that Bankole must convince all Nigerians that what they had done was not a cover up, said "time will tell" as regards the appointment of  Professor Attahiru Jega as the new umpire for the Independent National Electoral Commission, INEC.
Members of the House of Representatives suspended for corruption allegation against the speaker in line with order 10, rule 5 (6) are: Honourables Dino Melaye, Solomon Awhinawhi, Independence Ogunewe, Bitrus Kaze, Austin Nwachukwu, Doris Uboh, West Idahosa, Gbenga Onigbogi, Kayode Amusan, Anas Abass and Gbenga Oduaye.
Load more