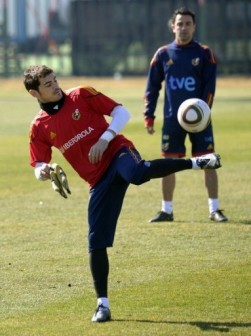 PRETORIA (AFP) – SPAIN WIN GROUP H to set up an all-Iberian World Cup second round showdown with Portugal in Cape Town on Tuesday while Chile must face Brazil in a South American clash in Johannesburg on Monday.
Read on for our as-it-happened account of the Spain-Chile thriller which never looked settled until the final whistle even though Chile's Marco Estrada got himself sent off before the break.
With the Switzerland-Honduras match finishing 0-0 few can doubt that the group's two most exciting teams have gone through  to the knockout stages.
Chile in particular have a tough task ahead but Maria Salvador says the fans back home are jubilantly celebrating the team's qualification, blowing vuvuzelas and banging drums as they run through the streets.
Crowds are thronging Santiago's Plaza de Italia, the city's traditional focus for celebrations, and police have a strong presence, ready to handle a mass of up to 40,000 people, Maria tels me.
90+2 mins: FULL-TIME! Spain 2 Chile 1
90 mins: Two minutes of added time.
88 mins: David Villa and Sergio Ramos build a final attack and set up Fabregas but he fumbles his shot.
86 mins: The vuvuzelas are still sounding out but their notes now seem like raspberries for the Spanish team who have given up any attempt at creative play.
84 mins; Cesc Fabregas tries to launch an attack but three Chilean players gather round and dispossess him. However, Spain quickly win the ball back and resume their midfield kickabout.
82 mins: Spain are just punting the ball about in midfield, interested only in retaining possession and preventing Chile from going for goal.
80 mins: Spain start to look a little anxious as Chile go for the equaliser which would leave them as group leaders and spare them from that daunting clash with Brazil.
73 mins: Iniesta and Villa break through and set up a chance for Javi Martinez, who has just replaced Alonso, but his shot is blocked.
70 mins: Maria Salvador in Santiago messages me to say Chile's goal sparked big celebrations from people watching on giant screens set up around the Chilean capital.
Many fans abandoned the screens and ran through the streets cheering.
68 mins: If the scorelines stay as they are two mouthwatering second round games are in prospect: Spain versus Portugal and Brazil versus Chile.
65 mins:Â  Fabian Orellana comes on as substitute for Chile team-mate Alexis Sanchez.
62 mins: David Villa comes close again as Spain take a strong grip on possession of the ball.
Switzerland need two goals to threaten Chile's chance of qualifying and still haven't scored any.
60 mins: David Villa fluffs a chance, missing the ball completely, and Chile's Claudio Bravo safely scoops up the loose ball.
54 mins: Fabregas is quickly on the ball but the Arsenal star can't manage an immediate breakthrough like Chile's Millar did.
52 mins: Fernando Torres comes off and Cesc Fabregas takes his place in the Spanish team.
46 mins: GOAL! Spain 2 Chile 1
Rodrigo Millar pulls one back for Chile seconds after coming on as  substitute for Mark Gonzalez.
Well done to Chile coach for his effective half-time substitutions which also saw  Estaban Paeides replace Jorge Valdiva.
46 mins: Spain and Chile resume play.
1932 GMT: Switzerland and Honduras are goalless at half-time. Some of the players have already swapped shirts, which just about sums up the lack of ambition in that match, says our live text reporter.
1928 GMT: Adrian Chiles on ITV says Chile are lucky not to be down to nine men, as Mexican referee Marco Rodriguez could justifiably have issued a second yellow card to Waldo Ponce for his foul on Alonso just before the break.
1926 GMT: AFP's Barnaby Chesterman says: "Chile were flying in a bit recklessly with their tackles in the early part of this game and with a trigger-happy referee like this one they were always running the risk of having a man sent off. And so it's proved. Long road back now for the South Americans."
1921 GMT: Jim Slater reckons the stadium is almost full and says the luxury boxes are getting their best use so far.
They are certainly getting their money's worth in terms of entertainment, though Chilean fans must be frustrated at their team having had much of the play but failing to score and then losing their tempers in frustration.
HALF-TIME! Spain 2 Chile 0
45+1: Waldo Ponce continues the Chilean aggression by treading on Xabi Alonso's ankle. The Real Madrid player gets up but is left limping heavily.
45 mins: Two minutes of added time
40 mins: ITV analyst Chris Coleman says Spain may take it easy in the second half after securing their qualification with two goals. Let's hope not, Chris! We want some more goals, not another snoozefest like the Brazil-Portugal match.
36 mins: RED CARD! Marco Estrada sent off for a second yellow card when he fells Torres in the build up to Spain's second goal.
36 mins: GOAL! Spain 2 Chile 0
Andres Ineiesta scores  a second for the European champions after a three-way attack with David Villa and Fernando Torres.
34 mins: Jean Beausejour breakaway and makes a terrific run up the left but Spain's Gerard Pique blocks his way and Beaudsejour's shot hits the side netting.
30 mins: Re-energised Spain go for a second goal with Torres and Xabi Alonso pressing but the Chilean defence have resumed their previous solidity.
24 mins: GOAL! Spain 1 Chile 0
David Villa fires into a open goal after Chilean keeper Claudio Bravo stupidly ventures outside the penalty area and then fumbles a clearance.
21 mins: YELLOW CARD!  Marco Estrada makes it three cards for Chile.
20 mins: YELLOW CARD! Chile's Waldo Ponce for thrusting his studs into Fernando Torres' shin.
19 mins: YELLOW CARD! Gary Medel has his name taken, and will miss Chile's next  match,  assuming they qualify.
17 mins: Gary Medel sends a high ball over to Mark Gonzalez in front of the Spanish goal but the 21 year-old can't quite reach it.
13 mins: Now Chile are on top and Udinese's Alexis Sanchez forces a corner
9 mins: In a clever one-two, Chile's Jean Beausejour sets up Mark Gonzalez for a shot in the most threatening move of the match so far but Gonzalez fails to convert.
4 mins: Spain are making the running and mount a series of early attacks but the Chile defence confidently halt all efforts and show why they have yet to concede a goal in this World Cup.
3 mins: Spain's Xabi Alonso sends a free kick to the head of Fernando Torres on the right of goal but Torres' shot goes wide.
1 min: Spain, playing in their away strip of dark blue shirts and white shorts, win the toss and kick off.
1825 GMT: The national anthems are playing.
1823 GMT:  Just realised I accidentally misspelled Loftus Versfeld as Lotus Versfeld in earlier updates. Sorry about that but it gives me a chance to mention that the stadium is not named after Loftus Road, the QPR ground in London, but  was chosen in honour one of the founders of organised sports in South Africa.
1803 GMT: Keep an eye open in crowd shots for Sara Carbonero,  the glamorous TV journalist girlfriend of Spanish goalie Iker Casillas. Carbonero was accused of distracting Casillas by reporting from behind the net ahead of Spain's loss to Switzerland.
1801 GMT: Denholm Barnetson, an AFP correspondent in Madrid, says Spanish football shirts have been selling in record numbers.
"Not sure if it's a good omen, but  more than half a million have been bought, at 65 euros each, for the World Cup — already more than in the whole of Euro 2008, won by Spain," Denholm reports.
1753 GMT:Â  Jim Slater, one of AFP's reporters inside the stadium, points out that the seats near the halfway line are a sea of red, reflecting the home colours of both teams.
"This match has fans seeing red and wearing it too. Chile are La Roja, the Red, and Spain are La Furia Roja, the Red Fury," he reminds me.
1750 GMT: Spain make only one change in their lineup ahead of the crucial showdown.
Barcelona midfielder Andres Iniesta replaced Sevilla's Jesus Navas in the starting lineup for the Spaniards, trying to avoid suffering the same early exit which befell Italy and France after losing their World Cup opener to Switzerland.
Chile made three changes, inserting Mark Gonzalez of CSKA Moscow for Humberto Suazo up front alongside Jean Beausejour and adding midfielders Jorge Valdivia and Marco Estrada in place of Carlos Carmona and Matias Fernandez.
1748 GMT: The team sheets have been handed out:
Spain: Iker Casillas (capt), Sergio Ramos, Carles Puyol, Gerard Pique, Joan Capdevila, Xavi, Sergio Busquets, Andres Iniesta, Xabi Alonso, David Villa, Fernando Torres
Coach: Vicente Del Bosque (ESP)
Chile: Claudio Bravo (capt), Mauricio Isla, Gary Medel, Waldo Ponce, Gonzalo Jara, Arturo Vidal, Jorge Valdivia, Marco Estrada, Alexis Sanchez, Mark Gonzalez, Jean Beausejour
Coach: Marcelo Bielsa (ARG)
Referee: Marco Rodriguez (MEX)
WELCOME TO THE LOFTUS VERSFELD STADIUM IN PRETORIA for World Cup live text commentary as reigning European champions Spain seek the victory over Chile that they need if they are to keep their World Cup run on course.
Mighty Brazil or arch-rival Portugal will be waiting if Spain do manage to advance. The group winners will face Group G runners up Portugal in Cape Town on Tuesday while the number two team in Group H must meet  five-times world champions Brazil in Johannesburg on Monday.
The Spaniards need to defeat already-qualified Chile to seal a spot and to win the group they must also hope Switzerland — who delivered a 1-0 shock victory over Spain in their Group H opener — cannot overcome Spain's goal-difference edge after facing Honduras.
Both games kick off at 1830 GMT.  Stay with us for all the action as it happens!
Load more