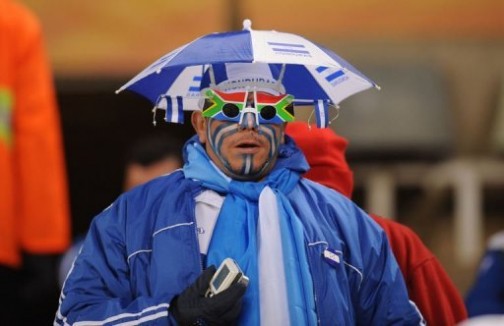 BLOEMFONTEIN, South Africa (AFP) – SWITZERLAND HAVE BEEN KNOCKED OUT OF THE WORLD CUP after they failed to score against Honduras in their crucial Group H clash in Bloemfontein.
The Swiss needed to score two goals to ensure a place in the last 16 but they will reflect on their profligacy in front of goal as their strikers wasted a hat-full of chances.
Spain overpowered Chile 2-1 in the other Group H match in Pretoria. The result means the European champions will face bitter Iberian rivals Portugal in Cape Town on June 29. Chile will lock horns with Brazil in Johannesburg on June 28.
Read on to see how Switzerland blew their chance to reach the last 16.
2027 GMT: Spain have beaten Chile 2-1 in the other Group H match in Pretoria.
Spain — the pre-tournament favourites — eventually finished top of Group H and will now face Group G runners-up Portugal on June 29. Chile will face Group G winners Brazil on June 28.
2025 GMT: The Swiss only have themselves to blame as their failure to beat a weak Honduran side means they have not qualified for the last 16.
2023 GMT: "The Swiss players are sprawled on the turf in Bloemfontein. They look shell-shocked," says our man at pitchside, John Weaver.
90+4 mins: FULL TIME! Switzerland 0 Honduras 0
90+3 mins: Switzerland launch a final attack in search of a goal, but Yakin's tame header is gratefully collected by the Honduran keeper.
90+2 mins: How did they not score! Welcome crosses the ball across the penalty area and it bounces past two team-mates who were a yard from the Swiss goal!
90+1 mins: Honduras have a chance to win the match as Welcome breaks the offside trap but he cannot control the ball which is smothered by the Swiss keeper.
90 mins: There will be four added minutes
89 mins: YELLOW CARD! Wilson Palacios is booked for a late tackle on Yakin…who blasts the resulting free-kick into the wall.
87 mins: Honduras make another change as Danilo Turcios comes on for Suazo.
85 mins: Loud cheers from the Honduran fans as their side finally put the ball into the net, but the linesman rules that Alvarez had strayed offside! It doesn't matter to the Honduran fans who are still celebrating!
81 mins: Gasps from the Swiss fans as the ball is rolled into the path of Lichtsteiner but he can only blaze it wide of the Honduras goal.
78 mins: The sides each make a substitution: Switzerland send on Xherdan Shaqiri for Benjamin Huggel. Honduras take off Jerry Palacios for Georgie Welcome.
74 mins: Veteran striker Frei might well have scored 40 goals for Switzerland, but he has already wasted two half-chances in this match.
He takes too long controlling the ball and his shot is blocked. Frei then races to the far post to meet a cross but blazes it wide from three yards. Poor, very poor!
73 mins: "The nervous Swiss fans have gone very quiet in Bloemfontein, knowing their team must score to keep their World Cup hopes alive," says our reporter John Weaver.
71 mins: Superb save by Benaglio! Honduras launch a quick attack and Suazo rolls the ball into the path of Alvarez…the striker strikes a sweet shot but the goalie is equal to it as he pushes the ball over the bar.
69 mins: Hitzfeld hits the panic button and replaces the ineffective Nkufo with Basle targetman Frei
66 mins: Honduras make their first change and replace a midfielder (Nunez) with a striker (Walter Martinez).
65 mins: After a long delay, Yakin blasts the ball into the wall.
63 mins: YELLOW CARD! Chavez is booked for scything down Derdiyok on the edge of the area.
60 mins: Chile have pulled a goal back against Spain, so Switzerland still need tp score two goals….one would be good!
58 mins: Its end-to-end stuff! Honduras go close with a long-range effort by Figueroa before the Swiss launch a quick counter-attack and Barnetta sees his shot acrobatically saved by the keeper.
57 mins: YELLOW CARD! Suazo is penalised for a studs-up challenge on Grichting, who looks like he has recovered from that earlier clash of heads.
54 mins: Switzerland win a free-kick and Yakin lines-up the ball…its a fierce shot but straight at the keeper.
52 mins: Glorious play by Alvarez as he twists past a Swiss defender and chips an inviting cross to an unmarked Suazo…its a simple chance and the Genoa striker only has to head it past the keeper but he glances it wide. Switzerland are let off the hook! Are Honduras going to regret that miss?
49 mins: Nasty clash of heads between Honduras' Jerry Palacios and Switzerland's Grichting.
The rugged Swiss defender looks like he has been knocked unconscious and his team-mates are calling for a doctor. The defender is stretchered off the pitch but he looks out for the count!
48 mins: AFP reporter Noe Leiva is in the Honduran capital Tegucigalpa. Noe tells me that people have gathered in restaurants and parks to watch the match on giant screens.
"The Hondurans hope their team can least score a World Cup goal so that they do not hark back to the goals they scored in the 1-1 draws with Spain and Northern Ireland in 1982," says Noe.
"If Honduras plays well, then Switzerland is the team we would most like to face," says TVC Canal 5 commentator Salvador Nasralla.
"We were too aggressive in the previous games and we have to be more selective in when we attack," he added.
46 mins: Honduras get the second half under way! Switzerland have tinkered with their toothless forward line-up and the veteran Lucerne striker Hakan Yakin comes on for the misfiring Fernades.
45+1 mins: HALF TIME! Switzerland 0 Honduras 0
The players filter off the pitch and some of them have already swapped shirts, which just about sums up the lack of ambition in this match!
45 mins: There will be an added minute to play.
44 mins: Nkufo misses another header but the striker breathes a sigh of relief as the linesman was waving for offside.
42 mins: Switzerland go close to breaking the deadlock as Derdiyok hits an inviting cross to Nkufo at the far post…the striker only needs to nod it past the keeper but he decides to chest the ball and Honduras clear the danger. That should have been a goal!
40 mins: "The delicate sound of cowbells is mingling with the usual vuvuzela din under the floodlights in Bloemfontein as the Swiss fans will their team on," my colleague John Weaver tells me.
36 mins: Bad news for the Swiss, as Spain have doubled their lead in Pretoria.
35 mins: Bernardez blasts the resulting free-kick high over the bar.
34 mins: YELLOW CARD! Switzerland's Fernandes is booked for dragging down Palacios as the midfielder was charging free on goal.
The St. Etienne midfielder is lucky he wasn't shown a red card as Palacios was free on goal.
33 mins: Switzerland's Grichting reacts angrily to a challenge from Nunez.
31 mins: Honduras seem happy to sit back and hit Switzerland on the counter-attack. Will they happy enough with a draw?
29 mins: Honduras' Sabillon is lucky to escape a booking for a high challenge on Fernandes.
28 mins: Switzerland win the first corner of the match, but Honduras easily clear the danger.
26 mins: Spain have taken the lead in Pretoria, so Switzerland now really need to chase this game!
23 mins: Honduras defender Bernandez is blowing hard after marking Nkufo. The FC Twente striker is full of energy and this could be a long night for the Anderlecht defender.
21 mins:Staunch defending by Honduras as they intercept a dangerous pass for Nkufo.
19 mins: The Swiss are looking a lot more comfortable and positive after a subdued start.
17 mins: Switzerland should have taken the lead! Barnetta whips in a cross for Derdiyok on the six-yard box. He really should have hit the target from there!
16 mins: Its still goalless in Pretoria, so as it stands Chile and Spain will go through to the last 16.
14 mins: Switzerland are let off the hook as Thomas overhits a pass to Suazo. That was a slick passing move which deserved a better final ball as Suazo had broken free of the defence.
13 mins: Honduras are without a win in their last seven games, and you can see why, as they lack a real cutting edge.
11 mins: Switzerland have the first shot of the match as Inler weaves his way past two defenders but blazes the ball wide of the post.
10 mins: A very cautious start by Switzerland, who know they need to win by two clear goals!
9 mins: Its been a bright start but neither side has so far managed to create any real chances.
7 mins: Honduras look very comfortable as they knock the ball around with ease. They never played like this in their previous two games!
4 mins: YELLOW CARD! Honduras' Thomas clatters into the back of Inler and the referee has no choice but give him a booking.
3 mins: The Bari winger Alvarez is looking very dangerous as breezes down the byline. The Swiss defender was following his vapour trail but the Honduran's control lets him down and the ball runs off for a goal kick.
2 min: Nice spell of possession for Honduras but the Swiss are happy for them to keep the ball in their own half.
1830 GMT: AND WE'RE OFF! Switzerland wearing their traditional red and white kit get the ball rolling. Honduras are in blue.
1827 GMT: The remaining fans still manage to create a lot of noise with their vuvuzelas!
The horns are put away for the anthems. The Swiss players make a decent attempt at their anthem but the Hondurans sing their with real gusto. Honduras might not win this match but they certainly edged the singing contest.
1826 GMT: The referee leads the teams come out of the tunnel, and the first thing the players will see is all the empty seats in the stadium.
1822 GMT: Switzerland have left veteran striker Alexander Frei — who has scored 40 goals for his country — out of their starting line-up.
German-born coach Ottmar Hitzfeld has instead opted for Bayern Leverkusen's Eren Derdiyok and FC Twente's Blaise Nkufo up front.
West Ham midfielder Volan Behrami is suspended for the match following his dismissal against Chile and he is replaced by Tranquillo Barnetta.
Honduras made six changes to their side.
1805 GMT: The starting line-ups have been announced!
Switzerland: Diego Benaglio; Stephan Lichtsteiner, Stephane Grichting, Steve Von Bergen, Reto Ziegler; Tranquillo Barnetta, Gokhan Inler, Benjamin Huggel, Gelson Fernandes; Eren Derdiyok, Blaise Nkufo.
Coach: Ottmas Hitzfeld
Honduras: Noel Valladares; Osman Chavez, Maynor Figueroa, Victor Bernardez, Mauricio Sabillon, Edgard Alvarez, Wilson Palacios, David Suazo, Hendry Thomas, Jerry Palacios, Ramon Nunez.
Coach: Reinaldo Rueda
Referee: Hector Baldassi (Argentina)
WELCOME TO FREE STATE STADIUM IN BLOEMFONTEIN for our World Cup live text commentary of the Group H clash between Switzerland and Honduras.
The Swiss created one of the biggest shocks of the tournament with their 1-0 victory over reigning European champions Spain before succumbing to a 1-0 defeat to Chile.
They know they can guarantee a place in the last 16 if they beat their Latin American opponents by two clear goals. Ottmar Hitzfeld's side can also reach the knock-out stages with a single point if Chile defeat Spain in the other Group H match in Pretoria.
Honduras have yet to score a goal but can still qualify for the second round if they defeat Switzerland and Chile beat Spain by more than two goals.
The game kicks-off at 1830 GMT so stay with us for all the action!
Load more