Mr. Isaac Morakinyo Jolapamo, the Chairman, ndigenious Ship Owners Association  of Nigeria (ISAN)  and also Morlap Group Of Companies, in this interview with ESTHER KOMOLAFE, advised government to invest nothing but good management into shipping sector, among other salient issues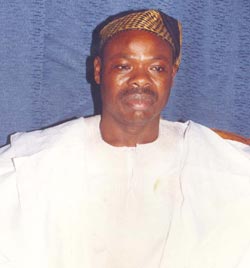 Q: As the chairman of ISAN, can you tell us a little about the association, your achievements and challenges?
A: We have come from obscurity in the last seven years into reckoning. I will say we assisted in procuring the Cabotage law, we also worked on the Nigerian context in respect of shipping services. We are an association trying to get Nigeria as a nation into the shipping circle. The world shipping circle, I would say, because we are not to a greater extent, recognised as a maritime nation. Our recognition will come when we begin to do maritime business more better than we are doing it now or when we begin to inch into those maritime areas, where it has been foreign reserved or foreign dominated. So, I would say conclusively that ISAN has come from a position of obscurity to reckoning and we are not done with yet, we still haven't got to where the maritime achievement of a nation should be.
Q: What effort are you making to see that the four pillars of maritime are strictly adhered to?
A: We are trying to go into the area of training seafarers because when you look at maritime today, seafaring in Nigeria is like a specie that is going into extinction and there is no replacement. This is also affecting the development of maritime in the country because if you have a ship but you don't have people to man it, you are as good as not having it. We have taken the aspect of training very seriously and we are in collaboration with the American Consular who is setting up schools and we are going into a sort of patternership with other organisations who also are interested in the setting up of schools to accommodate both the officers and other ranks because when you look at a vessel, you have about 30 people out of who about six are officers, while the rest 22 are ratings, who are supposed to be well knowledgable. The third one is for ships to be built in Nigeria. We all know that we don't have the capacity yet in Nigeria, we can build boats. To be registered in Nigeria is a taboo. Some of us that had been registered in the 1980s know that is a taboo, but now that it is getting better, there some incentives that should be attached because other flags have some incentives attached to them. We are working on it to see that our flag is also recognised.
Q: The issue of piracy at sea is becoming so rampant, what is the way out?
A: The way out is to create legitimate businesses for the youths and one of these is to have seafarers trained because people will not go to sea to steal if they are not familiar with the water. Today, you see a lot of youths doing nothing and restless. They also know that many ditry things are happening here and when you do it, you get away with it. I am afraid to say it, but I am sorry, they go out to sea in the glare of  security agencies, the Police, Immigration, Customs, waiting in the boats. They go through them and return through them to shore. Whatever they steal from the ship is brought back to the shore, so it is not a difficult thing to curb, it is not piracy per se and it is not as if nothing could be done to prevent it.
Q: What modalities are in place for backing the Cabotage Vessel  Financing Fund (CVFF) and how does it work?
A: It is expected to be a fund for development or acquiring of vessels, but my own stake has always been that ships and issues of maritime business cannot be developed on a political platform.
Q: What do you mean by that?
A: If you put political consideration into moderation of maritime, development is not going to work because the political consideration will not allow for effective take off you have being hearing about of CVFF in which some people took and never refunded. When you see people that actually paid back, they are professionals but all the other people just took the money and walked away. You cannot go and buy one ship because the fund is there for you to buy it because if something happens to that ship, what happens to you? So there are so many issues that come up when you talk about vessel financing. My association's stance is that people who have the experience should be given money to spend, while a pilot scheme is made. But there are many issues like the interest rate. The bottom line is not about money alone. A credible ship owner can go out of the shores of Nigeria to get loan with which to buy a vessel if he has the contract, but of course, those contracts are still eluding us, so CVFF is not a big issue, it could have been very okay, but if it is not handled by professionals, it will not work.
Load more