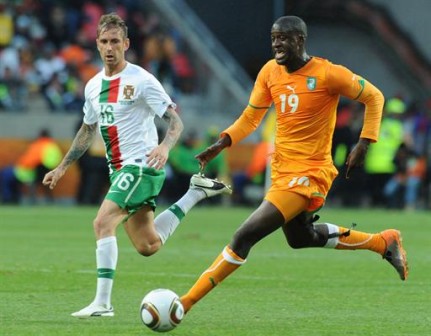 There is a veritable Latin fiesta of football Friday with Portugal v Brazil and Spain v Chile top of the bill in Group G and H, where Ivory Coast need a goalrush against North Korea and Switzerland will also be hoping to rack them up against Honduras.
Group G: Ronaldo v Robinho
World Cup favourites and top of Group G Brazil clash with Portugal in their final match Friday, with the five-time champions already qualified for the round of 16.
Semi-finalists in 2006 Portugal, on a run of 17 matches without defeat, drew 0-0 with the Ivoirians before routing North Korea 7-0 and if they were to lose against Brazil, a goal difference nine superior to Ivory Coast's would likely see them through.
Portuguese coach Carlos Queiroz said he hoped his side would avenge a 6-2 friendly defeat to the Brazilians in 2008 while midfielder Tiago said: "Our sole interest is to beat Brazil and finish top of the group. After that we will see.
Portugal will be without the injured Deco, while Brazil have a hole to fill vacated by the suspended Kaka, possibly by pulling the on form Robinho into midfield.
In the other Group G clash poor North Korea may find themselves on the end of another hiding as Ivory Coast chase down the goal difference of nine. The Koreans are an enigma. In their first appearance at the finals for 44 years, they only went down 2-1 to Brazil but then crumbled to a 7-0 thrashing by Portugal.
Didier Drogba starts again and has been looking sharp in training after his elbow injury, he'll certainly be looking to ad to his goal against the Brazilians in an unlucky 3-1 defeat.
Group H: Xavi has the plan, so do Swiss
Spain risk joining France and Italy on the World Cup scrap head when they take on Group H leaders Chile where they really need to win, a draw there would send Chile through as group winners while Switzerland could end up top too if all goes their way.
Chile have six points, Spain and Switzerland 3 and Honduras none.
Chile coach Marcelo Bielsa has vowed to play an attacking style even though a draw would be enough to secure a berth in the last 16. That, Xavi says, is just what the Spanish want to hear.
"We're glad they are going to attack," he said. "We have our own plan. It's a good plan that has worked for years."
That plan of course is to domintae possession from midfield and relies on Xavi to supply David Villa or Fernando Torres with the ammunition that has made the Europe's most feared strike force.
Switzerland, who were so impressive in defence when beating Spain 1-0, must now go for goals against Honduras, but could qualify with a narrow win or a draw, depending on the result of Spain and Chile.
Coach Ottmar Hitzfeld has refused to reveal his line up but should welcome back captain and all-time top goalscorer Alexander Frei to lead from the front as they go in search of the goals they need.
Honduras themselves are not out of the reckoning. If Chile beat Spain in Pretoria and Honduras beat Switzerland, Chile will take top spot and goal difference will decide which of the other three teams takes second place.
Load more