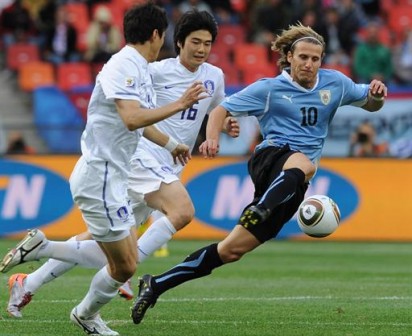 PORT ELIZABETH, South Africa (AFP) – TWO GOALS BY LUIS SUAREZ take Uruguay into the World Cup quarter finals after a 40 year absence but they concede a goal for the first time in the tournament as Lee Chung-yong nods the ball into the the net for valiant South Korea.
Read on for the story of the match as it happened and log on again in a couple of hours' time for our live text coverage of USA against Ghana.
1600 GMT:
1550 GMT: Uruguay's quarter-final opponents in Johannesburg next Friday will be the winner of tonight's clash between the United States and Ghana.
But South Korea can go home with their heads held high after attacking with passion and determination throughout the whole 90 minutes.  Kamsahamnida!
1550 GMT: ITV match presenter Adrian Chiles admits: "We thought Uruguay would coast home. They didn't."
90+3 mins: FULL-TIME! Uruguay 2 South Korea 1
90 mins: Three additional minutes.
85 mins: Korea comes close to equalising at Park Chu-young again breaks through the previously legendary Uruguayan defence, but Muslera manages to stop substitute Lee Dong-guk's shot.
83 mins: Two goal hero Suarez  has done enough and is replaced, shaking hands with his team-mates as he leaves the pitch. Alvaro Fernandez is his substitute.
79Â  mins: GOAL! Uruguay 2 South Korea 1
The Korean defence fails to clear the ball away after a Uruguayan corner and Luis Suarez's strike hurtles into the back of the net.
77 mins: Lee Young-pyo forces a corner with some fancy footwork. Has he been studying Robinho or Christiano Ronaldo?
74 mins: The Uruguayans seem to have suddenly realised they need to score again to win and start pressing, with Luis Suarez and Diego Forlan putting in shots.
Uruguay send on Nicolas Lodeiro for Alvaro Pereira.
72 mins: Luis Suarez breaks down the right but once more no-one follows him and Jung Sung-ryong scoops up his tame shot.
70 mins: Lee Chung-yong tests Muslera again with a fierce kick. How did the Uruguayan keeper manage to avoid conceding a goal for so long?
68 mins: GOAL! Uruguay 1 South Korea 1
The Koreans receive a thoroughly deserved reward for their efforts as Lee Chung-yong heads in past Muslera.
62 mins: Ki Sung-yong appears to brought down in the corner of the Uruguay penalty area but TV replays show there was no foul, certainly not a blatant one.
58 mins: Fernando Muslera makes a leaping save as Park Ji-sung nearly succeeds in nodding the ball into the top left corner of the net.
57 mins: Luis Suraez tries to break back but  his volley is half hearted and doesn't trouble Jung Sung-ryong.
55 mins: Still they come! A Park Ji-sung strike rebounds out to Park Chu-young who has another shot, but this time Uruguay clear it properly.
52 mins: Uruguay keeper Muslera palms out the ball for another corner, but Ki Sung-yong's kick falls short and is knocked out for a throw in.
48 mins: Diego Lugano has to concede a cormer as he lunges to intercept a shot by Kim Jae-sung, set up by Lee Young-pyo.
46 mins: Play resumes. Mauricio Victorino replaces Diego Godin for Uruguay.
1458 GMT: Uruguay goalkeeper Fernando Muslera has now kept a clean sheet for 315 World Cup minutes, a national record, Freddy  points out.
1452 GMT: "Uruguay's strike force of Edinson Cavani, Luis Suarez and Diego Forlan are the best forward line of any of the 32 World Cup teams in 2010," Santiago Ostolaza, a 1990 Uruguay World Cup squad member, says on local television.
1449 GMT: AFP's Freddy Bernardez in Montevideo says the Uruguay goal sparked lively celebrations in the streets of the capital.
"Car horns combined with vuvuzelas to create an enormous din after Luis Suarez scored the goal," Freddy says.
45+1 mins: HALF-TIME! Uruguay 1 South Korea
Uruguay are halfway to their first World Cup quarter final in 40 years but South Korea are not giving up easily. If they haven't scored it is not for the want of trying.
42 mins: Korea's Lee Young-pyo blocks a Maxi Pereira shot with his arm. The referee lets play carry on but it looks like a penalty to me and to  ITV's commentators.
41 mins: Korean police say 447,000 supporters have braved showers to watch the game outdoors nationwide, including 295,000 people in Seoul, Simon Martin tells me. The Uruguay goal must  have dampened spirits even more.
39 mins: "General opinion in a chilly press stand is that South Korean keeper Jung Sung Ryong was definitely at fault for the goal, failing to live up to his name of Spiderhands," says Nick Reeves.
37 mins: YELLOW CARD! First booking of the match goes to Kim Jung-woo for a sliding tackle on Uruguay's Edinson Cavini.
34 mins: This time it is Park Chu-young who goes through and wins a free kick but the move peters out
32 mins: The Koreans are certainly persistent and continue to press forward despite the gaps they are leaving at the back for the Uruguayans to seize on.
25 mins: But once again Uruguay break immediately though Diego Forlan's advance is so quick his team mates are left behind and he has noone to cross to.
22 mins: A Lee Young-pyo throw in leads to a multi-moved Korean attack which ends when Diego Lugano halts Park Chu-young's dash forward.But once again Uruguay break immediately though Diego Forlan's advance is so quick his team mates are left behind and he has noone to cross to.
19 mins: Park Ji-sung is still plugging away at creating moves but the impenetrable Uruguay defence intercept all his crosses and chips.
15 mins: Diego Forlan takes a free kick in front of the Korean goal but his shot is weak.
11 mins: The Koreans try to fight back but only succeed in leaving room for Suarez to break away down the left, though this time he fails to threaten the Korean goal.
8 mins: GOAL! Uruguay 1 South Korea 0
Jung Sung-ryong comes out of his goal to try to intercept a cross from Diego Forlan but fails to hold it, allowing Luis Suarez to collect the pass and fire behind the hapless keeper into the empty net.
4 mins: Park Chu-young strikes Uruguay's lefthand post from a direct free kick. Bad luck! So near but yet so far.
2 mins: Park Ji-sung makes an immediate dash up the field and reaches the Uruguay penalty area before being dispossessed.
1401 GMT: The Koreans win the toss and kick off.  We're under way!
1358 GMT: The Koreans hold their right hands on their hearts but few appear to be singing.
1355 GMT: The national anthems play.
1353 GMT: The players line up at entrance to the tunnel,  Uruguay in their blue strips but the Koreans in their white away kit rather than their trademark red.
1338 GMT: Simon Martin, AFP's Seoul bureau chief, tells me that police expect some 1.8 million to gather at 226 outdoor venues nationwide, in what would be the biggest turnout so fa. The game starts at 11 pm local time and subway and bus services have been extended until the early hours.
"South Koreans are not noted for doing things by halves and sales of World Cup paraphernalia — including red underwear — have soared while the tournament is underway," Simon reports.
South Koreans also may be diverting some of their sporting passion into sex, with health ministry officials reportedly hoping the tournament will boost the low birthrate. The ministry said the birthrate increased after both of South Korea's previous two World Cups.
For those not ready for parenthood, condom sales have also risen sharply, especially during nights when Korea played, Simon said.
1336 GMT: Here's a novelty – a day with two World Cup matches and not a European team in sight. Maybe a new world order is arriving in football, though maybe not, given how many stars from most World Cup countries earn their living playing for European teams, not least South Korea captain Park Ji-sung, who has shone at Manchester United.
1334 GMT: AFP's Nick Reeves says from the stadium: "Half an hour to go and we could be in for one of the lowest attendances so far in the World Cup – with ranks of unoccupied red seats in the 42,000-capacity Nelson Mandela Bay stadium."
The vuvuzela volume is appreciably less than previous matches, he says. "No need for ear plugs today."
1331 GMT:Â  Uruguay and South Korea make one change apiece in their line-ups.
Uruguay coach Oscar Tabarez welcomed back Villarreal defender Diego Godin, with Mauricio Victorino dropping to the bench.
His South Korean counterpart, Huh Jung-Moo, called up Kim Jae-Sung in midfield in place of attacking midfielder Yeom Ki-Hun.
The two sides are meeting for only the second time on the World Cup stage, with Uruguay snatching a late goal to prevail 1-0 in a first round match in Italy in 1990.
The winner of this match will go on to face either the United States or Ghana in the quarter-finals in Johannesburg on July 2.
1327 GMT: The team sheet has been handed out:
Uruguay
Fernando Muslera; Maximiliano Perreira, Diego Lugano (capt.), Diego Godin, Jorge Fucile, Egidio Arevalo, Diego Perez, Alvaro Pereira, Diego Forlan, Luis Suarez, Edinson Cavani
Coach: Oscar Tabarez
South Korea
Jung Sung-Ryong; Cha Du-Ri, Cho Yong-Hyung, Lee Jung-Soo, Lee Young-Pyo, Lee Chung-Yong, Ki Sung-Yueng, Kim Jung-Woo, Park Ji-Sung (capt), Kim Jae-Sung, Park Chu-Young
Coach: Huh Jung-Moo
Referee: Wolfgang Stark (GER)
A South Korean fan watches a live broadcast of their 2010 World Cup match against Nigeria, played in Durban, from Seoul, on June 23. South Korea and Uruguay are set to meet in a fascinating World Cup last 16 clash that few pundits would have predicted at the start of the tournament.
WELCOME TO NELSON MANDELA BAY STADIUM IN PORT ELIZABETH for our W
orld Cup live text commentary as South Korea and Uruguay meet in a fascinating last 16 clash that few pundits would have predicted at the start of the tournament.
The Asian giants have earned a reputation as set piece masters in South Africa, with th
ree of their five first round goals coming from freekicks, some feat given the unpredictability of the Jabulani ball.
That prowess will be tested to the full against a Uruguay side with a rock solid defence that has yet to concede a goal.
Uruguay made it to the second round as surprise winners of Group A after holding France to a goalless draw, beating hosts South Africa 3-0, and closing with a 1-0 win over Mexico, Ajax striker Luis Suarez getting the all important goal.
Uruguay, winners of the inaugural World Cup on home soil in 1930 and again in 1950, crashed out on their last appearance in 2002 when co-hosts South Korea made it into the semi-finals.
South Korea have punched above their weight to finish runners-up in Group B.
They opened in style with a 2-0 win over former European champions Greece, on their first visit to Port Elizabeth. A 4-1 rout by Argentina followed but they put that reverse behind them when holding Nigeria to a 2-2 draw in Durban on Tuesday.
Load more