RUSTENBURG, South Africa (AFP) – GHANA SCORED A SENSATIONAL extra time winner to beat the United States and earn a World Cup quarter-final showdown against Uruguay.

"I am the happiest man in the world," said Asamoah Gyan, whose goal in the second minute of extra time gave Ghana a 2-1 victory.
"In 2006 we made the second round, now we have gone a step further. We have made Ghana proud and the whole of Africa proud."
"Discipline plus talent! Sometimes it works," says Ghana-born Marcel Desailly, adding on ITV that he thinks Ghana can now go forward and beat Uruguay.
And as Ghanaian radio analyst Kofi Attoh predicted, the USA tasted "football brewed in African pots again."
Read on for the full details of the match as it happened then log on again tomorrow for our live text coverage of two matches that promise to be equally passionate: Germany versus England and Argentina versus Mexico.
30+3: FULL-TIME! USA 1 Ghana 2
Ghana brilliantly carry Africa's hopes into the quarter-finals after an exiting but gruelling 120 minutes of play, only the third time an African country has reached the last eight.
The USA did their best and put their hearts and souls into their play as much as any traditional footballing nation but were simply outplayed.
30+1 Jay Demerit athletically kicks a shot back over his head. It is on target but just too high.
30 mins: Three minutes added.
29 mins: Dempsey tries to shoot but Mensah makes a final block.
27 mins: Last two minutes. Fumble from tired Donovan and Ayew collects the ball.
26 mins: Maybe I'm wrong but I can't see the USA having the strength left to mount a late comeback. Sorry folks!
24 mins: The US players look dog tired with scarcely the energy to run up the pitch.
22 mins: Inkoom is stretchered off injured and Ghana bring on notorious "bad boy" Sulley Mantari in his place.
21 mins: Ghana are blatantly wasting time but  come on, who wouldn't?
19 mins: Maybe Barack Obama was right not to join his precedessor Bill Clinton at the match. He has enough problems on his plate without being linked to a US defeat at "soccer".
18 mins: Ghana are just 12 minutes away from a place in the World Cup quarter finals. Can they hang on?
16 mins: Another 15 minutes of play begins.
15+1 mins: HALF-TIME! Half time in extra time.
USA 1 Ghana 2
15 mins: One minute of stoppage time.
11 mins: Ghana aren't satisfied yet and Ayew and Kwadwo Asamoah take the ball up into the US penalty area, though the US defence then halts their advance.
9 mins: African teams are better known for flair and excitement than tight discipline but Hungarian coach Kassai has drilled the Ghanian team very well in the defensive arts.
7 mins: The Ghana defence, in contrast, are maintaining their tight discipline.
5 mins: Most of the US team have rushed up to the Ghana end to go for  the equaliser but look ragged and seem to lack organisation.
2 mins: GOAL! USA 1 Ghana 2
Asamoah Gyan takes on Carlos Bocanegro and Jay DeMerit, beating them both to fire an ustoppable shot straight past Tim Howard.
2024 GMT: "Revenge is on the minds of the Yankees but I'm sorry they will again taste football brewed in African pots again. We beat them in Germany in the 2006 world cup and we shall do it again," says Kofi Attoh, soccer analyst at a local radio station in Accra.
90+3 mins: EXTRA TIME! Referee Viktor Kassai blows the whistle to end ordinary time. Thirty minutes of extra time will be played.
90+2 mins: Ghana corner.  Asamoah's kick is headed out.
90+1 mins: YELLOW CARD! Ayew booked for an excessive challenge on Altidore. Ayew would miss the next Ghana match.
90 mins; Three minutes added.
89 mins: DeMerit heads an Inkoom shot safely out of the way
88 mins: Extra time looks a certainty.
86 mins: Ball possession has been 50-50, says ITV. How balanced a match is that!
85 mins: Ayew sends over an incisive pass but Inkoom is ruled offside.
81 mins: Dempsey takes a kick from 30 yards but it lacks power.
79 mins: Jozy Altidore is through into the penalty but Mensah manages to stop him with a fair challenge and the US player falls.
78 mins: Boateng's injury is a bad blow for Ghana. He looks to be in quite a lot of pain.
77 mins: Stephen Appiah replaces Kevin-Prince Boateng who has picked up a thigh injury.
74 mins: Instead the pace of the match has slowed right down as both teams become nervous with 15 minutes to go.
72 mins: Ghana coach Milovan Rajevac brings on Lee Addy for Hans Sarpei to bring fresh energy to the flagging team.
68 mins: John Pantsil manages to intercept Edu as the American advances on goal with Kingson the only other player anywhere near.
66 mins: Kingson slides dramatically to the corner of the box to halt a threatening run by Altidore.
62 mins; GOAL! USA 1 Ghana 1
Landon Donovan converts the spot kick.
61 mins: PENALTY! Penalty to the USA
57 mins: Asamoah threatens again for Ghana but Watford's Jay DeMerit intercepts him and deals with the danger.
55 mins: The US players are starting to be more assertive but  still without much success in terms of goal scoring chances.
54 mins: Dempsey floats a promising ball towards Jozy Altidore but he can't connect and it flies over the goal line.
51 mins: Boateng bids to double Ghana's score but his slipshod shot flies wildly over the bar.
50 mins: Ghana still haven't managed to score more than one goal in any match in South Africa, which doesn't bode well for their prospects in the higher rounds, even if they win tonight.
47 mins: Ghana keeper Kingson just manages to tip out a dangerous strike from Robbie Findley. Maurice Edu siezes on the rebound but shoots wide.
47 mins: One politician who isn't at the G20 summit is former US President Bill Clinton, sitting in the stand at Rustenburg next to rock legend Mick Jagger.
"Mick does know that England are not playing here tonight, doesn't he?" asks Jim Slater.
46 mins: Play resumes.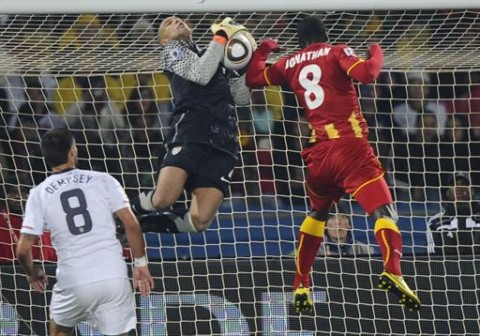 2027 GMT: Noone in AFP Washington bureau has time to go and talk to football fans because the journalists are all too busy with the G20 summit meeting, they tell me. What a shame!
2024 GMT: US President Barack Obama and Ghana counterpart John Atta Mills plan to
swap football team shirts when they next meet, I hear.
"They have agreed that when they next meet they will exchange team jerseys in the spirit of camaraderie and sportsmanship that they look forward to seeing on the playing field later today,"a White House official said.
1922 GMT: Former England manager Kevin Keegan says on ITV: "Ghana got it spot on. The US never got going until the last 15 minutes."
1917 GMT: Kevin-Prince Boateng maybe unpopular in Germany after his tackle on Michael Ballack in the FA Cup final between Chelsea and Portsmouth ruled the Germany captain out of the World Cup with an ankle injury.
But the Portsmouth player is now a hero all over Africa for his incisive strike that gave Ghana the lead as they carry the flag for the whole continent in the second round.
45+1 mins: HALF-TIME ! USA 0 Ghana 1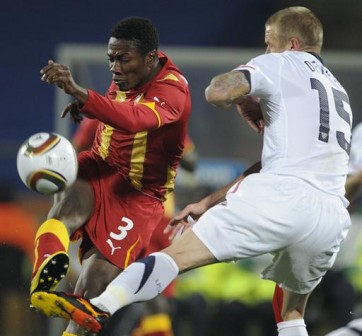 44 mins: Cherundolo makes a dangerous cross but Clint Dempsey fails to connect with it.
43 mins: John Mensah intercepts a Donovan corner kick and heads it away from the danger zone.
41 mins: Boateng chips to Asamoah on the left but  he shoots over the bar.
36 mins: Tim Howard makes a fine save from Kwadwo Asamoah, who twists his ankle in a fall while making the shot but is eventually able to play on.
33 mins: Dempsey chips a ball to Robbie Findley in front of the Ghana goal but Richard Kingson manages to get a foot to Kingson's shot to block the potential equaliser.
30 mins: USA coach Bob Bradley brings off  Ricardo Clark after just half an hour. He makes way for Maurice Edu.
29 mins: Inkoom is clear on the right again and this time crosses to Boateng, but Howard deftly sweeps up the shot.
27 mins Ghana's Samuel Inkoom has a chance on the right when he seizes on a loose ball but he overshoots.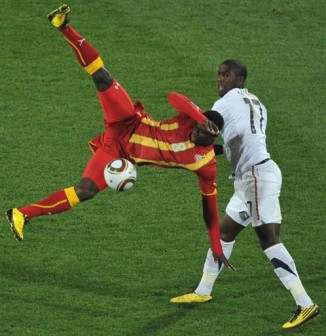 25 mins: Howard grabs the ball from a Ghana corner kick to snuff out any further danger.
23 mins: Ghana keeper Richard Kingson has no trouble dealing with a Michael Bradley shot.
20 mins: Landon Donovan whacks a free kick towards goal but it lacks strength and it easily stopped.
19 mins: Donovan puts Jozy Altidore through but he runs up against three Ghana defenders.
16 mins: YELLOW CARD! Steve Cherundolo of the USA is booked for blatantly jabbing his studs at Andrew Ayew.
15 mins: The US are still acting like underdogs and are mostly on the defensive, except for a couple of brave breaks by Landon Donovan.
12 mins: Today is a rarity in World Cup history with no European country featuring in either match but plenty of the players tonight have European connections, not least  Boateng, who plays in England for Portsmouth, and Howard, the Everton keeper.
10 mins: USA have never won a World Cup match in which they have trailed. They have not won two matches in a row, as they are trying to do, since playing their first two back in the inaugural World Cup 80 years ago, Jim Slater points out.
8 mins: Ghana continue to make the running, with the USA players looking stunned.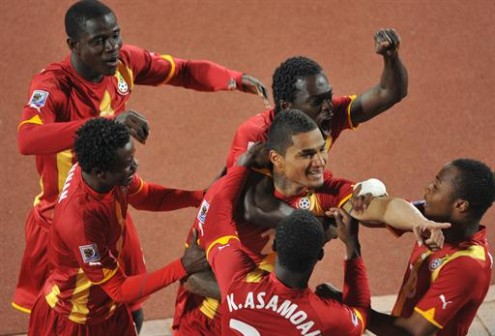 4 mins: GOAL! USA 0 Ghana 1
Kevin-Prince Boating dramatically ends Ghana's famine of goals from open play with a superb strike which Tim Howard has no chance to save.
3 mins: Samuel Inkoom tries a speculative long shot for Ghana but it flies off to the left of goal.
1 min: We're off. The match has begun.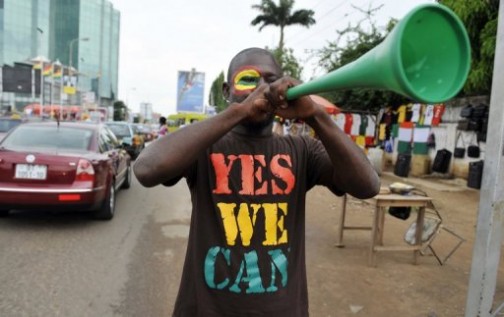 1827 GMT: The national anthems.
1824 GMT: The teams walk out onto the pitch.
1822 GMT: US fans are in star-spangled attire, one dressed as comic-book hero Captain America and another bare-chested with the US Soccer logo painted on his chest and a red, white and blue wig, Jim says. Another set of US fans had a life-size cardboard cutout of US President Barack Obama wearing a US Soccer sweater..
1820 GMT: Some England fans who bought tickets for the match expecting their team to win Group C and play here tonight decided to show up even though their team plays tomorrow against Germany in Blomfontein. Fair play to you, sirs, and I hope you enjoy the match.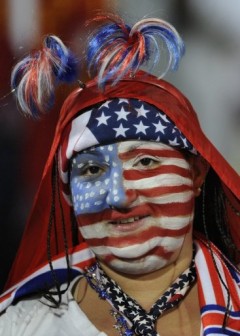 1815 GMT: Jim hasn't just been hanging round the bar though.
"A full moon hangs over the stadium. A helicopter flew in front of it to provide a stirring TV camera shot before the match. An aerial camera showed the darkness around the stadium except for the streetlights on the one road with lights leading to Rustenburg amid the stadium's rural setting," he tells me.
1813 GMT: The bar on the dirt road across the street from Royal Bafokeng Stadium has a huge barbecue grill going and smoke is billowing high over the field, says JIm Slater, AFP's man on the spot.
"For the US-England match 2 weeks ago the patrons were mostly England supporters. Now US fans have the numbers. But there is another change. A sponsor's sign hanging over the main sign gives the cafe a different name, for one more night anyway as this is the last Cup match in Rustenburg," Jim says.
1806 GMT: Ghana-born French defender Marcel Desailly denies on ITV that Ghana are the favourites despite having beaten the USA four years ago.
Ghana's two goals in the group stages both came from penalties and the team must  be more successful in open play if they are to progress any further in the World Cup, Desailly says.
1759 GMT: African last hope Ghana and the United States keep line-up changes to a minimum for their second-round World Cup showdown on Saturday with Uruguay waiting for the winners in the quarter-finals.
Ghana bring in defender Samuel Inkoom from Basel of the Swiss league in place of forward Prince Tagoe, leaving Portsmouth's Kevin-Prince Boateng and Rennes striker Asamoah Gyan up front.
The Americans welcome back speedy forward Robbie Findley, suspended for their 1-0 victory over Algeria, in place of Herculez Gomez.
Ricardo Clark was selected for the midfield in a position that has rotated with every match, Maurice Edu having held the job in the prior match.
US coach Bob Bradley also kept Jonathan Bornstein in the defence in place of Oguchi Onyewu.
Ghana, whose new slogan on the side of their team bus is "The Hope of Africa", are the last of six African teams that began the first World Cup on African soil. They were also the only Africans in the last 16 in 2006.
1755 GMT: The teams have been announced:
USA: Tim Howard, Steve Cherundolo, Jay DeMerit, Carlos Bocanegra (capt.), Jonathan Bornstein, Landon Donovan, Michael Bradley, Ricardo Clark, Clint Dempsey, Jozy Altidore, Robbie Findley
Coach: Bob Bradley (USA)
Ghana: Richard Kingson, Samuel Inkoom, John Pantsil, John Mensah (capt), Jonathan Mensah, Hans Sarpei, Anthony Annan, Kwadwo Asamoah, Andre Ayew, Kevin-Prince Boateng, Asamoah Gyan
Coach: Milovan Rajevac (SRB)
Referee: Viktor Kassai (HUN)
WELCOME TO THEÂ  ROYAL BAFOKENG STADIUM IN RUSTENBURG for our World Cup live text commentary as Ghana's Black Stars take on the United States again four years after they met in a group match which sent the Americans crashing out of the World Cup.
Ghana, the only African team to qualify for the knockout phase of the World Cup, are hoping to spoil the US show once again.
South Korea or Uruguay awaits the US-Ghana winner instead of once-possible powerhouse foes such as Germany or Argentina.
US captain Carlos Bocanegra knows well the skills of Ghana star Asamoah Gyan, his teammate at French club Rennes.
Ghana defender John Pantsil, who is a Fulham teammate of US midfielder Clint Dempsey, warns the Black Stars will be dangerous.  "We believe in ourselves and we are going to score more goals."
Load more