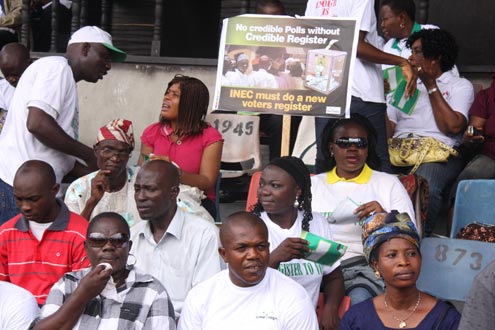 Anyone who wants to pass a message of revolution to Nigerians probably ought to start from Lagos. This is because there is no other state in Nigeria that is as cosmopolitan as the place called the centre of excellence. Lagos is a melting point of cultures and every state of the federation is represented in it.
This is perhaps what the members of the Save Nigeria Group had in mind for picking the Onikan stadium as the venue for the rally to sensitise Nigeria on the need to clamour for a free and fair election in 2011 as well as a new voter's register.
The event was a colourful one. It was a blend of solemnity spiced with hilarity. Though it was a time for grave speeches by eminent Nigerians yet there were times for funny songs of solidarity by supporters of the ideals and doctrines of the SNG.
The event attracted the most notable progressive minds in the country and possibly new converts to progressive thinking like Mallam Nasir el-Rufai, former minister of the Federal Capital Territory.
Among the progressive minds at the event were Governor Baabtunde Fashola, Lagos State Governor; Professor Wole Soyinka, Nobel Laureate; Pastor Tunde Bakare, convener of SNG; General Alani Akinrinade; Professor Pat Utomi; Mr. Solomon Asemota; Mr. Dele Momodu; Mr. Jimi Agbaje; Dr. Joe Okei-Odumakin; Mr. Ayo Opadokun;  Chief Bisi Akande; Mr. Henry Ajomale; and  Ms Anko Briggs.
There were also Daddy Showkey and Rooftop MCs who thrilled the audience with songs.
Virtually everyone that spoke had one message-the need for a new voter's register as the current one is grossly inadequate. It was also said that it was discovered the present voter's register contains names of foreigners who are not eligible to vote in Nigeria.
When Wole Soyinka spoke, he commanded the best of attention and he called for a fresh voter's register.
But Soyinka had more than that to tell Nigerians. He warned the younger generation to make sure that their votes are not stolen in 2011.
"Very often people don't appreciate what they have. You have a vote and you allow people to snatch it from you."
The author of "The Lion and the Jewel" expressed the worry that Nigerians have been enslaved by a selfish cabal.
"What defines a slave is a lack of will. Over  100 million people have allowed a bunch of rogues to deny them," he said.
He advised the people to decide on what to do should the ruling class rob them of their votes again. He said that no punishment was too hard for those who cheat at elections. He even recommended that such people's properties be confiscated.
Wole Soyinka said that President Goodluck Jonathan and the newly appointed Chairman of the Independent National Electoral Commission, INEC, Professor Attahiru Muhammadu Jega, should know that the world was watching them. He wanted them to do the right thing with the 2011 elections.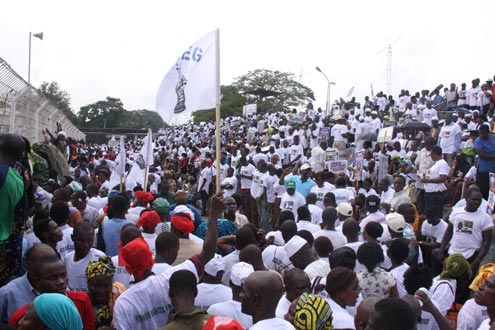 Governor Fashola did not fail to also add his voice to those  who have been agitating for a new voter's register.
"I do not believe that it is not possible for us to have a fresh voter's register. Technology is the answer."
Fashola, however, persuaded everybody to participate in voting at the forthcoming elections, advising them to protect their votes.
Pastor Bakare, who said that the SNG was making a demand for a fresh voter's register, also wanted the younger generation to know that this is their time and chance to influence who governs them.
Mallam el-Rufai who was part of the anti-progressive government of former president Olusegun Obasanjo impressed not a few people when he also faulted the current voter's register and declared that he believed in the ideals of the SNG.
With the increasing calls for a voter's register, INEC might have no choice other than to accede to the yearning of the people.
Load more