The Managing Director of the Niger Delta Development Commission (NDDC), Mr. Chibuzor Ugwuoha, was Sunday,27June arrested and reprimanded by the Rivers State Governor, Rt. Hon. Chibuike Rotimi Amaechi for contravening traffic law in Port Harcourt by allowing his convoy to drive against the traffic while seated in his car.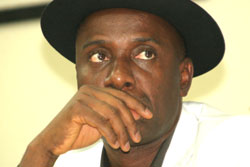 The incident which occurred at 3.22pm local time by the Eliozu fly-over bridge along Chief G.U. Ake road linking Aba Road and Ikwerre Road in Port Harcourt,Rivers State South South Nigeria, is coming barely 48hrs after South-South Governors intervened in the NDDC crisis that saved the board from being dissolved.
The NDDC boss' convoy, made up of a Pilot car with Mobile Policemen and three other vehicles, had left their lane to the opposite lane heading towards the Governors car, unknown to them that Gov. Amaechi was driving himself, leading his convoy while on an unscheduled inspection of projects.
On sighting the convoy which was beating traffic, Governor Amaechi blocked the offending convoy, and ordered them to reverse and join the traffic properly, expressing surprise that the NDDC boss would allow the convoy in which he was traveling to drive against traffic.
The governor, who was enraged over the incident, said Ugwuoha is a public figure who should live by example and not to flout laws.
Governor Amaechi personally ensured that the convoy of the NDDC boss reversed and drove back over 500 metres to the exact point along the road where the convoy had violated traffic, before he continued on his inspection tour.
"If I can stay on the queue and obey traffic why can't he do the same? It is his duty to be law abiding at all times,"  Amaechi said.
The governor had personally ordered the arrest of a local government chairman from Abia State whom he caught driving against traffic along the busy Port Harcourt/Aba Expressway.
He was detained for several hours at the Police headquarters along Moscow road,Port Harcourt.
On several occasions, Governor Amaechi had arrested police escorts along the Trans-Amadi Industrial area, Port Harcourt and impounded both the escort vehicle they were driving and the company vehicle they were aiding to drive against traffic.
The governor who has often drives himself wearing  a T-shirt atop a pair of shorts had also on several occasions arrested policemen extorting money from taxi drivers.
—Okafor Ofiebor/Port Harcourt
Load more