Bulldozers have pulled down the home of Monday Akpautong, the suspected mastermind of the killing of Paul Udoinyang, a staunch supporter of Governor Godswill Akpabio of Akwa Ibom State, Nigeria.  Udinyang, a  PDP stalwart, was killed on Sunday last week while attending a church service in his village.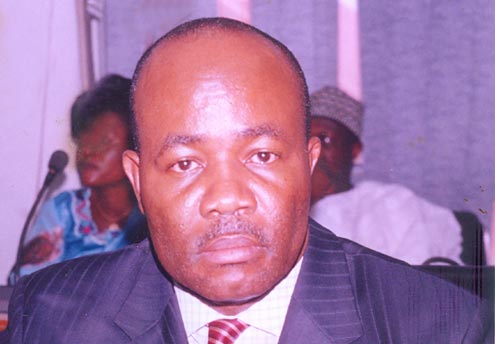 The pulling down of the edifice located in the same village where Udoinyang hailed from, follows the pronouncement by Akpabio when he paid a condolence visit to the family of the assassinated man, at Ibesikpo Asutan Ekpe on the outskirts of Uyo, the Akwa Ibom State capital.
Akpabio, who expressed anger over the killing of Udoinyang, had vowed to demolish Akpautong's  house last Monday.
The governor revealed that the late man was his loyal friend and was the Secretary of the PDP Governorship Screening Committee in 2006 and "stood his ground against pressure to disqualify me and personally brought me the clearance certificate signed by the Wazirin Adamawa after the exercise."
He said the deceased was assiduously working towards the actualisation of his second term ambition when he was killed.
"The killers went right inside the church to desecrate the sanctuary of God and by that act they have not only committed crime against man, but also against God," the governor said.
Akpabio, who accused his political opponents of killing his friend, said he was amazed at the desperate level to which his opponents were taking the political battle by spilling the blood of the people of the state.
"The ongoing organised kidnappings and the assassination of my friend is nothing but political desperation on the part of my opponents," he declared.
The Inspector General of Police, Mr. Ogbonna Onovo, who was part of Akpabio's entourage, promised to track down the assassins.
Akpautong, the prime suspect, is said to be on the run.
—Emma Una/Calabar
Load more