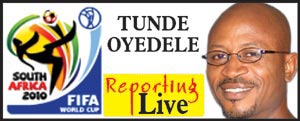 Hero of Black Stars of Ghana's qualification to the quarter final of the ongoing FIFA World Cup in South Africa, Asamoah Gyan is relishing the heroic feat of his team in the Mundial, saying the Ghanaian side are ready to scale the hurdle of Uruguay to the semi final.
Gyan, who scored the winning goal of the Black Stars against USA in the extra time of the second round match on Saturday, told PM Sports here in Johannesburg Ghana are battle ready to go all the way in the 2010 World Cup.
He said: "This is the greatest moment of my life. I'm so happy to have been recognised as one of the best players of the World Cup. Although we are not there yet, I think Ghana can go all the way. What we need to do now is to remain focused when we meet Uruguay on Friday in the quarter final clash and after that we've to games to the final just like we did at the last Africa Nations Cup in Angola in January.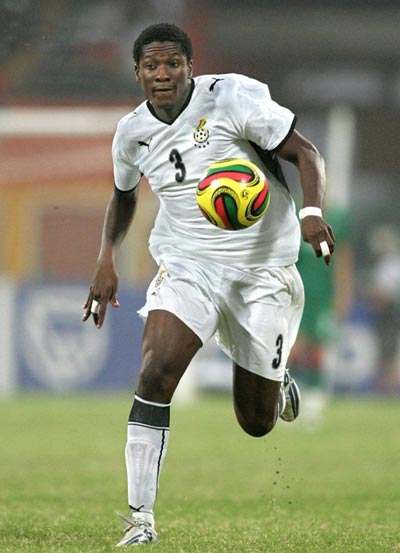 "We regret the exit of our brothers from Nigeria, Cameroon, Algeria, Cote d'Ivoire and South Africa. The challenge here has been so enormous but we'll be equal to the task since Ghana are the only team left. Our target is to qualify for the semi final in the match against Uruguay and after that we'll remain in the World Cup until the final day."
The Rennes of France star was full of praises for  other members of the Black Stars, saying everybody plays his part very well. "Everybody has been working. Our captain, John Mensah has been so wonderful. Our coach, Milovan Rajevac is very inspiring. The FA has played a good role in motivating us and we appreciate our people back home. The South African fans have been so wonderful," he said.
Captain of the US team, Landon Donovan regretted the ouster of the American team. He said: "I regretted losing to Ghana. We did our best to keep the Ghanaian team but Gyan's goal relay broke the camel's back. It's unfortunate that we are out of the of the World Cup at this stage. The memory of South Africa hosting an exciting World Cup would be in our hearts for sometime to come."
Load more