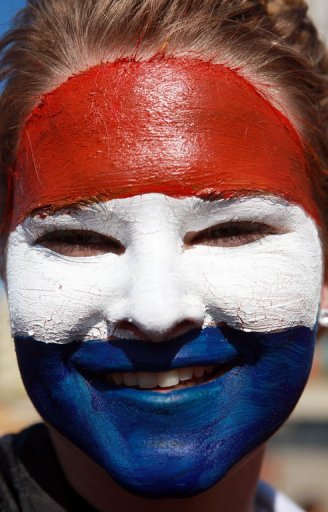 DURBAN (AFP)Â – ARJEN ROBBEN AND WESLEY SNEIJDER fired Holland to a 2-1 victory over Slovakia to set up a World Cup quarter-final against either Brazil or Chile.
Robben started for the first time at these finals after recovering from a hamstring injury that kept him out of the opening two matches.
But the Bayern Munich winger repaid coach Bert van Marwijk's faith by scoring a textbook goal in the 18th minute against a Slovak side that failed to repeat their giant-killing 3-2 group win over defending champions Italy.
Dirk Kuyt set up the second goal for Sneijder after some suicidal goalkeeping from Slovak 'keeper Jan Mucha.
AFP journalist Nicolas Delaunay is The Hague. He said politician Alexander Pechtold, leader of the centrist D66 party used Twitter to thank fans for blowing their vuvuzelas when Holland scored their first goal – he was locked in coalition talks so the sound was the first he knew of the goal.
1553 GMT: Holland could well have had a tougher fight if the Slovaks had taken their second-half chances. But they have already gone further than in 2006 when they crashed out at the last 16 stage.
– 90+3: FULL-TIME! Holland 2 Slovakia 1
The penalty added respectability to the scoreline for the Slovaks but Holland are into the last eight of the World Cup.
90+3 mins: GOAL. Holland 2 Slovakia 1.
Vittek scores the penalty.
– 90+3 mins: Slovakia win a penalty when Jakubko goes down.
90 mins: Three miuntes of added time.
89 mins: YELLOW CARD! Martin Skrtel is booked.
87 mins: Try to catch the second Dutch goal on TV. After a good game, 'keeper Mucha just went walkabout and made it so easy for Sneijder.
– 85 mins: That should kill off the Slovaks. The Netherlands are about to stretch their unbeaten run to 23 matches.
– 82 mins: GOAL! Holland 2 Slovakia 0
A quickly taken free-kick makes the Slovak 'keeper lose his head and leave his goal. Kuyt rolls the ball to Sneijder and he scores easily.
80 mins: Time is ticking away and Slovak coach Weiss is on his feet, pinstripes flying, to protest a decision.
– 77 mins: The Dutch are sitting back. Perhaps they think 1-0 will be enough to go through to the quarter-finals.
– 72 mins: Holland's Liverpool striker Dirk Kuyt powers a shot at goal but Mucha pushes it away. Â Will the Dutch ever get that second goal?
-70 mins: Van Robben is starting to tire and the goalscorer makes way for 23-year-old Eljero Elia.
67 mins: Now Stekelenburg saves from Vittek when the striker is clean through and has time to finish. The Dutch are suddenly in trouble.
– 66 mins: Slovakia go close! Miroslav Stoch's shot is saved by Maarten Stekelenburg.
– 64 mins: Robben tears down the pitch and feeds Sneijder but his shot is blocked.
– 61 mins: Holland are dominating but we know Slovakia are capable of  scoring on the breakway. Juraj Kucka tries his luck from distance but it goes wide.
– 58: Van Persie's free-kick forces 'keeper Mucha to punch clear.
– 56 mins: Zabavnik returns after to the pitch after treatment.
54 mins: Slovak defender Radolav Zabavnik falls to the turf after Van Persie's studs make contact with his shin. The stretcher is on but he is on his feet.
– 51 mins: Slovak 'keeper Mucha saves from Van der Wiel from close range and takes the ball full on the nose. Ouch!
– 48 mins: Inches wide for the Dutch! That man Robben again. A dribble and shot that flashes past the post.
47 mins: Vittek battles to find a way through, but the Dutch defence is proving more stubborn than the Italian rearguard were last week.
– 46 mins: We're off for the second half.
-Â 1455 GMT: Luke Phillips in Durban says: "There's a surprisingly muted atmosphere in the Moses Mabhida Stadium as the sprinklers come on to water the pitch that has not cut up too badly."
1452 GMT: It says a lot about the efficiency of the Dutch side though that Slovakia look a long way from the team that stunned Italy.
– 1450 GMT: Apologies. Of course I meant to say before that this might NOT be the most exciting Dutch team in history.
1447 GMT: This might be the most exciting Dutch team in history but they are in control here after a pedestrian first half.
– 45 mins: HALF-TIME. Holland 1 Slovakia 0
– 44 mins: Van Persie sees an effort go off target after he connected with a cross at the near post. You sense a second goal is coming.42 mins: Slovakia just can't get their attacks going, and the Dutch are mopping up without too many problems.
38 mins: Van Persie hits the target but Slovak keeper Jan Mucha collects easily.
– 36 mins: Slovakia's Jan Durica has a mohican haircut that looks suspiciously as if he has cut it himself.
– 33 mins: A free-kick for Slovakia. Maybe a chance for them. But they are soon forced back and it comes to nothing. The story of their game so far…
31 mins: YELLOW CARD! Arjen Robben is cautioned for hand ball. He looks disgusted with the decision.
– 29 mins: Slovakia look poor at the moment. They need a dash of the inspiration that helped them help beat Italy last Thursday.
– 26 mins: Sneijder's corrner kick is cleared, but you get the impresssion of a second goal is coming soon.
– 25 mins: Holland win a corner.
– 23 mins: The goal has given Holland confidence and they are pouring forward.
– 20 mins: Well, Robben has just shown why the Dutch were so desperate to get him fit and back into this tournament. A great finish.
– 18 mins: Robben collects a Sneijder pass, cuts inside and fires in a low shot from outside the penalty area.
– 18 mins: GOAL! Holland 1 Slovakia 0
– 14 mins: The Dutch look strong going forward but their sloppiness could be punished by the Slovaks on the counter-attack, just as they hurt Italy.
– 12 mins: Slovakia coach Vladimir Weiss is wearing the same smart pinstriped suit he donned for the win over Italy. He looks the part.
– 10 mins: Close for the Dutch! Van Persie slides a pass through for Wesley Sneijder but his shot is smothered.
– 7 mins: Robin Van Persie gets into a dangerous position in the Slovak box. But the Arsenal man's header doesn't threaten.
– 3 mins: Sorry that was Erik Jendrisek. Arjen Robben looks sharp in his first few touches.
– 2 mins: Jendrisek has the first shot for Slovakia but blasts the ball over the bar.
1400 GMT: Slovakia kick off.
1358 GMT: It has been said that the vuvuzelas are quietening down as the World Cup goes on, but they are out in force today!
– 1357 GMT: The Dutch players sing their anthem with gusto, while that wind is in evidence as it ruffles the Slovak tracksuits during their anthem.
1347 GMT: More from Luke Phillips: "It's a bright sunny day in Durban but the wind has been howling a gale though it does seem to be easing off."
"However, the wind is swirling around the Moses Mabhida Stadium, which is open at one end, and it'll be interesting to see how the much-criticised Jabulani ball copes."
Ah yes, Â the Jabulani. Even after more than 40 World Cup matches, outfield players and goalkeepers claim it flies differently to balls they are used to…away.
– 1344 GMT: Â The line-ups have been announced:
Holland: Maarten Stekelenburg, Gregory van der Wiel, John Heitinga, Joris Mathijsen, Giovanni Van Bronckhorst (capt), Mark van Bommel, Nigel De Jong, Dirk Kuyt, Wesley Sneijder, Arjen Robben, Robin Van Persie.
Coach: Bert van Marwijk (NED)
Slovakia: Jan Mucha, Peter Pekarik, Martin Skrtel, Jan Durica, Radoslav Zabavnik, Vladimir Weiss, Miroslav Stoch, Mark Hamsik (capt), Juraj Kucka, Erik Jendrisek, Robert Vittek
Coach: Vladimir Weiss (SVK)
Referee: Alberto Undiano (ESP)
1337 GMT: My AFP colleague Luke Phillips at the stadium says the colourful Dutch fans are out in force and exhibiting their usual sense of fun.
"To say the Slovakian fans are outnumbered would be understatement of the year," he tells me.
"The Oranje army has once again invaded Durban, the best-dressed fan award going to the orange-clad spear-toting one mounted on a (toy) ostrich."
WELCOME TO DURBAN for the last 16 World Cup clash between Holland and the surprising Slovaks who knocked out holders Italy in the group stage.
Star winger Arjen Robben will start for the Dutch for the first time in the tournament after a hamstring injury restricted him to a 20-minute appearance against Cameroon in the final group game – the only part he has played so far.
The Slovaks include striker Robert Vittek whose two goals helped slay the Italians in the 3-2 victory on Thursday which humiliated the champions and put Slovakia into the knockout stage in their first appearance at a World Cup.
The winners of this game will face the winners of the Brazil v Chile tie later today – a tough prospect.
To see if the talented Dutch can keep alive their challenge to win the World Cup for the first time, stay with us as kick-off is just 30 minutes
Load more