Ernest Ijeomah, Head Coach of International School, University of Lagos, led the school's basketball team to pick a ticket at the Western Conference of the Nestle Milo Secondary Schools Basketball Championship in Ibadan,Oyo State, for the national finals of the championship coming up in Lagos later this year. He spoke with WALE JOSEPH on their experience and expectations.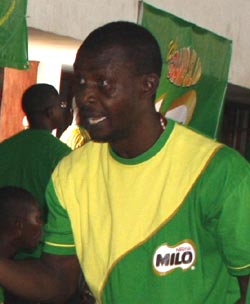 Q: How easy was your victory at the Western Conference finals in Ibadan?
A: It's great picking the ticket to the national finals ahead of other schools, but the truth is that it is not easy. I give all the thanks to God for seeing us through, it was one of the toughest in a long time.
Q: How do you hope to take the school, particularly in Lagos State, to  the national finals?
A: With God and my colleague, Coach Oyewole Adebiyi, we hope to make the parents who  have been very supportive, happy. The school management and the students and of course Lagos State are very proud and happy. We hope to go all the way in October in Lagos.
Q: What was your experience like at the conference finals?
A: Yes, this year's screening was far better compared to previous years but my advise is that they should use more officials for the screening and the Nigeria School Sports Federation, NSSF, should always keep records of the previous editions and come to the venue of the conference finals to make screening more easy because the bane of genuine sports development is the issue of mercenaries.
Q: When are preparations for the national finals dunking-off?
A: We will resume training after the students' examinations but the truth is that we can not achieve much without the support of all stakeholders, the school management, parents and the state sports ministry through the State Basketball Association. Our desire is to win the trophy.
Load more