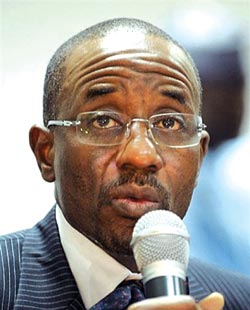 Nigerian Central Bank Governor Lamido Sanusi said he expects three international lenders, a number of private equity houses and local lenders to submit offers for banks bailed out by the Central Bank by mid-July, Bloomberg reported today The interested parties are undertaking "detailed" due diligence, the Central Bank governor said.
Nigeria imposed new management and injected funds into eight banks last year in a bid to nurse them back to health and find potential buyers.
"We've got three international banks that have remained in the serious running to acquire banks," Sanusi said in an interview yesterday in Basel, Switzerland.
"There's also a number of local banks and private equity firms. By the middle of  August  we should actually have clear visibility on at least five of the banks." The financial crisis left the country's lenders with toxic assets of about $10 billion, New York-based Eurasia Group estimated a year ago. The central bank fired the top managers of eight of the country's 24 lenders and gave the industry an injection of 620 billion naira ($4.1 billion) to stem the decline.
"Securing a future for Union Bank, Oceanic, Intercontinental, PHB and Afribank is the priority as these banks are the most "systematically important" to Nigeria,"Sanusi said.
The Central Bank is waiting for presidential approval for a law that will create the Asset Management Corp. of Nigeria, a government entity that will buy bad debts from the banking sector, using funds raised through government-guaranteed local bond issuance.
The bonds will be issued on a deal by deal basis and the presidential approval is expected early next month, Sanusi said.
Sanusi said he sees no reason now for a change in the benchmark interest rate. "A rate cut at this particular moment in time doesn't appear to be necessary
"There is no compelling imperative at this point to review the interest rate stance," he said.
Sanusi said the next monetary policy meeting will take place on July 5.
Load more