In a cumbersome English Language he is noted for, the Pastor of Household of God, Rev. Chris Okotie, this morning officially declared his intention to vie for the presidency of Nigeria under the platform Fresh Democratic Party (FDP).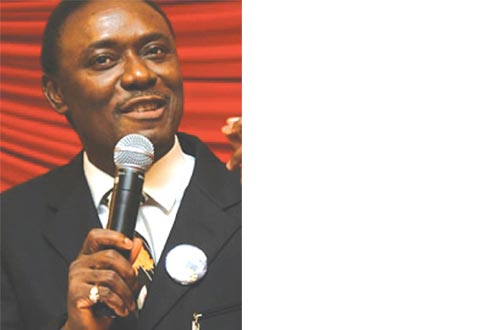 Okotia said: "It was a divine call to duty to salvage our beloved country from the in-ept, corrupt and purposeless leadership of the ruling People's Democratic Party (PDP)."
He said that he was motivated by a patriotic zeal to be at the vanguard of a much-needed change "to transform his country into a viable, self-acclaiming, representative democracy where every one is free to enjoy the full dividend of democracy.
"Without any doubt, I remain fully persuaded that only the emergence of a credible, visionary and progressive government can usher in a new Nigeria of our dream. And I am confident that I represent this ideal and with my fresh agenda, we can create a new nation which will take its rightful place in the comity of nations."
Okotie, who said he is like Melchizedek who was a priest and king in Israel, said God told him he will be president of Nigeria but didn't tell him when.
He gave a definition of faith which he said spiritual illiterate don't understand. According to him, anybody who thinks he must only stick to preaching is anachronistic, adding that that is the climax of absurdity.
He said those against him are parochial as they do not see that his character must not be what defines him but his ability to deliver a country riddled with corruption of gargantuan proportion.
He said  he speaks with a ponderous ecclesiastical knowledge.
Okotie made the declaration at Adeniyi Jones, Ikeja, Lagos headquarters of Fresh Democratic Party, FDP,  and it was still ongoing as at the time of going to press.
—Simon Ateba
Load more