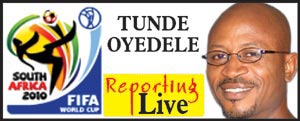 A member of the Super Eagles squad, who crashed out in the group stage of the ongoing South Africa 2010 World Cup, Rabiu Afolabi has replied those criticizing him, saying he is not yet finished as a player.
The defender, who captained the Flying Eagles in the Nigeria 1999 World Youth Championship, WYC said those who were asking questions over his inclusion in the Coach Lars Lagerback  squad to the Mundial are only livid and they don't know much about him and the history of Nigeria in football.
The former, Sochaux of France defender told P.M Sports before the Super Eagles departed Johannesburg for Nigeria said that he was surprised when questions were being asked why the coach took Afolabi to the World Cup.
He noted that he has discovered that football fans in Nigeria don't want other players to grow, stressing that if something urgent is not done the game will continue to go from bad to worse.
According to the defender, who came in as substitute for left back Elderson Elchijile in the Eagles' second Group B match against Greece, "People, questioning my inclusion in the World Cup squad may not know my achievements in football because if they know they will not be wasting their time discussing about a defender, who has captained a junior national team, played in the UEFA Champions League and the EUROPA League. I'm still active in football and by the time the 2011 season kicks off they would see me in my true colour."
He told PM Sports that people should not blame him for the Koreans' equaliser in Nigeria' last group match. He said the style of the Swede coach enabled   the Koreans to get the goal.
He disclosed that  Largerback instructed them to stick to a particular pattern and it backfired, making them to shadow-mark their opponents instead of man-marking.
In his words: "People accusing me of giving away the equaliser to Korea didn't know what they were saying. The coach told us to adopt zonal marking and we stucked to this. Don't forget that I was playing out of position, so when the pull-out came I didn't know that the player was already behind me, before I could turn I saw the ball in the net."
He noted that the style of the Swede worked against their aspirations of going far in the World Cup, insisting that it would take a long time before the Eagles can adapt to his style.
He admonished the Nigeria Football Federation, NFF on always hiring and firing coaches instead of drawing up a long term programme for employed coaches.
Load more