Prelate, Methodist Church Nigeria, Dr. Ola Makinde, who has just arrived from his trip overseas says he was humiliated at the Frankfurt Airport, Germany as security agents ordered him to remove his shoes, socks and his clothes in a bid to detect if he was in possession of a bomb.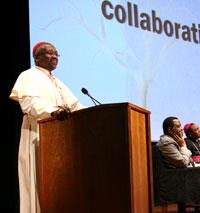 Makinde had arrived Frankfurt from London before he was subjected to ridicule by security operatives at the airport just because he is a Nigerian where Farouk Mutallab, who attempted to blow up a plane hails from.
According to Makinde, who spoke at a news conference in Lagos, Nigeria, to usher in the church's Property Week, he was asked to remove his shoes and socks for searching which he did, while the security agents also searched sensitive parts of his body to detect if he was in possession of an unlawful object.
The man of God said he later resisted when he was asked to remove his cassock, which is symbol of priesthood, adding that all efforts to get him to remove his clothes proved abortive as he told them that he would rather go back to London than to remove his clothes for them to search, a demeaning and humiliating act.
Makinde said he was pained that the action of a Nigerian, who attempted to blow up a plane, had led to humiliation of Nigerians abroad, adding that the crisis in Jos, Plateau State did not help matters as Christians were being massacred like animals.
He insisted that there could be no peace in Jos except justice was allowed to prevail. "Justice must prevail in Jos before peace. Government must make some people scape goat; government must jail somebody."
According to him, Methodist Church Nigeria lost 12 classrooms, a clinic, three-storey building and several other properties, which he said were valued at about N200 million.
"While it is salient that government punishes destructive elements who continue to perpetrate this manner of destruction, it is equally important that adequate compensation should be made available to the affected persons, organisations and bodies," he stated.
Makinde added that Local Government chairmen in the areas where crisis erupted should be made to pay the compensation to the victims as they were supposed to be vigilant about what is happening in their domain, while in the extreme cases, the state government should be made to bear the brunt.
"What is happening in some part of the North is madness. I am tired of a nation where I live and I can't practice my religion. Jos is now a home of terror. We are not one Nigeria any more and if we are, I should be able to go anywhere and serve without molestation," he said.
On the fighting in the House of Representatives, Makinde said it was very demeaning for mature men to be fighting and urged Nigerians to vote out such people in the 2011 elections.
"Fighting in the House of Representatives is demeaning. In terms of morality, it is wrong. Those who fought should not be allowed there any more next year. That act is indiscipline of the highest order," he stated.
The man of God warned the Peoples Democratic Party-led government not to attempt to rig the coming election, saying that free and fair election should be allowed to hold in the country.
"We should not allow rigging in the 2011 election. It should not be a do or die affair; if you do it like that, you will die," he warned politicians.
—Kazeem Ugbodaga
Load more