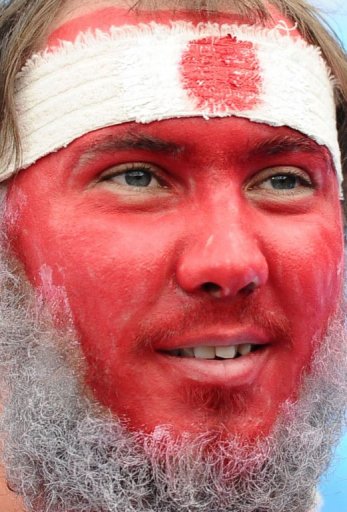 PRETORIA (AFP)
– 1743: PARAGUAY WIN! Cardozo strokes home a penalty to make it Paraguay 5 Japan 3.
1742: Valdes scores to make it 4-2 but Honda strokes in an essential penalty. It's Paraguay 4 Japan 3.
1740: Riveros scores and Komano hits the crossbar so it's Paraguay 3 Japan 2.
1739: Hasebe levels it for Japan with another coolly taken spot kick.
1736:Â – 1752 GMT: Â – PARAGUAY BEAT JAPAN 5-3 ON PENALTIES to reach the World Cup quarter-finals for the first time in their history. They will play Spain or Portugal.
A tense and nervy last 16 tie had ended 0-0 after 90 minutes and extra-time.
Oscar Cardozo netted the winning kick after Yuichi Komano missed Japan's third kick to send the Paraguayans through.
1756 GMT: A quick quote from Oscar Cardozo, the decisive penalty scorer. "Everyone's very happy, me in particular. I thank God and I dedicate this victory to our fans who always support us and to my family."
Join us later for the Spain v Portugal game. The bets are on that that match will not end goallless at the end of regular time. To find out how the Paraguay v Japan match unfolded, read below.
1750 GMT: So Paraguay will face the winners of tonight's game between Spain and Portugal. Their coach Gerardo Martino burst into tears and has told his country's TV station his team have "suffered a lot".
1747 GMT: AFP's man in Paraguay's capital Asuncion, Hugo Olazar, says people are pouring into the streets to celebrate a historic victory.
1745 GMT: Once Komano missed his penalty, Japan were up against it. And the South Americans scored five in a row.
1744 GMT: Paraguay reach the last eight for the first time in their history thanks to cool and calm spot kicks, but Japanese fans are distraught.
Endo replies for Japan, but Lucas successfully converts too. Paraguay 2 Japan 1
1735: Barreto scores for Paraguay. Paraguay 1 Japan 0
1735 GMT: Paraguay will take the first kick.
1733 GMT: It is the first penalty shootout of this World Cup. Cardozo hugs Paraguay 'keeper Villa for luck. There are smiles despite the tension.
1731 GMT: We are heading for penalties! The game was just too tense, but now it will be decided in the tensest way of all.
– 30 mins: END OF SECOND HALF OF EXTRA-TIME! Paraguay 0 Japan 0
25 mins: Okazaki fails to find Nakamura, who would have had an open goal. A huge chance for Japan goes begging.
– 20 mins: Paulo Da Silva's header dribbles wide.
17 mins: Let's remind ourselves that either team will make history by going into the quarter-finals. Neither has done it before.
16 mins: Here we go then. Either Japan or Paraguay score in the next  15 minutes, or we are heading for a penalty shootout.
15 mins: END OF FIRST HALF OF EXTRA-TIME! Paraguay 0 Japan 0
8 mins: Honda's free-kick seems to be going wide but Villar pushes it away anyway.
6 mins: Valdez squeezes through two defenders but his close -range shot is smothered by Kawashima. A great chance which Valdez made himself.
– 5 mins: The towering Cardozo scored 38 goals for Benfica last season. He is good in the air too…
1 min: Extra-time kicks off. Almost as soon as it starts, Santa Cruz is taken off to make way for Oscar Cardozo.
– 1652 GMT: We're heading for extra-time,
90+3: FULL-TIME! Paraguay 0 Japan 0
90+3: Honda is shown the yellow card for hand ball.
90+1: Endo's free-kick is whipped in, Nakazawa heads it across goal, but Tulio can't reach the ball.
90 mins: Three minutes are added on. not impossible.
– 86 mins: There is a second ball on the pitch. Maybe that will help break the deadlock!
84 mins: This game will almost certainly break the pattern of the last 16 so far. Every one of the six games has seen at least three goals.
– 82 mins: Nagatomo's cross is punched away by Villar who is clattered by Yoshito Okubo. But he dusts himself off and gets on with the match.
80 mins: Kengo Nakamura comes in for Yuki Abe. Can he make the difference?
– 76 mins: Paulo Da Silva's back pass is short and almost lets in Japan. But 'keeper Justo Villar clears just in time.
– 72 mins: Yuto Nagatomo is yellow-carded.
– 69 mins: Ortigoza's defensive block was essential to break up Japan danger.
– 66 mins: Tulio is flattened by his own goalkeeper and seems to have hurt his left arm. That must hurt.
64 mins: Matsui is replaced by Shinji Okazaki.
62 mins: Tulio fights off his marker but his header from a corner does not threaten the Paraguay goal. The tempo has lifted again.
61 mins: Matsui has been booked for hand ball.
60 mins: Sorry, that should be Valdez. On he comes in place of Edgar Benitez.
55 mins: Suddenly Paraguay look the most dangerous. Borussia Dortmund striker Nelson Valdes is about to come to give them a new attacking dimension.
51 mins: Nestor Ortigoza dribbles into the Japanese penalty area but fails to get a shot and Tulio Tanaka makes a key tackle.
49 mins: So much is at stake for both sides and it shows.
46 mins: Paraguay get the second half under way. Let's hope it's more exciting than the first.
1557 GMT: One female fan in the crowd is offering fans kisses and logging them on a placard. And it looks as though Japan is ahead…
1455 GMT: Just two scoring chances each side so far and it is going to take a piece of magic to unlock this game.
1447 GMT: Well, this game is one of the tighest last 16 match-ups we've seen since Ghana got past the USA on Saturday – and that needed extra-time.
45+1 mins: HALF-TIME! Paraguay 0 Japan 0
43 mins: You can't help thinking this game could be heading for extra-time and penalties…
39 mins: Japan pour forward, culminating in Honda flashing a shot pat the post. Honda looks angry after slicing his shot.
36 mins: Japan win a free-kick, Endo curls it in and Santa Cruz heads it away. The game has speeded up.
33 mins: There certainly are swatches of empty blue seats at the game. A pity. I bet thousands of fans in Tokyo and Asuncion would love to fill them.
30 mins: AFP's Tokyo bureau says Japan's newspapers sensed a new chapter of history would be written today: "Honda, make history tonight," the Nikkan Sports implored, chiming with the Sports Nippon's headline: "Make history! Honda shoots for last eight."
28 mins: With the best chance of the game, Roque Santa Cruz fires wide after the ball drops to him in a goalmouth scramble.
26 mins: After that burst, the game has reverted to a midfield stalemate. But Paraguay have just won a corner.
20 mins: At the other end, Daisuke Matsui rattles the crossbar with a dipping long-range shot. They have clearly been practising with the Jabulani ball…
19 mins: Paraguay go close. Lucas Barrios makes a lovely turn and forces Japan 'keeper Eiji Kawashima into a sharp save.
16 mins: Japan showed against Denmark they are lethal from free-kicks. Keisuke Honda and Yasuhito Endo both scored from set-pieces in the 3-1 win.
13 mins: Not much goalmouth action to report. Both sides are sizing each other up.
12 mins: Paraguay coach Gerardo Martino has changed no fewer than five players from the team held to a goalless draw with New Zealand in their final group match.
7 mins: Clearly it's a big occasion for the teams too: AFP's Jim Slater at the game says the coaches for Paraguay took it in turns to have their pictures taken by each other on the sidelines. One for the album!
5 mins: Looks as if we are in for tight and edgy affair. I should add to my earlier comments that Paraguay are also bidding to reach the quarter-finals for the first time.
1 min: Yoshito Okubo has first attempt of the match. Not far wide either.
1 min: Japan win the toss and kick off.
1357 GMT: And they are playing for the chance to meet the winner of tonight's attractive-looking game between Spain and Portugal in the last eight.
1355 GMT: Japan are carrying Asia's last remaining hopes at the World Cup. And this is the game that makes a moc
Load more