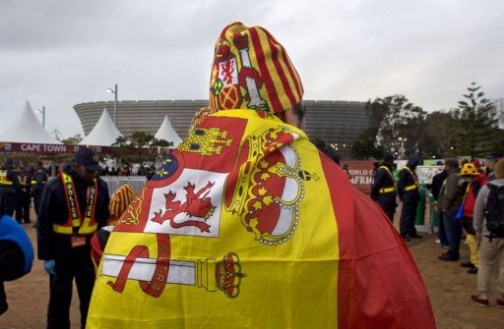 CAPE TOWN (AFP) – 2030 GMT: But Portugal were desperately disappointing tonight. Ronaldo was anonymous but seemed starved of service. Strange tactics.
2029 GMT: The quarter-final will take place at Johannesburg's Ellis Park on Saturday.
2026 GMT: Spain have never won the World Cup but they will expect to beat Paraguay and reach the semi-finals to take them closer to their goal. They were the best team tonight and David Villa was the best player.
2023 GMT: Spain are through to the quarter-finals and will be favourites to beat Paraguay at that stage.
90+3 mins: FULL-TIME! Spain 1 Portugal 0
RED CARD! Ricardo Costa is sent off for elbowing Capdevila.
87 mins: The ball falls to Danny on the edge of the box but Capdevila blocks the shot magnificently.
86 mins: Llorente misses another header, though this one is harder. Spain are on top.
84 mins: Ronaldo receives a long ball and gets inside Spanish defender Joan Capdevilla who pushes him. But the referee sees nothing wrong with the challenge. Ronaldo can hardly believe it.
84 mins: Unless Portugal try something different, their World Cup will be over in about six minutes' time.
81 mins: Spain string one pass after another together in a way that few teams in this World Cup can do.
79 mins: YELLOW CARD: Tiago is booked for a stupid foul on Villa.
76 mins: Villa's long-range shot forces a superb save from Eduardo. Villa is the danger man.
71 mins: Portugal take off Pepe and Simao and on come Liedson and Pedro Mendes. They need to supply Ronaldo, who looks lost.
67 mins: The question now is: where has Ronaldo gone? He has been anonymous in this half.
66 mins: Llorente has had to come off to change a shirt shredded by a Carvalho tug.
69 mins: Sergio Ramos cuts in and his shot is pushed wide by Eduardo, who almost pushes it into the net. Spain nearly had a two-goal lead.
65 mins: Iniesta and Villa were the goal's creator and scorer, but Llorentes physical presence has been key since he came on for Torres.
63 mins: After a slick through ball from Iniesta, David Villa shoots and his shot is saved but the Spanish striker knocks in his rebound.
60 mins: GOAL: Spain 1 Portugal 0
59 mins: Llorente misses a clear header in front of the Portugal goal. It was the best chance of the game. Villa then curls a shot just wide.
58 mins: Inevitably the out-of-form Torres is taken off and Athletic Bilbao's prolific striker Fernando Llorente comes on.
53 mins: Spain are having trouble penetrating the Portugal rearguard.
51 mins: So close to a Spain own goal! Almeida's cross hits Carles Puyol and almost loops into the net. Just wide.
48 mins: A cagey start to the second half in Cape Town.
1 min: Spain's defence looked uncertain at times, let's see if Portugal can exploit that in the second half. We're under way.
1922 GMT: Portugal Prime Minister Jose Socrates is confident his team will win tonight: "The Portugal team has a lot of talent and lot of ability. When you want to win you have to believe in yourselves. That is the right attitude to take."
1917 GMT: Interesting game of Portuguese counter-attacks and mopping up Spanish attacks. Torres looks less than sharp, but Villa is always dangerous.
45 mins: HALF-TIME: Spain 0 Portugal 0
44 mins: Torries turns clumsily into Ricardo Carvalho and finds no way through.
41 mins: Casillas races out of his penalty area to clear the ball after his opposite number Eduardo releases a quick Portugal attack. Good work from both goalkeepers.
38 mins: Almeida misses the sort of header that centre-forwards should be putting into the net. A chance missed for Portugal.
36 mins: Spain are stroking the ball around with ease but the Portugal defence is packed with bodies.
30 mins: Xavi fires a shot wide.
27 mins: Ronaldo's curling free-kick causes Casillas to punch it away, but no Portugal forward is there to snap up the rebound.
25 mins: Bad news for fans back home in Spain. Denholm Barnetson in AFP's Madrid bureau says: "Huge traffic jams in Madrid this evening as a strike has shut down the city's entire metro system, so suspect there are many people here still desperately trying to get home to watch the match."
23 mins: Four Portuguese defenders find the only way to stop Andres Iniesta is to foul him. The free kick comes to nothing.
22 mins: Ronaldo screws a shot wide, summing up his underwhelming tournament so far.
21 mins: Casillas has to jump to collect a ball under pressure from a Portugal striker, I think it was Almeida.
19 mins: AFP journalist Martin Parry at the stadium says the pitch is damp and slippery after heavy rain.
17 mins: Ronaldo tries his luck with a long-range free-kick, but it's well beyond even his range and Casillas gathers easily.
15 mins: The European champions have gathered momentum since then though.
14 mins: Spain came into the finals as many people's favourites but defeat by Switzerland shook that faith.
8 mins: Ronaldo sends over a cross that Hugo Almeida can't get to. A lively start to the match from both teams.
5 mins: It's all Spain at the moment. David Villa cuts in and shoots hard and low but Eduardo is up to the task.
1 min: Torres tests Portugal keeper Eduardo with a stinging shot. A good start for Spain.
1 min: Spain kick off to a chorus of vuvuzelas.
1829 GMT: A good omen for Spain? Two years ago to the day they won the Euro 2008 title.
1826 GMT: Ronaldo looks just as determined as the Portuguese anthem rings out.
1825 GMT: No smiles from Iker Casillas and his teammates as the national anthems are played, just steely stares.
1821 GMT: Fernando Torres starts for Spain although he has not looked his sharpest so far at the World Cup, while Cristiano Ronaldo needs to lift his game to another level if Portugal are to progress.
1814 GMT: The big team news is that Xabi Alonso, one of the most creative players in Spain's lineup, has recovered from an ankle injury and takes his place at the heart of midfield.
1813 GMT: And our referee is Hector Baldassi from Argentina.
1812 GMT: Here are the lineups: Portugal: Eduardo, Ricardo Costa, Ricardo Carvalho, Bruno Alves, Fabio Coentrao, Tiago, Simao, Pepe, Raul Meireles, Cristiano Ronaldo (capt), Hugo Almeida. Coach: Carlos Queiroz
Spain: Iker Casillas (capt), Sergio Ramos, Carles Puyol, Gerard Pique, Joan Capdevila, Xavi, Sergio Busquets, Andres Iniesta, Xabi Alonso, David Villa, Fernando Torres
Coach: Vicente Del Bosque.
WELCOME TO TONIGHT'S WORLD CUP last 16 match between Spain and Portugal, which on paper at least should give us a fiesta of attacking football.
The winners will meet Paraguay, who beat Japan in the first penalty shootout of this World Cup earlier today.
This match in Cape Town will give us the final qualifier for the quarter-finals, so let's take a look at the line-ups.
Load more